Steve Lukather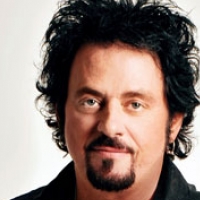 Found on stevelukather.com
Comments
Top
Popular
Newest
He's the best!
That's all...
I'll never heard what a great sense of melody
So, he wrote beautiful songs with toto
His adaptation and solo in George Harrison's "While my guitar Gently weeps" literally brings tears to my eyes. Not only is he a true legend he is a most humble human being.
Steve is one of the best guitar players on the planet period! He should be in the top 10! Steve has learned from the best influences around and put his own flavor on the instrument which has rarely been seen. It is rare that a player can shred on the instrument but still have the best taste and feel in his solos that can really influence the heart. Love ya Steve and keep up the great work!
Luke should be in the top 10. There are several names that don't belong on this list. Prince is an amazing musician-composer-artist but not a guitar god. Same with Curt Cobain - another artist that had a huge positive impact on music but far from a great guitarist.
Not many guitarists can play both fast and soulful at the same time. Steve Lukather is a true marksman in the guitar business!
I've seen many people from #1 to #73 and it makes me smile. Steve Lukather is obviously my best choice. He is a man, and not a machine. He plays with the heart and soul, not only technique or speed or something like that. I truly respect him as a musician, as a man, as a friend of mine as he is.
The most versatile and soulful guitar player on the world. He should be in top 5 even though I would put him as N°1. He's also one of the most hard-working session musicians on the planet. He has played on over 1200 records. All famous guitar players like Slash, Kirk Hammett,... Got nothing on him. He's definitely on a much higher level.
A guitarist who played for the biggest, improviser, composer, virtuoso, he has influenced millions of guitarists and is a reference to the guitar sound until 30 years. Just listen to his discography to be convinced. It must be in the top 5
Respect to this guy. He is the reason many guitarists even start to play guitar.
This guy should be number 7

:songs

Africa

Hold the line

Rosanna

Stop loving you

Kingdom of desire

Tale of a man

Pamela

Child's anthem

Best helper in your life

It's a feelin

Two of us

And more

As good as Kirk he can really TRUST ME RIGHT NOW electrocute you.
Luke is better than all others. Those who don't know this simply don't know who he is, mostly because he is a humble human being. Google him and do some research and you will quickly change your tune.
Pop music and rock would not be the same without Steve's gift to the guitar world. You will notice him included on a lot of the guest lists at these large benefit and awards shows; i.e. The Beatles, Night for George, Ringo Starr's All Star band shows etc. Popular music did Steve no favors with Toto, but he left a lasting legacy with his memorable solos in many Toto songs.
There are some astonishingly gifted guitarists in this list but when the likes of jeff beck, schon, Hendrix and what must the biggest injustice, "Luke" @ 82 and all below slash... Are you kidding me? Please get real
Without doubt one of the worlds greatest guitarists. 82nd on this list is a little strange he should be much much higher, at least top 10 in my humble opinion
A true master - awesome guitarist and super smooth, soulful vocalist. Checkout the Toto live in Paris 1990 videos... Steve, I salute you
Best guitarist ever. His version of 'While my guitar gently wheeps' just sends chills down my spine
Hear George Porgy live in Paris solo and you will know Steve is the best Guitar player in the world.
The most versatile guitarist ever. Jazz-rock-pop, even metal... You name it, Lukather delivers it. Also a very talented songwriter and a pianist.
Steve can play anything on guitar better than anyone! Most under rated player out there!
The most well rounded and emotive rock player who can also sing well and write awesome rock songs.
Better than all of this list, with the exception of Jimmy Hendrix and Guthrie Govan... And why is Joe Walsh so low?
Steve Lukather deserves to be in the top 10. He's a great guitar player. All his solos and other guitar works for other artists are amazing! Love you Luke!
There's probably only 3 or 4 people on the list that could deserve to be listed before Steve... why is he down here at 80?
It can't be summed up much better than the first post above. A true professional all around. Thank you for all the years of great music.
Simply one of the best musicians to ever play guitar. His knowledge of his craft, and his ear for great hooks matches my soul!
Related Lists
Best Steve Aoki Songs
Best Steve Miller Band Songs
Best Steve Vai Songs
Best Steve Martin Movies

Best Iron Maiden Steve Harris Epics