Tommy Emmanuel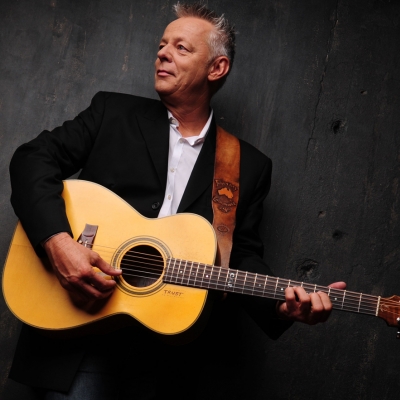 Uploaded by LightningBlade
Comments
Top
Popular
Newest
Tommy does this with a guitar other players dream of doing. Tommy has all the skilss, heart and emotion. Seriously Chet Atkins called him the best ever what more do you need to here? While the rock and rollers get all the praise (only because they are mainstream) its guys like Tommy who keep it real. Line the list up on stage and true guitar lovers would pick Tommy every time, he is second to none.
Just see him in concert and you'll understand why he is the best. He makes the instrument talk, walk and sing. He's also an entertainer who not only plays to the audience but with them as well. YouTube him and you will see why what he does is a God given gift that he has chosen to work hard at giving back as he still practices daily. If he is ever in your area take the time, spend the money and go--you won't regret it.
I very proud of myself to have voted for Tommy. I had a mission to listen to everyone on this list, and finally here in the 74th position I found a guitar magician. When only listening to his YouTube videos I would have bet anything against that one guy was standing live on stage creating those melodies with only one guitar. Tommy must be an alien - His technique, feeling and rhythm is simply to good to be true!
Chet Atkins called him "The best finger-style player in the world"
This poll should be titled "Best Rock Star Guitarist". In my country Philippines, a film actor won the presidential election in the 90's just because he was a star. It did not mean he knew anything about politics. I suggest the voters here, bring out their DVD's watch all the videos on YouTube of their star guitarist, then watch performances of Tommy Emmanuel on YouTube. I challenge them to vote the same guitarist after that
Of the guitarists on this list that I've seen, Tommy is the best. But Satriani is not far behind. Tommy Emmanuel does things that I think no-one else could emulate. Technically unsurpassed, plays with such feeling, and his live performances... Just so in the moment and connected with the audience. And makes it seem effortless.
So listen to what this guy has to offer on YouTube then listen to whatever has been voted above and you will notice that he surpasses all of them put together. He is the number one guitarist (not pop) I have ever listened to. Let the others make the guitar sound like a harp, drums, rhythm and play the melody all in one song on his own! Dedicated and godlike on this instrument. With two fingers and a thumb he started to play. Thanks Tommy
I never heard of him until I heard his version of "Somewhere Over the Rainbow". I realized after I recollected my mind and came down from that higher dimension beyond thoughts that he must be one of the greatest guitarists alive. Spellbinding is a vast understatement of his level of virtuosity. Tears aren't enough to express the emotional depth of it.
It comes down to the overall musical ability and potential he displays. He performs bass, percussion, melody, rhythm and even has time to solo each with many of his pieces. The number of people on this list who can do that... Well... You might be able to count them with one hand. AND doing all of this on acoustic... Wow! Super disappointed he's not at least in the top 5. We are judging skill, and not the genre of music, right? For heaven sake.
I don't like the "tops" because every classification has its limits... But into my music collection ordered by type of music I have: Classical, Blues, Traditional, Jazz, Country etc, and... Tommy Emmanuel which is everything and nothing of all these... He's just between the greatest musicians ever. - mitican
This vote goes for the whole man. Not only for his unbelievable skills. To be the greatest must mean filled with love and joy. There is an aura around him and you feel the positive energy warming you up in every second you watch and hear him. Sure enough, many great players we have in the list, but how often do you see the heart of the performer? I have never seen this combo on such a high level in anybody else.
This is a popularity contest not an evaluation of all the facets that make a great guitar player. Anybody familiar with Tommy Emmanuel with an in-depth understanding of music could easily see the man is, by far, the best guitar player living or dead. He has precision, passion and an inhuman ability. The reason why he's not number one in this poll -- he's never been a "pop" star.
This guy plays the acoustic guitar so well it boggles my mind. He does two or three things at a time like having a bass continuing with chords and an intricate melody. He is technically unsurpassed in the style he plays. Jimmy Hendrix could not begin to do the things Tommy E can do
Tommy can play everything and anything with his hollow Maton guitars better than most on this list. I'm a HUGE fan of Metallica, Pantera and what not but I honestly wouldn't bet my money against this fella! Anyone who plays against him is always struggling to catch up to him. Really this list should be called The Most Popular Guitarists Ever.
There are many "best" in my opinion. But if I had to choose one, it would be Tommy Emmanuel. Tommy is a one man explosion on accoustic guitar. In his playing you find speed, technic AND tremendous emotions. He knows how to combine it perfectly. He is best without a band behind him because he is bass, rhythm, solo, drums/percussions and it would be sad, not to hear him for 100%. And he's a great entertainer anyway. In concert you feel every second that he loves to share his music.
Technically THE BEST guitarist of the world in all styles, not the most famous of course.
I have seen satriani and vai, Iommi, Pink Floyd, Townsend.
He is the best classical, jazz, steel guitar, folk, metal, blues, django... Even African music including percussion I have seen it twice it is amazing...
Tommy emmanuel surprises me every time I see him play because he always comes out with something better than the last. He is such an entertaining guitarist and such a good one. He is up there with best on my list.
Tommy Emmanuel should easy be in the top 5. He has been playing for 5 decades and is a one of the 3 Certified Guitar Players, per Chet Atkins. He is a must to see perform live, and along with his technical prowess he plays with such feeling.
This guy is genius. Everything he does says so. I am a acoustic player myself, what this man does is way beyond everything I've ever heard. He's crossing the border of human posibilities. Love.
People point out this guy as being amazing because of his fingerstyle compositions, but his real strength lies in his ridiculously good groove and incredible feeling in his solos.

To be honest, he does the coolest playing, in terms of the two most important things, since the great Django Reinhardt was on this earth.
(The two important things, by the way. They're melody and groove. )
There is something seriously amiss when the best "picker" by a street doesn't even make the Top 50! He has forgotten more than most will ever know about the art of playing the Guitar. Don't believe me, You Tube and see and hear for yourself.
If you get the chance, see this man live. The things he does, the music he creates, it's just breathtaking. I left his last concert simply humbled and amazed.
Has an ear that can play anything it hears. Incredible skill, amazing speed, fascinatingly creative. There is no better pure guitarist in the world.
That's because he is the best finger style guitarist in the world. As great as some of these guys are they don't come within a bulls roar of Tommy. Check him out on YouTube doing classical gas and you'll soon change your vote!
I saw Tommy Emmanuel play several times a week at my local pub for a number of years in the early 70's. His virtuoso drum playing in a band called Goldrush where his brother Phil played guitar, but occasionally great moments occurred on electric guitar when he played the Santana classic "Europa" in partnership with Phil. Tommy is also a great electric guitarist as was his equally talented brother Phil.