Violin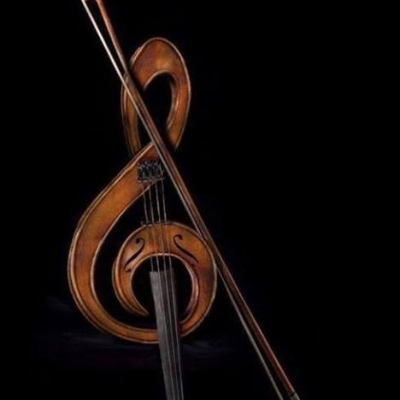 Uploaded by zxm
Info
The violin is a wooden string instrument in the violin family. It is the smallest and highest-pitched instrument in the family in regular use.
Comments
Top
Popular
Newest
I say that string instruments are the hardest to play. There is a lot of technique, especially when you get to the higher levels, and you have to be really careful about many things at the same time (finger placements, correct pitch, left hand shifting techniques, bow hold, bow techniques, good sounding tone, etc... ). I have played violin for 6 years (then left because of bad teacher and moved on to other instruments as violin took me so much time I couldn't really try another instrument along :D

I didn't have a lot of difficulty playing it and beginner level was too easy for me (actually I made first and second grade in one year), but as I moved forward, it got much harder and I had to practice more and more. But it is rewarding and I still sound good now after I started playing again (not professionally, but for myself). I can also play acoustic (both steel strings and classical) and electric guitar, synth, harmonica, recorder and cello.

By the way, I don't really ...more
When viewing the other instruments on this list, the ones that stand out the most are oboe, viola, trumpet, and violin. While oboe is difficult with its two reeds, it is fairly simple in concept, being similar in fingering to many other woodwinds, making changing from one to another much simpler than changing from violin to another string instrument. The main challenge with viola is the issue of the alto clef, which is fairly uncommon, and often conductors cannot read it. It has many similarities to violin in how it is played, however, since fewer people play viola, getting into orchestras or string groups with viola is easier. From a career perspective, viola is an easier instrument with higher demand. Trumpet has it's challenges as well, mainly the issue with changing mouth shapes and airspeed to maintain specific notes. However, trumpet has only three (3) note button thingies (can't remember the word right now) and changing octaves is just a matter of, as stated earlier, changing ...more
First of all, there are no frets and we're talking colors of intonation here which requires not only control over exactly where your fingertip is placed, but also which SIDE of your fingertip along with controlling vibrato which needs to be centered and fluid. Add three or four notes to that in crazy hand positions and then you're a guitarist with no frets with your hand twisted around lifting a piece of wood out from side of your neck. That's actually the easy part. Now you need to learn how to make endless patterns of bowing with your right side while your left side is having to be precise enough to land on the right side of the tip of the finger in exactly the right place. It can take hours and hours and hours just to get the right change of bow from one note to the next. Even then, in performance, the smallest variations of speed or pressure can send that bow into convulsions and make you sound like you're coughing, choking or burping. The bow is definitely the most difficult part ...more
I have played violin for 8 years. I was trained in classical for 6 years and switched to fiddle 2 years ago. Violin is definitely the hardest! It is an art! If your finger is even slightly off, the whole song sounds bad. Vibrato, drones, double stops, extremely fast fingering (faster than electric guitar, AND you have to bow extra fast to it, picking fast is EASY! ) Also, I can play some piano (easy, I never had a teacher either), mandolin (taught myself it and it is similar to guitar with strumming and chords and it is easy) and also flute (taught myself, easy. ) I also play viola and cello. Cello is also very hard! It is hard to go fast on and actually sound good! So I would say violin and then cello. And believe me I have experience! I am a teacher, I play at events, I am starting a local band... You get the point!
I'm a professional symphonic violinist who practices 4-5 hours a day, in addition to rehearsals and concerts. I feel like the more I learn, the less I know. The violin is so mysterious. I spend hours and hours playing scales slowly, so every note is perfectly in tune, and it is still a struggle. I know that all string instruments are difficult. Viola has major challenges as one needs large hands to execute double stops and other stretches well. The cello, with the large fingerboard, requires large leaps and extreme accuracy. This is similar with the bass, although the repertoire doesn't require things asked of violinists and cellists. The violin has a much larger (and technically demanding) repertoire to learn. My excerpt "book" for orchestral auditions is a 3-inch binder... what a headache. On another note, I know that French horn is incredibly difficult, as any note can be played with no fingers down, and has the tendency to crack notes, even with the most accomplished players. ...more
I'm not going to say that violin is DEFINITELY or FOR SURE the hardest instrument to play because it's different for everyone, and also because people are saltier on the Internet. In my opinion, the first stages of violin playing are the hardest because it's when you learn pretty much everything you need to make a sound (proper bow hold, how the bow should be in relative to the bridge and fingerboard, elbow positioning, posture of the body as well as both hands, shifting, coordination etc.). I first started playing in kindergarten as an after school thing, where fun was more important than actual learning of the instrument, so obviously I was already off to a bad start. After eight years I can say that my technique is way better, but bad instruction when you're a beginner is definitely a setback.

I don't know why a lot of musicians in these threads are bitter towards violinists, especially violas. It's true that violas are bigger and more to handle, but bigger spaces between ...more
The violin is truly a beautiful instrument. It has both a soft, beautiful side yet also a strong and powerful side. Some people say the violin is easy to learn. I 100% DISAGREE! Being a dedicated violinist since I was 9, these people are completely oblivious to the difficulty of this instrument. Finger placement is so difficult, especially when you're under pressure during a performance. Another thing that's very hard to master is vibrato which involves a lot of time and effort. All instruments are difficult to learn, although the violin has got to be the hardest. With instruments such as the piano, guitar and even the trumpet it is fairly straightforward to make a nice sound once you get the hang out it BUT the violin is so much more difficult. To create a nice sound you have to consider so many things; perfect finger placement, vibrato, staccato, bow pressure, bow pattern, bow direction, just to name a few. This instrument is like medicine; to be able to do it you need ...more
The violin is so hard... I started when I was four, and it is an extremely difficult instrument. However, it physically gets easier the longer you play. I think violin is so hard because it is a very delicate instrument- a little too much pressure on the bow, or not enough, or if you don't have perfect posture, or good enough bow control, or your finger was in the wrong spot on a basically microscopic level, and everything will go wrong. I am speaking of classical violin here. Fiddling, which I play as well, is easier by far, as it has a focus on rhythm and creativity which can come more easily to most musically talented people. Classical violin, though, requires both musical talent and hours and hours of hard work each day. One day of missed practice and you can already tell your playing isn't as good as it was yesterday. The musicality of the instrument can be so powerful because it sounds so much like the human voice. There are a million types of vibrato, bow technique and finger ...more
Definitely the hardest. You have to learn all the regular things--tempo, notes, key. But on top of that, you have to learn exactly how to hold the instrument AND the bow. It takes years to master the bow hold. First you have to learn pizzicato. Then you learn bowing. You have to rotate the bow just right, twisting it as you're playing. You have to keep your bow right between the bridge and fingerboard--but wait! You also have to adjust that depending on volume and the piece. Your finger has to be in EXACTLY the right place. You have to make sure that only one finger is down if you're going up the scale, but then if you're coming down the scale, all fingers should be down. It's a difficult instrument to take care of--you have to know how much rosin to put on the bow, you have to literally scrub your strings after every practice. And on top of all that, you have to learn vibrato! The exercises are extremely difficult, and it takes years to master. But you honestly don't sound good ...more
I agree the violin is the hardest because it takes a lot of work to play notes in tune, get use to the hand postures, dynamic changes, etc. I played the violin since I was in first grade, there was not even many outstanding violinist in my school but I'm still in 2nd violin even though I started earlier then most of the orchestra members. I didn't like violin as much as before, it doesn't matter you are good at it or not, you have to do what your mind tells you to. My mind told me to stop but my mom didn't want me to. I wanted to join band, and I did when I was 14. My mom thought that I was too late to join band, but it wasn't! I played the trumpet and it was much more easier then violin. And I only practice trumpet about once in a month. Thank god that I have tried this instrument. I'm currently in symphonic band (back band), jazz band (auditioned), honored band (auditioned). I really suggest you to try the violin if you want to but if your brain tells you know and if you have ...more
I don't play the violin, but I think that violin should be second and harp should be first. Just because you might think there is a lot of steps to make a sound doesn't mean it's like that for every other sound you make. On the harp,(which I've been playing since I was three) you have to move pedals/levers while playing which is moving your feet without being able to look at them. You then have to focus on what you left hand is doing on 49 strings while the violin only has 4, and you right hand at the same exact time when you can only focus on one hand. On the violin you can stare at everything that is going on, but with harp, it is like you are blind. I play in the Charlotte Symphony orchestra and the most common instruments are the ones that are the easiest. Why do you think there are like 50 violinists and only one harpist. Once again, I do not play violin but I play piccolo and flute and harp. I also know those that play this instrument and they have given me lessons, so trust me, ...more
I've been playing violin for 7 years, and I'm still not as nearly great as the professionals out there. There is so much to focus on at one time; the fingerings, the intonation, rhythm, dynamics, and then the bow takes on a whole new spin to it; the bow adds so much more difficulty; not only is it hard to play the right note and rhythm with the left hand, but for the bow to match with the rhythm and have it pressed exactly how the technicalities call for it makes the violin the most difficult. The high notes, shifting... It all combines to make the most beautiful sound.
I have played all of the orchestral string instruments, and I have found it that the violin is the easiest to play and master. Before you stop reading this, I would just like to let you know I have nothing against the violin (it is a very beautiful and honestly one of my favorite instruments), I just think that other string instruments don't get the credit they deserve. For one, the violin reads the treble clef the most standard and commonly used music clef. You have to give the cello and basses credit for reading the bass clef, and especially the violas with the alto clef. Two, the violin is the smallest most high pitched instrument in a string orchestra, therefore it is of a lighter weight and the strings are thinner, leaving you in less pain. I just think that since the violin is the most mainstream orchestral string instrument that is gets a lot of credit that it doesn't deserve. Again, I love the violin, but I just found it to be way easier.
I've been playing violin for 5 years now, and I still can't grasp many concepts that my teacher tells me over and over again. There's always something that gets in the way before you get the perfect sound and pitch, and you have to have almost indefinite patience, and the ability to stay rooted in one spot and repeat the same thing over and over again, just to get, lets say, one small phrase to its near perfection. It's really hard to do that, and you're actually amazing if you can stay standing with patience for two or three hours.

Furthermore, the violin is a beautiful instrument, that has a range of many different pitches. If you can get it right, it takes so much effort and time, like I said before. If you want to be professional, my school music teacher says you have to start before you are six, and practice long and hard.

Therefore, I think that the violin is the hardest, and in my opinion, the most special and prized to me.
Requirements for playing good piano: Technique, passion, practice, endurance, patience.
Requirements for playing good violin: Technique, passion, practice, endurance, patience, pitch, intonation, extreme microperfect finger memory (especially when playing doublestops and harmonics), straight bows, no squeaking, clean shifting, bow control (for spiccato, up-bow staccato, ricochet, etc), good bow hold, flexible vibrato, decent quality strings (replaced at least semi-frequently), must know what a complex meter is (because all piano players I've met including myself before I started violin didn't know what a complex meter was), good balance between bow speed and finger coordination, bow power, no gritty sounds, sufficient rosin on bow, watch for humidity/temperature, good solid tone, and play every day, because violins get upset when you don't play them at least once a day and punish you with a horrible sound the next time you pick it up, no matter how talented you are or how many ...more
Okay I'm not a violinist, but in all honesty I think the violin is the hardest or at least in the top 3 hardest instruments to play! I've only been playing/taking violin lessons for about 3 weeks and it is HARD...

My main instrument is piano, and honestly as much as I love the piano and would love to brag at how hard it is to learn (which trust me, I love to brag), it's not that hard... I mean if you have fingers, you can learn something simple in like a matter of 5 minutes.

Violin is super hard to learn, even a simple song like "Twinkle Twinkle Little Star" I'm still struggling on and it's my 3rd/4th week playing this song! It takes a lot of your finger, shoulder, neck, and arm muscles just to play that one tiny four-stringed thing...

I play the piano, acoustic guitar, electric guitar, the ukulele, bass, keyboard, synth, and barely any violin (see I told you I liked to brag) oh yeah, and do vocals so I know at least SOME THINGS about music, so hear me out when I ...more
I have played the violin 8 years, starting when I was 4. You need to learn the way to hold the instrument, and the bow, and move your hands in sync. Furthermore, The bow is moving is a completely different way than the other hand, and shifting to different positions is pretty hard. You need to put your finger on the exact note, or it will not sound as planned. For example, when I play the three octave scales, I shift to ridiculously high positions and notes that keep becoming closer and closer together as you get higher up the fingerboard. Coming down is a whole nother pain, and you have to remember the finger pattern for each finger you start on. I have seen many people comparing the violin to the piano, saying that piano is harder in the long run, because the larger chords are so, well, large and difficult. But as you keep going with violin, you will see the music beginning to expect you to shift very fast and very accurately. I'm only a level 5 in NYSSMA, but I already see the ...more
The hardest part is that your hands have to be relaxed to play violin. Any tension in them renders vibrato clunky and slow. The parts for violinists can be exceedingly demanding as well, with strange bowings, and very fast passages that only ever seem to be required for violinists or flautists to play (speaking as one who plays both instruments). Also, many musical families start their children playing violin very, very young, so the competition for places in school and community orchestras is very fierce. The cut-off point in my school junior orchestra is 4th grade AMEB, and these are eight and nine-year olds.(I remember one of my friends who was doing her preliminary exam during pre-school.)
In my opinion, piano shouldn't be on this list. There is no need to tune the instrument before starting, and no way to make an intonation error unless you hit the wrong key. All the player needs is a basic sense of rhythm and a decent hand span. The use of both hands independently is also ...more
Not to down play the other instruments, but I do see the violin as one of the hardest. In order for it to sound really good you need to make sure it's tuned really well, make sure you have just the right amount of rosin on the bow, make sure the bow is at the right angle, make sure you are applying just the right amount of pressure to the bow, make sure your hand is free to move, make sure you're hitting the right notes (always good ;), etc, etc. Also just learning how to hold the thing takes time.. I learned just recently that if your shoulders or posture are off, you'll have a hard time holding it and playing well.

To be honest though, each instrument has its challenges and some are going to be harder for certain people than others.

Although, I've yet to see any challenging things with the kazoo
The violin is easy to play, but it's extremely difficult to not make it sound like a dying cat.
I have played the drums, guitar, cello, and piano but out of all of them, the violin was the most difficult.
The violin requires different positions and each position gets more difficult than the other. Also, there is extreme bowing techniques and vibrato methods. String crossing makes the violin extremely difficult.

-On a guitar, it's basically muscle memory. You learn how a chord is played and you can play that chord.

-A drum is a series of different rythms. Not so hard once you learn them.

-On a piano, your left hand and right hands are both playing keys. On a violin, both hands are doing completely different.

-A cello is in a more natural playing position than the violin. The cello can be played on the ground. The violin cannot.

The violin is the hardest but also the most beautiful instrument if played correctly. Other instruments tend to be more generic sounding but every violinist sounds different and unique because of all the tiny details ...more
I have been playing the violin for 6 years & I do agree that it is one of the hardest instruments. I did not have much difficulty learning it & I don't have much difficulty now but over the years it has gotten harder. There is a lot of technique involved that May not be used in other instruments and I believe that's what makes it hard. There's finger placements, how your wrists are, posture, and much more. Also you can do so much with the violin playing various music genres from rock and pop to classical that's what makes it such an incredible instrument. I'm only 15 years old & have much more time to improve and grow as a violinist & hopefully one day I can be as great as my favorite violinist, Roddy Chong!
Violin is definitely the hardest instrument to play! You have to make sure that your bow grip is good, that your hand and arm is positioned correctly, plus you have to make sure that your fingers are in the correct place! You're using both sides of your brain when you play this instrument. My private lesson teacher once told me, (and still tells me when something is off xP) "Music is math, and math is absolute. " Basically, music has to be perfect or everything is screwed up. If you're one millimeter off, then the whole thing sounds bad.
I've started learning the violin a few months ago and it is honestly really hard to play. At first it is really uncomfortable on your shoulder and then my arm was barely long enough to play a full bow, and even then it's really hard to control your arm. If you move the hairs too far from the middle or press a teeny bit too hard, you make the most horrible screeching sound ever. And then of course there's your left hand. A little bit off and you play the wrong note. It's an amazing instrument and I've had times that I really want to quit, because my violin teacher was being quite strict with me but just hold on in there and it's quite amazing what beautiful music you can actually make with the violin.
I'm in my twenties now and I never really learned to play an instrument. I decided to pick up something and give it a shot. I bought a cheap electric violin and my god, it was like difficulty level: impossible. I can play the piano a little bit as well as a couple of songs on a guitar. This is way tougher. The whole bow process is way more complicated than plucking on a guitar. If you don't have just the right speed or pressure you start to make, "nails on a chalkboard" sound. The fingering is what is really tough. The strings are so close together and there are no notches like on a guitar. With a guitar you can build muscle memory and feel your way around it pretty quickly. With the violin, it's like it has the attitude of, " your going to guess, you have a 9 out of 10 chance of trainwreck-sound. Good luck! " As far as instruments go of trying to learn with no experience, the violin is definitely the most sinister in punishing newbies.