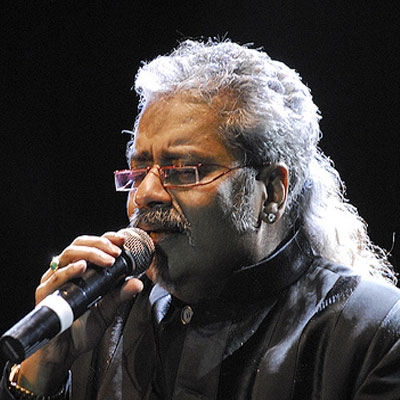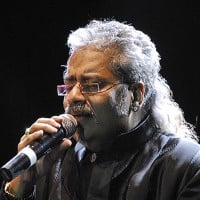 +
Hariharan
Hariharan is an Indian playback singer who has sung for Hindi, Tamil, Telugu, Kannada, Malayalam, Marathi, Bhojpuri, Punjabi, Gujarati and Rajasthani films, an established and foremost ghazal singer and composer, and one of the pioneers of Indian fusion music . In 2004, he was honoured with the Padma Shri by the Government of India and is a two-time National Award winner (5 National Award nominations) . His melody has been strongly appreciated by the film fraternity .
In 1977, he bagged the top prize in the "All India Super Singer Competition" . His debut song "Ajeeb Sa" (Gaman-1978) became such a hit that it won him an Uttar Pradesh State Film Award, as well as a National Award nomination .
The year 1996 was a career milestone; he formed the band "Colonial Cousins" with Mumbai-based composer and singer Leslie Lewis . Their first album, Colonial Cousins was a fusion album and was the first Indian act to be featured on MTV Unplugged . It won a string of awards including the MTV Indian Viewers' Choice award and Billboard Award for the Best Asian Music Group . By this single album, Hariharan established himself as one of the pioneers of Indian fusion music . He also coined the terminology "Urdu Blues" with his fairly successful album Kaash .
He collaborated with Pakistan based band "Strings" for a track called "Bolo Bolo" and with Sri Lanka based band "Bathiya & Santhush" for a track called "Yarlpaanam".
He has got the titles of "SWARNA KURALOAN" (for his mellifluous voice) in Sri Lanka and 'RAGA CHAKRAVARTHY" (King of Ragas) in Toronto in the year 2001 . He has been awarded "Kalai Maamani Award" in the year 2004 .
He also performed the "Swagatham" song in the 2010 Commonwealth Games opening ceremony held in New Delhi .
Followed by his successful music career in the fields of ghazal, classical, devotional, playback, fusion, pop, music composition and etc ., he has become the King of Melody, King of improvisation, King of Alap, King of Ragas, King of Mellifluous voice, Ghazal Maestro & the MOST VERSATILE MAESTRO".
Version History:
Lists Featuring Hariharan