Most Hated Men Outside of Politics
Here's that male opposite to "Hated women outside of politics" Same rules apply: No political figures! No John McCain, Hitler, Mao Zedong, the Trumps, Bill Clinton, Chuck Schumer, etc.
The Top Ten
1
Onision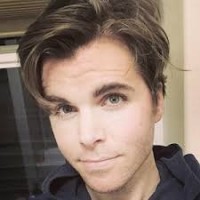 Gregory Daniel Jackson, known by his YouTube username Onision, is an American YouTuber and Internet personality.
YouTuber Onision is probably one of the most hated youtubers ever. Known for being a one-hit wonder with his "I'm a banana" video, filming his girlfriend have a seizure, his offensive viewpoints, and now his sexual assault allegations, this guy deserves the status as most hated man alive. - ReturnOfScorpio
Not to mention he is kind of a cult leader, he is very controlling of those close to him, forces them to to discard their families and who they become friends with, controlling, their emotions, their thought, their behaviors, and what people can say about him - germshep24
2
Alex Jones

Alexander Emric Jones is an American radio show host and conspiracy theorist. He hosts The Alex Jones Show from Austin, Texas, which airs on the Genesis Communications Network across the United States and online.
Alex Emerick Jones is an American radio host, and the head figure for the Infowars website. Like Moore, he's not a political figure, but he's quite hated for his unapologetic, right wing political stances. Infamous for a laundry list of conspiracy theories, many people either love him or absolutely hate him. - ReturnOfScorpio
3
Michael Moore

Michael Francis Moore is an American documentary filmmaker, left-wing activist, and author. One of his first films, Bowling for Columbine, examined the causes of the Columbine High School massacre and overall gun culture of the United States.
Michael Moore is an American film director and documentarian. Now, he's not a politician, so he's fair game.
Notorious for his unapologetic left wing stances, Moore has become public enemy number one for many a right wing person. - ReturnOfScorpio
4
Fred Durst

William Frederick "Fred" Durst is an American musician and film director. Durst is best known as the vocalist of the nu metal band Limp Bizkit, formed in 1994, with whom he has released six studio albums.
He has one of the most punchable faces I've ever seen. - Kevinsidis
Fred Durst is the lead singer of Nu-Metal band Limp Bizkit. Nobody has a major reason for hating him, but all of the little things add up to something big.
The Woodstock 1999 incident, alleging to've slept with Britney Spears AND Christina Aguilera, his pretentious attitude, and the overall lyrical content of Limp Bizkit's songs add up to make Fred Durst one of the most hated men in music.
I could easily make a list of guys in music that are jerks, but that'd be too easy. - ReturnOfScorpio
5
Harvey Weinstein

Harvey Weinstein is a former American film producer. He and his brother Bob Weinstein co-founded the entertainment company Miramax, which produced several successful independent films, including Sex, Lies, and Videotape, The Crying Game, Pulp Fiction, Heavenly Creatures, Flirting with Disaster, and ...read more.
Harvey Weinstein is an american film mogul. In 2017, he was caught up in the #MeToo movement and exposed for various sex crimes. He was convicted of 3rd degree rape in 2020. - ReturnOfScorpio
6
Jerry Springer

Gerald Norman "Jerry" Springer is a British-born American television presenter, former lawyer, politician, news presenter, actor, and musician.
Jerry Springer is a former politician, so this one's treading on ultra thin ice. However, what gives him a pass is his legendary talk show: the Jerry Springer Show.
Often in the crosshairs of critics as the dirtiest thing on television, Jerry's show has become the pinnacle of "trashy TV". Many of the fights have been accused of being staged. Still, it makes for some damn interesting TV… amirite? - ReturnOfScorpio
7
Mike Myers

Michael John "Mike" Myers is a Canadian actor, comedian, screenwriter, director, and film producer, who also holds British and American citizenship.
How does nobody ever talk about Myers? He kinda deserves to be on this list.
Mike Myers is an actor best known for his roles as Shrek, Austin Powers, Wayne Campbell from Wayne's World… and the Cat in the Hat. Yeah… that one…
So, Myers had some bad movies like Cat in the Hat and Love Guru. That's nothing compared to how he really is in person. He's apparently a major jerk. Refusing to talk with other staff on sets, and even allegedly firing a guy for making eye contact with him during the filming of the Wayne's World movie.
Sheesh, what a prick! - ReturnOfScorpio
8
Andrew Wilson
Andrew Wilson is an Australian businessman, and the CEO of video game company Electronic Arts since 2013.
Under Wilson's CEO position, EA has taken a deep, never-ending journey into microtransactions and loot boxes galore. Remember Dungeon Keeper 2014? The controversy seemed to come to a head with the release of Star Wars Battlefront 2 in 2017. The game wasn't just panned, or slammed… it was Undertaker style choke slammed by critics and fans alike for its seeming "pay-to-win" gameplay. After the controversy, loot boxes really became a major issue, with some countries banning them, classifying them as gambling.
Wilson's been taking the blunt of the criticisms, making him the most hated man in the video game industry. - ReturnOfScorpio
9
Charles Manson

Charles Milles Manson (1934-2017) was an American criminal who led what became known as the Manson Family, a quasi-commune that arose in the California desert in the late 1960s.
Cult leader responsible for murders in an attempt to start a race war. - ReturnOfScorpio
You know you're old when a cult leader who inspired multiple murders is lower on the list than a YouTuber and an angry alt-right commentator. Sigh... - truckturner
10
Tom Brady

Thomas Edward Patrick Brady, Jr., is an American football quarterback for the Tampa Bay Buccaneers of the National Football League. Brady is known for being the only quarterback in history to win 6 Super Bowls, and is often considered one of the best quarterbacks of all time. Brady is also frequently ...read more.
Tom Brady is an American football player. He's been quarterback of the New England Patriots since 2002. He's also notorious for always… frigging… winning. His Pats have also had a few big scandals. Remember the Raiders tuck game? Spygate? Deflategate?
He has 6 super bowl rings. You either love to hate him or hate to love him.
However, his Patriots were eliminated pretty early from the playoffs in 2019 by the Tennessee Titans. So, could it be the end of the Brady dynasty? - ReturnOfScorpio
The Newcomers
?
Yanderedev

Developer of the yandere simulator, and also a notorious crybaby who can't take criticism. This has led to many people being banned from his discord or subreddit and many YouTube videos criticizing him being taken down.
The Contenders
11
Bill Cosby

William Henry "Bill" Cosby, Jr., is an American stand-up comedian, actor, and author. ...read more.
Bill Cosby is an American comedian, best known (originally) for the Cosby show. However, his image as "America's Dad" was destroyed forever when accusations of drugging and sexually assaulting women came forward. In the late 2010s, he was sentenced to jail time for his acts. - ReturnOfScorpio
12
Jerry Sandusky

Gerald Arthur Sandusky is an American convicted serial rapist, child molester and retired college football coach. 'Sandusky held various coaching positions at Pennsylvania State University (more commonly known as simply Penn State) for THIRTY years, being highly regarded for his consistent ability to ...read more.
This guy looks like my uncle but with poor dental health.
13
Justin Bieber

Justin Drew Bieber (born March 1, 1994) is a Canadian singer, songwriter, and record producer. He currently resides in Ontario, Canada and is Christian. He is the son of author Pattie Mallette. ...read more.
14 George Zimmerman
15
Perez Hilton

Infamous blogger and social media personality known for his extremely obnoxious behavior. He recently feuded with a 15 year old TikTok user… - ReturnOfScorpio
16
Wade Robson

17
Mark Zuckerberg

Mark Elliot Zuckerberg is an American technology entrepreneur and philanthropist. He is known for co-founding and leading Facebook as its chairman and chief executive officer.
18
Steve Shives

19
Dahvie Vanity

David Jesus Torres, better known by his stage name Dahvie Vanity, is an American singer-songwriter and rapper born on September 5, 1984, who is best known as one half of Crunkcore duo Blood on the Dance Floor and as the face and creative mind behind Industrial project Sinners are Winners. He is also ...read more.
20
Jake Paul

21
Logan Paul

Logan Alexander Paul is an American social media entertainer and actor. He first gained fame through videos shared on the internet video service Vine, in which the athletic Paul engages in physical comedy, including slapstick pratfalls and public splits.
22
Peluchin Entertainment

He abused cats on youtube - Dvafan2
23 Nick Saban
24
DaddyOFive

25
6IX9INE

PSearch List