Bobby Orr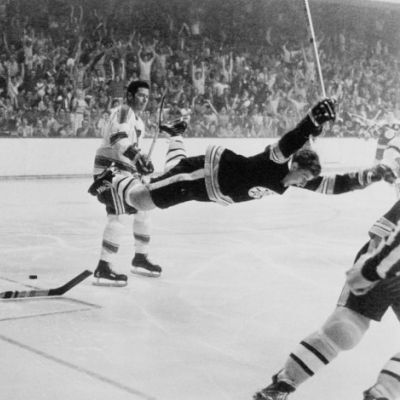 Uploaded by TheHabsFan
Info
Robert Gordon Orr is a Canadian former professional ice hockey player, widely acknowledged as one of the greatest hockey players of all time.
Comments
Top
Popular
Newest
Orr revolutioned the game in a way no ever did- not Gretzky-not Howe-not Hull. I once heard this analysis from a respected NHL player who played against all those players. Howe could do everything but not at top speed. Hull would always perform at top speed but he couldn't do everything. Orr could do everything- and at top speed. Orr invented the offensive defenceman. Before he came along, 10 goals and 30 assists were considered big numbers. At his peak and while still reasonably healthy, Orr put up 46 goals and more than 100 assists. In an era when the game wasn't as wide open as Gretzky's era. Plus Orr played defense and played it as well as anyone. And he could fight he had to. A much more complete player than Gretzky. And arguably Orr's supporting cast wasn't as strong as Gretzky's. At age 27, Orr won his second scoring title, his final healthy season. If he had stayed healthy it's mind boggling the numbers he would have put up. Gretzky played till he was 38. All things considered ...more
We're talking hockey player here - not scorer - not play-maker - not skater. Saying Gretzky is the greatest player because he scored the most points is like saying Pete Rose is the greatest baseball player of all time because he got the most hits - or like saying McDonalds is the best restaurant of all time because they've sold the most hamburgers. Not taking anything away from # 99s accomplishments on the offensive side but he was soft to the point of being a liability when the other team had the puck - if he hit anybody it was a mistake - he was protected by the refs (I think you could get a game misconduct for scaring him) - Orr on the other hand did it all - better than anybody else and he did it at breakneck speed. In the 76 Canada Cup with knees blown out to the point that he had trouble walking up the stairs to the rink he was still the best player in the world. Bobby hands down
The greatest players all have comparable qualities like superb skating, stick handling & puck control, physical presence (not all), anticipation, awareness, passing ability, quickness of shot etc. The most elusive skill seems to be skating speed. When a player possesses a full set of skills along with that rare component of explosive speed, then the other players seem to be standing still on the rush. I think of Bobby Hull & Bobby Orr and how that exclusive speed they possessed was what made them so dominant in their day.
Remember that Orr was a defensemen and played most of his career with a bad knee. They say the Soprano's was the best T.V. show ever but my vote goes to the Bobby Orr show, watched most of his games on tv38 wsbk. When the B. Orr Bruins were on T.V. , crime was down in New England. I have never seen anyone play hockey game after game the way he did. If it was not for his knee they would have had him checked to see if he were human. Best ever by far.
Orr did it all and at top speed. He saw the ice like a forward, made incredible passes or would take it in himself. Not only was he fast, his acceleration was amazing, he reached his top speed faster than anyone. Great stick handler, hard slap shot, blocked shots and while playing defense won scoring titles while having the best plus / minus in the league. In addition he was humble and a class person who never went out of his way to show up an opponent. To me the best ever.
Bobby controlled the puck, the ice, and the game from the second he stepped onto the ice until the final buzzer sounded. Nobody will ever compare to the great #4 who changed the game forever. They should retire the #4 league-wide because nobody could ever own it like he did. It's an injustice to him that people don't realize he is better than Gretzky- He's the greatest hockey player of all time.
Number 4 Bobby Orr. He changed the game. Gretzky was good. You can never call Gretzky a loser, but you really can't call him a winner. On the Oiler teams and after the trade, the winner was Mark Messier. But Bobby Orr was the one, who did it all both ways which the great one never did. If I were an owner, I'd want Gretzky, because he sold tickets. But If I were a coach, give me Bobby Orr. I could build a team around him.
Most dynamic of all the superstars. Skated better, handled the puck better, saw the ice better, was tougher and gutsier than anyone of his time. A defensemen who could win scoring titles? - who does that?! A player that could kill a penalty on his own, rush the length of the ice and either score or set someone up and still make it back on D to block a shot if needed. Only Orr. As Mr. Hockey said "I've never seen a player dominate both ends of the ice like that young man did". There will never be another that could do as much - only his knees prevented him from doing it longer. If Gretz is the The Great One,
#4 is the Greatest One!
So if your new to hockey and you are checking our stats and stuff you don't really recognize just how skilled bobby was. Yes, he won a crap ton of awards and he is in the hall of fame but it is more than that. He had skill,class,and awareness defensively and offensively. He bought a lot to the game of hockey in terms of setting a legacy for great offensive defenceman. I think he would of had pretty damn good stats had he decided to be a forward too! Always will be #1 in my mind because Gretzky has the stats to back him up but Orr will always have the class and skill to give himself a shot at being known as the best ever, even better than "the great one"
Orr did everything and he did it at top speed. At his top speed and he was not only fast, but his acceleration was incredible. He got to top speed probably faster than anyone else. Orr was a defenceman so he by definition should not get as many goals as a great forward but still won two scoring championships. I have seen Orr, Gretzky, and Lemieux in their prime, to me those are the three who were on a whole other level, but for me Orr was the best
Although Gretzky has the most point than any other player in history, Bobby Orr is the best player to ever lace up a pair of skates. He was a defenseman; yet, he dominated the whole league. He could go up and skate circle around everyone five times, and still get an assist or goal. If it weren't for his knees, he could have easily had a twenty-year career and get 2000 points easily. He is, overall, the best there ever was - skymeister
Why is Orr the greatest ever? He maintained an average +0.91 per game during his career, no one else is much above +0.5. Yes this is one of the rare stats where his shortened worked in his favor but his +124 single season total is also a record. The only argument against him is his shortened career, it keeps him from having as many accomplishments as Gretzky, that's it!
While it is very tough to go against Gretzky Orr was a complete player. An offensive and defensive machine. Also as tough as nails, he did not need any enforcer on the ice as he would go toe-to-toe when needed. I guess the big drawback was length of career. Watch some of his videos for those who are too young to have seen him play and be amazed
Best defensemen of all time. He revolutionized the position and created a new style of hockey. You can argue that gretzky was insane and has set so many records but he didn't drastically change hockey. Gretzky was an amazing play who changed the face of hockey but he didn't change the way it was played
I can only imagine Orr against Gretzky. Orr is faster stronger and has the same sense for the puck/play as Wayne. If the two played against each other during the original 6 period Gretzky wouldn't survive. The rough play of the times would badly hurt him.
If Orr played during Gretzky's period his speed may not be as dominating but his overall offensive abilities would still shine. Defensively he was good but Orr's transition game was as good as anyone's. Orr wins hands down.
This list is biased on favor of players still in the game. Orr revolutionized his position and Gretzky was a protege, coached by his father, who came after Orr. They are both great but I give the nod to Orr because he was a self taught natural talent who made it when the NHL was truly elite with only six teams and a base of millions of players to draw on.
Gretzky holds all the records for most assists goals and just about every other category imaginable. However Bobby Orr changed how the game was played and to win the scoring title as a defense man says something in itself. What would have done had his career lasted twenty years? Close between the two however I give the edge to #4 Bobby Orr!
Bobby Orr could and did do it all! As a DEFENSEMAN, Orr was at the top of the charts offensively, winning the Art Ross trophy twice and being in the top two scorers several times. He was such a magnificent skater, he was able to get back and cover on defense, if caught up ice. Hockey aficionados in his era would jokingly state that the Vezina trophy should be given to Bobby, as well, because he blocked that many shots every year! No hockey player who ever lived was able to control all three zones like Orr. He could do everything that Gordie Howe could do, but at a faster speed. Bobby Orr also has the best plus/minus in NHL history! Cjl
#4 was the most magical player to ever lace up a pair of skates. His skill set was far more encompassing than Gretzky because he was more than just a goal scorer - he controlled everything around him... Effortlessly. The most complete hockey player, he did on one leg what other superstars couldn't do on two.
If you never had the chance to see Bobby Orr play in the early 70's it was something special! When he got the puck and it counted you could sense something special about to happen! All those scoring stats - but what's is overlooked is the number of times those goals won the game!
I was lucky enough to see Bobby Orr and the Bruins during their hayday in the late 60's and early 70's. Although I will agree Wayne Gretzky was the best goal scorer, I've been watching hockey for some 45 years and I've never seen one individual dominate the game as Orr did. My mother begs to differ, although from Boston and an avid Bruins fan... Her favorite is Maurice Richard.
Orr singlehandedly controlled both teams when he played. He was the most successful offensively in the league as a defenseman and most of the time with one leg. As pure hockey skills, he is the best of all time.
Bobby Orr was incredibly effective in ALL THREE ZONES, not in 1 or 1 1/2, like Gretzky. It used to be half-jokingly expressed by his peers, that Orr should have been awarded the Vezina for blocking so many shots! He had the speed, acceleration and agility to get back in his own zone and make sound defensive plays if his offensive forays went awry. Orr could do everything to an extremely high level, and was just the best all-around AND overall player in NHL history.
Gretsky was a great player and deserves all the accolades he gets. Bobby Orr, however, was a man among boys, he changed the way the game was played. Two scoring titles by a defenseman! That's like a defensive tackle leading the NFL in interceptions.
- the only defenseman to win the scoring title... twice
- the all-time leader in plus minus
- NHL single season record for plus/minus: 124 (he had 139 points that year... that means the opposing team only scored 15 goals all season when he was on the ice... that's the most incredible stat in NHL history! )
- most times winning an award consecutively: 8 (Norris)
- only defenseman to record 100 assists in a season
- won an award Gretzky didn't win: the Calder Trophy
- the best skater in NHL history
- the most important reason that he is the best hockey player of all time... he did all of this on one leg... in only 9 seasons in the NHL.

He is a great person, great mentor, and the greatest hockey player of all time. I'm glad he is Canadian.

Thank you Robert Gordon Orr.

"Number 4, Bobby Orr... he shoots, he scores! "

:-)