Sidney Crosby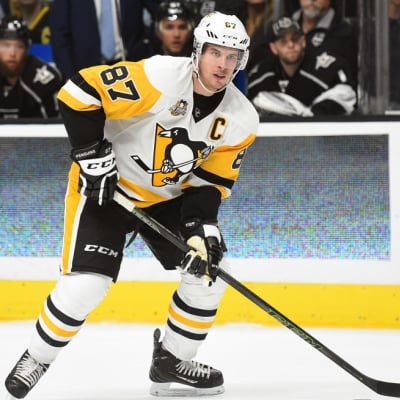 Found on cloudfront.net
Info
Sidney Patrick Crosby, ONS is a Canadian professional ice hockey player who serves as captain of the Pittsburgh Penguins of the National Hockey League.
Comments
Top
Popular
Newest
He's is amazing and way better than ovechkin! He's got the better stats and all! He is a boss!
#1! Best player on the ice, currently speaking. And definitely one of the best players of ALL TIME! Anybody that says different, or calls him a cry-baby, has no knowledge of the NHL and hate on him because he doesn't play for their team. I can guarantee, anybody who speaks negative about Crosby, would be wearing his jersey, cheering him on, if he played for their favorite team. Numbers don't lie. (stats) He also does a lot for his community, visits a lot of children's hospitals's, and gives a lot of kids hope. He has earned his spot on this list. Keep in mind, he's not even 30 yet. If he stays healthy, and keeps up what he's been doing since day 1, He will be #1
A hockey robot. Never says or does anything other than what you would want to see out of your team captain and the face of the nhl. Inhuman drive to win. Selfless scorer who either finds the back of the net or a teammate with a better look. Unrivaled passer, puck protector, and winner. Has proven himself in every arena and every level, from his two Olympic golds to his three Stanley Cups, to his innumerable personal awards.
Sidney's skill on the ice I think amazes many people, and the fact that even after all the injuries he had that he came back and worked even harder for every game, he seemed to have thought through his errors and tried to fix them the next games... He even watches what he does wrong on DVDs of the past games and makes mental changes when he gets injured, and I think the hate between Sidney and Ovechkin is unnecessary considering they both have different methods on the ice...
I don't care what any hater says, I played at a high level of hockey my whole life, and Sidney Crosby is by far the most gifted, skilled, powerful, wise hockey player in our day and age, to be his height, and have all these strong players that people don't always see game in and game out screwing and trying to slow, stop and break Crosby down, they still can't stop him from creating opportunities, exploiting other teams weaknesses and showing the viewer how above in pure talent he truly is in comparison to other pros out there on the ice, has been so fun to witness and I'm great full I get to see Crosby play his whole career, Mcdavid is a blessing to have starting out his career, and ironically being #97, a decade later, the next best player in the world after #87, is amazing to see for coming, and personally, if Mcdavid, lost that speed someday, knock on wood he doesn't, I think Crosby shows you there, that he has certain attributes that allow him to be better than anyone in the ...more
Well duh crosby's on this list I mean I'd even put him at the 5th spot but to all those people who call him a crybaby your just jealous and if you know anything about hockey you should know he rocks go Sid
He is without doubt the best player to ever play the game. He scored the golden goal, lead his team to win a stanley cup, and is the youngest captain in history. He is a true team leader on and off the ice. He is the face of the nhl, and the face of hockey, drafted first round first overall, he is the best in the world.
Sidney is hands down the best player ever, no one will ever touch gretzkys records, but the game has changed significantly, if you could put sid back in the 80's and 90's with gretzky where he too wasnt allowed to be touched he woupd destroy gretzkys records, his 1st nhl year he got over 100 pts, add not being touched, shooting on bigger nets, with goalies half the size I'm sure hed push 300 pts also to play with ringers like messier, kurri, tikannen etc. There's no arguing the fact he is the best ever, his size, speed, strength on and off the puck, his hands, the way he sees the ice, shot power (especially his backhand... ridiculous) his work ethic, people who deny the fact he is the best either have no idea about hockey, or are biased or because he's a "baby", he's still maturing and the fact he is a baby shows where his heart is and his immaturity but does not take away the fact that he's the best, sid plays with a big heart, he's fearless, he's the first one in the corners and not ...more - brousey
The 'kid' is clutch. He wins big games for the penguins when it counts. And when perfectly healthy, no one is better. - babbott15
Sidney Crosby is not the best player ever to grace the world with his presence. The 'Greatest Of All Time' title belongs to Wayne Gretzky, but Crosby is the only one posing a challenge to that title right now. He can outplay any player in the league right now hands down, but he still has to stick around for a long time to take records or titles away from Mr. Gretzky.
A brilliant, classy player that consistently rises above the cheap shots, dirty plays and attacks that come his way. Will go down in history as one of the greats, if not the best of all time.
Can you have idea which properties is the main for hockey player? Sidney has everything to be exceptional from others: elegant motion, a lot of goals, captain's plural characteristics.
Orr I can see limited league best players at the time. Gretzky very good but a water down league period. I have to move to Crosby due to the fact it is now a world game that Canadiens taught. And so many good players in one league called the NHL. His skills rivial Gretzky and Mario. But he does it within a league that is so competitive. The second and third lines now would be probably a number one on other lines back in the day. Hey I am a Canuck BUT huge different playing fields
Why is he better then Mark Messier. Mark is 2nd all time in points. And Mark has more cups and is the best captain of all time. Mark has a award named after him. 5. should be the Mouse.
he his one of the top player already in the league and he is dominating

He is a truly one of the best players ever. He is a terrific young man. He is hard working, determined and he exciting to watch. Here in Nova Scotia we could not be prouder.
Sid the kid is the best one even though Wayne gretzky sidney is the best for my opinion he is my favorite hockey favorite player he is the best one I think people just are jealous of him that's why he gets concotions
He's already made history and he's not even old enough to vote!
Sidney Crosby is one of the best or the the best players in the NHL. I am a penguins fan and you would expect me to do that but I think he is a great player all around
Crosby is way better then ovechkin. And the penguins can beat the crapitals any day
He is an amazing hockey player. I don't know if this recent but I kinda think he should be a bit higher in the rankings. Just my opinion
Sidney Crosby is maybe like Bobby orr maybe even the same as Bobby orr. THE BEST!
Just ignorant... you cannot compare this guy with Gretzky, Lemieux and Forsberg - just please read the stat's. And by the way, for the record: Forsberg played 2-way in the toughest era of ice-hockey, Lemieux killed the Points to GP record, while Gretzky owns the record 1-way player that will never ever be broken.
Crosby is my biggest fan I love him he is awesome he should be better than ovechkin because ovechkin sucks that is a proven fact
I hate to say it.. I am a Gretzky fan and Crosby fan but if Gretzky can in to this generation Crosby will win