Wayne Gretzky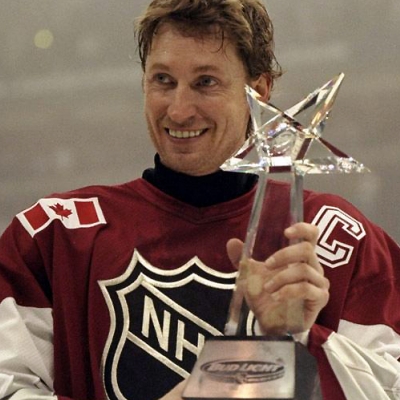 Found on sportsup365.com
Comments
Top
Popular
Newest
Hands down, THE best player ever. Orr was hands down THE best defenseman. Mario, well some whine that he was just injured too much or could have...blah, blah, blah. Take a look at the BEST amazing goals ever scored...hmm. Whose name keeps coming up? TSN even says there were so many amazing Gretzky goals, they could not just show one. Mario, well we remember one. Orr, one. Some say he wouldn't have gotten all those assists, except he played with such "skilled players"...well just look at the passes he made. Many of those passes were like "the puck had eyes" as was quoted over and over and over at the time. I don't remember hearing that about the other two. I saw both of them play. Also, staying healthy and giving 100% EVERY SINGLE game is an amazing feat in itself. Before he got to the NHL, naysayers said he would never make it in the NHL. Things would be different. Wrong. They say "He played in an era where there were just a lot of goals scored". Wrong. There are no Mike Bossys, no ...more
Simply the greatest hockey player that I have ever watched in the last 50 years. It has been fantastic to say the least. Thanks Wayne for the memories. You have taken "Hockey" the sport I love to a whole new level. Not only is Wayne the best that ever played the game, a true gentleman, great ambassador to our sport, young players coming up and simply a great person. Thanks again Wayne! Canada loves you.
As great as he was at capitalizing on his opportunity, the advantages Gretzky was given allowed him to play a completely different game than anyone else has ever played. He did a great job maximizing it, but it is impossible to compare him with any other player based on his advantages. Never hit, he was able to skate freely without being touched in a league that gave him every advantage.
1487 NHL Regular Season Games
894 Goals
1963 Assists
2857 Points
4 Stanley Cups
10 Art Ross Trophies
9 Hart Trophies

Though there are many players, like Henri Richard who won 11 Stanley Cups, who won more Cups than Gretzky, there is no individual who has accomplished as much as Gretzky. No one has more POINTS than Gretzky has ASSISTS.
The stats don't lie. Without question, he was the absolute greatest player ever. People like Crosby and Ovy shouldn't even be in this list yet, they're great players, but haven't become legends yet.
Come on now. I know Bobby Orr was great but how can you possibly say that anyone helped his team win more than Wayne Gretzky. The man has more assists than anyone else has points. He made the Oilers a dynasty. One man cannot carry a hockey team on his back like basketball but you cannot possibly say that any player has ever done more for his team.
He was simply The Greatest, especially when he had to play with not so gifted players that were there to protect him on the ice. Imagine if he had two gifted players to play along side of him. What would his numbers have been then.
He has the best record in the nhl, and he is called the great one because he has tremendous passing quality, and is considered by many the greatest player of all time, their is nobody compared to him.
Crosby does not deserve a top 10 ranking... he has not played long enough let alone the fact he hasn't even equaled any of Gretzky's records let alone break them!
I think its amazing that he was the greatest hockey player ever in history its an easy choice to say gretzky but hockey was so much easier back when all the greats played hockey but gretzky was outstanding
Nobody controlled the puck and the ice surface like Gretzky. Without size, blinding speed, toughness or a great shot, he still scored and set up more goals than anyone in history, now, then or ahead.
The best there ever will be. First 50 goals in 39 games. More assists then anyone has points. More records than anyone. More trophies than anyone. Did it with skill and not size or speed. 99 The Great One
Best ever,I don't feel I need to explain.Bobby Orr and Gordie Howe tied for second. I thought it was impossible to top these two until "The Great One" came along.
Wayne Gretzky is EXTREMELY talented! I am doing my speech on the edmonton oilers. I am a DIE HARD oilers fan so personally, I think he is the best, but a couple of days ago he said that Gordie Howe is the greatest but I don't believe it! He may be really good to but personally, You're the best!
Yeah Wayne was good, an innovator. But lets not forget the players he played with. I think that if Orr and Lemieux would have stayed healthy and had the same talent the Wayne would have had, they would have eclipsed the great one.
mmmm its not that easy to pick him over others.. because if mario wouldn't have been plagued with cancer he would have shattered all of his records.. still gretzky is great,
Who made this list? A 12 year old? On what planet are Crosby and Ovechkin in the top 5? Ovechkin hasn't even been that good the last couple of years and well Crosby lets hope he survives the concussions.
Wayne gretzky is the best hockey player ever in the world. He could take on anyone in the NHL and beat their butts off.
For anyone who know's hockey, Lemieux was better...if not injured so often... and The Demon Blond should be in the top ten simply for is natural skills. Has a junior hockey player, only Lemieux score more goals in a season 133 then the flower (130) who did it in 62 games (and lemieux 70).
Interesting that Gretzky has a restaurant and a special room named in the honor of his best list. No Mario though? Maybe he is annoyed by a guy with more talent and he knows it! Does he serve crow and chicken too?
No one can top the Great One, it is not even possilbe that there is a discussion except for number 2, that is the only debate here.
Amazing hockey player. Broke records for goals, then broke records for assists. Won a ton of cups as well.
wayne gretsky is no doubt the greatest hockey player who ever lived,mario your awsome too
The most highly skilled playmmaker and scorer ever. Best passer, he could anticipate how plays would develop. Hi innovative playmaking from behind the net stymied many defense and goal tenders. Many of his goals were "garbage" goals by capitalizing on some one elses hard efforts. Many were tap-ins from the side of the net. However, his fear of playing physically and reliance on goons to protect him knocks him way down in my estimation. Definitely a top fiver, but nor the best ever.
Wayne Grezky is the best nobody could ever beat him not to mention the fact that he played hockey and coached it