Gackt - Japan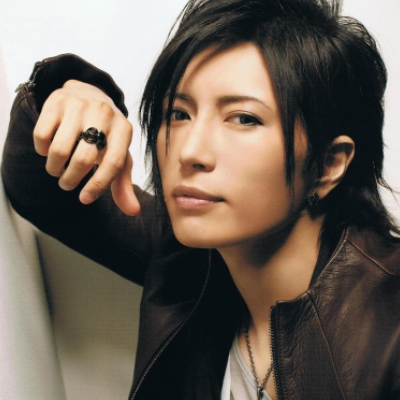 Found on lyricsmode.com
Comments
Top
Popular
Newest
He is physically perfect for this reason has been the model for many characters in video games, anime, manga, movies, advertising campaigns about beauty, etc.. I think that some nominees men in this popularity ranking have not as many physical qualities as Gackt who is The Eastern Adonis.
I love his character, confidence, and samurai spirit that he expresses in everything he does. And his discipline, determination, and devotion for the sake of his craft makes him an extraordinary and unique beauty.
Gackt is not only the most beautiful man / sexy / lovely planet earth if not more so than an excellent starting composer, a matchless singer, an insurmountable... And their music is great!, The best ROCK THAT I HEARD IN MY LIFE
He can look delicate and angelic when he wants, and he can look sexy and dangerous when he wants. Regardless, he will always ing hot and it's emphasised by his beautiful and flawless personality. He really is a god amongst men.
GACKT is the most beautiful Asian man to ever walk the earth. I love his voice and his stage shows are amazing. I love his witty humor and his cuteness and his ability to play any musical instrument. - ashleylynarrowsmith
The years don't past for him, his body are so beautiful and he is very tall, also his skin look soft and clean, what more you need? Is perfect and only whit exerciser.
GACKT is a truly wonderful person. His charming looks appealed to me, his quirky personality and his music entranced me, and his kind heart hasn't let me go.
GACKT is a wonderful man in every single way. He's hot, charismatic, an incredible musician. EVERY MEN SHOULD ASPIRE TO BE LIKE HIM.
Great musician, excellent actor and model... Gackt with his career has showed that Japanese artists can tear down language barriers, even so, showing his devotion for his country and Japanese pride.
Gackt is a gift sent to man. He's wonderfully talented and on top of that, he has stunning looks, and he's hardly aged a day. Seriously, it's still hard to tell that this man is pushing 40. Gackt must be number 1.
Gackt is not only handsome, but he is a gentleman. He has a sense of humor, and he is very kind. Gackt is one of the most beautiful people on this earth, and his music is gorgeously written.
No one is as sexy as GACKT. He's God on the Earth. If you don't vote him, you don't know how beauty looks like! Just look at him, listen to his music! Isn't he what every woman desires?!
Gackt rhymes with hot. He's hot, gorgerous and sexy. Even men say they will do him.
GACKT is not only the hottest man, it's a wonderful person too, with many values and an amazing personality, and is always working hard for his fans..
Gorgeous in every way possible. Impossible not to love! I've been a fan for 7 years straight and there is no looking back! Mr. Perfect all the way!
Utsukushii desu. He's beautiful. - Nejixchan
This man is so much more than some pretty face. Excellent work ethic, and serious about things that need to get done or to be helpful.
When GACKT dances, sings, poses for pictures so sexy also his voice, GACKT is totally the HOTTEST MAN in Japan! I LOVE HIM so MUCH
I think GACKT is hotness and beauty himself. The things he says, the way he says it, the gestures he makes, his low sexy charming voice...
Everything he does is awesome. HE is awesome.
I love him so much He is just so perfect! He is a real beauty I think. And he is sexy as hell! He really deserves to win!
He's not even human! And his voice is amazing he's kind and funny. And a great actor too, he has everything!
Gackt still the hottest one... With his pheromone can charm both women or men
from Dears with love
Gackt-san is the only person I can see as beautiful. If you don't believe me, check him on the internet and you will see what I am talking about.
He is the most gorgeous person I know.
Gackt is a very beautiful gorgeous man and he's very gorgeous I love yellow fried chicken and
Beautiful. Inside and outside. The FIRST and not only in Asia, but in the whole world!
Related Lists
Best Male Singer of Japan
Best X JAPAN Song
Best Gackt Songs
Top Ten Reasons to Love Japan