Vanessa Hudgens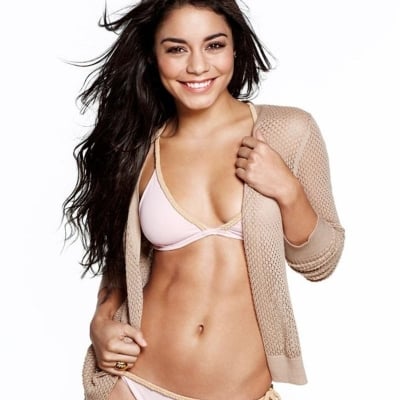 Found on imgur.com
Info
Vanessa Anne Hudgens is an American actress and singer. Hudgens rose to prominence playing Gabriella Montez in the High School Musical series.
Comments
Top
Popular
Newest
I can't deny at all I'm a huge of Vanessa she's so pretty when I started to watch high school musical but anyway I know Selena Gomez be friends with her they're so close I can live without imagine this I wanna be her in high school musical she's dated Troy on that they're so cute couple I knew troy never hurt her feelings he truly loves her very much I understand that I really do,
Vanessa Hudgens is a Disney Star, and she really deserves to be number one on this list. She rocks any scene she's in, and every Disney fan (such as myself) can relate to her. Playing an innocent school girl in High School Musical, I find it impossible to get her songs out of my head. Gorgeous inside-out, from head to toe, she is by far one of the best Disney Channel actresses.
I probably think that Vanessa should be at number 1... Open your eyes and see how gorgeous, smart, talented and smart she was... I love her so much.. Disney is very much lucky to have her!
"Vanessa you are so preeeeety Ire ally like the way you performed on High School Musical 2. I really like the way you and zac act in the movie,I am your biggest fan you ROOOOOOCCCKKK I LIKE ZAC FOR YOU,you towo will make a great couple
To be frank and fair, I believe that Vanessa is the only Disney girl that do not need to "try hard to" be hot... This is just my opinion, so please don't bash me if you're other girls' fan.
Vanessa, you are really have a hairy vagina and is really hot. I really want to have sex with you. My opinion is you are the most cutest and hottest one in the world, good luck with winning, I love you.
You really have the most charming face van! I think you deserve to be the first ranked most beautiful girl in Disney! You definitely have the most unique beauty among all them... It's undeniable in everyone's eye!
Not even an argument. There are millions that look exactly like selena. Vanessa is hot sexy and beautiful at the same time. And she's just as beautiful inside as well and she's such a queen it is not even funny.
vanessa hudgens I love you . so much you are a good singer and you are so pretty!!. and I voted for you because you are the prettyest girl I have ever seen.
She is so hot it makes me lose control of my self. I'm literally sitting on my couch looking at this pic and my whole body is just shaking in place. It makes me want to look up where she is and find her and just lose control. She is so sexy it shouldn't be physically possible for mother nature to have made that body. But she did and I love her for it. But not as much as I love venessa.
hi watt up. you are really pretty. I wish a happy new year. you are a good actor I wish I could meet you 1 of these days. I wish you n zac come 2 my house.
She looked superb in all the High School Musical movies... Also she did awesome acting... Looked emotional, happy, enthusiastic and love-sick at times... Also she is gorgeous..
You are the best singer, none of my friends agree or know who she is but I am her biggest fan I think she is a great actress and singer and I would love to meet you one day!
vanessa you are really pretty and have a great voice hope you win your the best love ya lots your best fan ever

YOU ARE THE BEST SINGER IN THE WORLD VANESSA I LOVE YOU AND I THINK YOUR SO PRETTY I REALLY WANT TO MEET YOU! (L)
U R SOOOOOOOOOOOOOOOOOO PRETTY i am going to vote FOR U BECAUSE U R THE MOST PRETTYST GIRL I HAVE SEEN
hey waz up vanessa I love you I wish I could br like you when I grow up I love you so much you are pretty - BABYGURL
VANNESSA HUDGENYOU ARE SO SEXY AND FINE YOU ARE THE BEST AND I HOPE THEY DONT DROP YOU OUT FROM HMS3
Hey, Vanessa I think you are the COOLEST out of all of them.

I think you are BEAUTIFUL & CUTE
you are the best gil charecter on hsm youare so cute andgood looking of course i luv yu babe
Hey Vanessa i just wanna say that you are the coolest person on earth and Zak.. love ya.
dang almost evry guy is going 4 u well i luv ure music and ti ashout out 2 my baby smiley
I pick her because she has the prettest skin I have ever seen wit dat sexy face of hers - lily
your the sexiest girl on the planet my friend wants to merrie you I love you so much!
vanessa u r sooo cool and pretty and de hair is off de huk luv u lots from all de girls
Related Lists
Best Vanessa Hudgens Songs
Best Vanessa Hudgens Movies

Top 10 People Named Vanessa
Top 10 Best Michelle Branch, Vanessa Carlton and Stacie Orrico Songs
Best Vanessa Carlton Songs