Top Ten Hottest Female Ever After High Characters
The Top Ten
Holly O Hair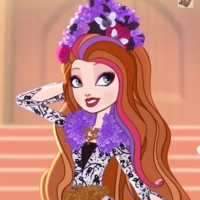 She is one of my favorites along with Meeshell, Briar, Cupid, and Ashlyn
Holly, of course
Outstanding
Lovely
Loving
Youthful
YAS HOLLY SLAYS
I love love her the best! whos with me?
Darling Charming

Adorable!

Darling, of course
Amazing
Respectful
Lovely
Incredible
Nice
Gorgeous
She's so beautiful, kind, and heartwarming. #Godarlingforever
Her eyes and hair are literally everything
Briar Beauty

Beautiful
Right
Intelligent
Attractive
Remarkable
She may be pretty or hot, but no, I don't really like her, UGH :/
Way to girly... - Amazed
UGH, I HATE HER SO MUCH SHE IS EGOCENTRIC, BOSSY AND A SPOILED BRAT
Rosabella Beauty

I love her style it suits her so much - Amazed
Raven Queen

Can we at least put her in top 2?
I voted for Raven Queen because she thinks she should chose her own path. I don't know why apple white is always bossing her around.Apple Whites the worst.#GoRavenQueenBooAppleWhite
Apple White

Very girly - Amazed
Honest, pretty, and very friendly. Also lovely 😊.
Lizzie Hearts

Wish she had more screen time
Lizzie is so precious.
Madeline Hatter

Hate Cerise Hood! Got waaay too much screen time & is mega boring
So fun and bubbly
Kitty Cheshire
Duchess Swan

The Contenders
Faybelle Thorn

Cerise Hood

Pretty inside and out
Ashlynn Ella

Nope, Briar is arrogant and terrible but I agree with Ashlynn, Raven, Holly and Cedar.
Why only 2% people!? No offense, I like other characters too but she is nice and kind. She's my first favorite along with Briar and Raven. Second is Holly 'o' Hair and Cedar Wood. #EAHRocks
I love her!
I love Ashlyn Ella she's the best definitely deserves number 1 #AshlynElla I love Hunter to
Poppy O'Hair
Meeshell Mermaid

Blondie Lockes
Crystal Winter
I love her. She's so pretty, smart, nice, caring brave and loyal. Don't you love her too?
I don't. She is pretty but spoiled.
Ginger Breadhouse
C.A. Cupid
She is so cuteee - Amazed
Cedar Wood
Justine Dancer
BAdd New Item