Hottest Female Tennis Players
The Top Ten
Ana Ivanovic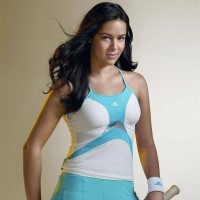 I have met Sharapova... I play tennis and I met her in America! I LOVE HER.. But I think that Anna Ivanovic is prettier! Especially since Maria Sharapova is so tall! She is seriously massive, you can't see properly on T.V. but she is huge.. Making Ivanovic win!
She has a great body and beside that Anna is one of the most elegant player from WTA
Cute girl with a nice smile, deserves number just for her sexy body and thighs, also looks like great wife material
Saw her in person and she is truly stunning, even more beautiful than I could have imagined. So graceful, and so sexy.
Maria Sharapova

Maria Sharapova is a Russian professional tennis player of Belarusian descent. Sharapova has competed on the WTA tour since 2001. She has been ranked world No. 1 in singles by the WTA on five separate occasions, for a total of 21 weeks. She is one of ten women, and the only Russian, to hold the career ...read more.
SEXY MARIA is ten times above the rest her body image and face appearance shows exactly why she is definitely number one how can anyone say that Maria is not number one
She is such a beautiful and awesome tennis player! Her smile is so pretty and I love it so much. GO MARIA SHARAPOVA!
Maria sounds stylish and dresses gorgeously. She is sexy on the court and off the court she is again very sexy especially on her swimsuits. Whatever it is, she is the hottest tennis player ever-male or female.
Sharapova is undoubtedly the sexiest tennis player ever! She is very beautiful, hot, sexy, cute, voluptuous, tall, slim and perfect for a good tennis player. She playes really well, but her looks are really astounding. I love you Maria!
Anna Kournikova

Meh. No hips, no behind, broad shoulders, very skinny legs, not successful, in love with herself, pretentious and seems to have an attitude problem (Was once called a "nightmare"). Ivanovic all the way (though she might be considered too tall by some). Successful and very pretty.
She is very hot... very hot
Martina Hingis
The most beautiful and sexy
Absolutely the most sexy female tennis player
Great legs!
Caroline Wozniacki
Caroline is my favourite tennis player and she is so beautiful! One day she will win Grand Slam and will be number one again...

Caroline Wozniacki Career Stats:

Titles - 20.
Best Rank - 1 (for 67 weeks; 2 years end up llike number 1 (2010, 2011)).
Career Prize Money - US$. 15,113,558.
Sexiest player!
Maria Kirilenko
Why is she not in the top 10? I don't think she is the best but she should be in the top 10.
Chris Evert

She was always aware of her beauty, figure and legs. Yet she focused on her tennis and winning, unlike so many other tennis beauties. That is what I find most appealing in her.
Chris Evert should be way higher... certainly if it were an all time list. A naturally beautiful face, terrific figure, and stunning legs. Her poker face on court just added to her sex appeal.
Great dress sense. Never sweated. Didn't need to. It was her opponents doing all the running after all!
Great figure, lovely legs. Feminine, pretty and petite. On court she never seemed to run or sweat and was always well dressed. Nightmare for her opponents.
Sania Mirza

The Gorgeous And Sexiest Tennis Player Of India!
She is most beautiful
Sexiest.shoould be in top 3
Garbine Muguruza
Beautiful smile with little dimples when she does so. A honey.
Unique features, best legs of all
Steffi Graff

Perfect mix of elegance and feminine strength. Lovely smile and seductive eyes. Legendary legs
A perfect body, perfect personality, lovely small and seductive eyes
best bod ever, lovely blue eyes, beautiful hair and best personality and kindness. lucky Andre
Be glad it's legs because her nose is almost as long as her legs.
The Contenders
Sabine Lisicki

It's only a matter of time until she passes Maria Sharapova. Sabine is so sexy.
Eugenie Bouchard
Is really hot and he born in Quebec
She is strong, tall and and a classic beauty. Very elegant.
She is a good player and will become even better and its on its way to be the hottest too. plays like sharapova and is becoming even hotter. classy too
Daniela Hantuchova
One word... LEGS. She has struggled at times on the court but never her looks. Sexy body and a pretty face to boot
Beautiful
Camila Giorgi
Gabriela Sabatini
The only reason she's not Top 3 is that for some reason she's been forgotten over time.
No one and I mean no one beats this Argentine's sexiness
The only reason Sabatini isn't higher is the lack of popularity. Seriously, Steffi Graff over Sabatini... that's hilarious.
Serena Williams

Serena Jameka Williams is an American professional tennis player. The Women's Tennis Association ranked her world No. 1 in singles on eight separate occasions between 2002 and 2017. She reached the No. 1 ranking for the first time on July 8, 2002.
She should be number 1 not 16, she is the best strongest tennis player ever!
Serena's the sexiest woman in the sports world and has the body of a goddess. She's the perfect female specimen and represents how real women are supposed to look. She takes care of her body and has a booty and hips, plus a six pack.
Serena is an incredibly beautiful and pretty woman. She also has a draw dropping physique, amazing curves, perfect booty, and she has immense physical strength with huge muscles!
She is an exceptional tennis player, no doubt at all. But her looks are equally amazing. People may call her fat, but she is just well covered. I like her face very much. Serena must be no.2 or 3 in this list because he is so hot, n sexy.
Jelena Jankovic
Are you kidding me she's ugly!
That's funny
Ashley Harkleroad
Agnieszka Radwanska
Nicole Vaidisova
Tatiana Golovin
Dominika Cibulkova
Li Na
Victoria Azarenka
I think she's the hottest and prettiest face nowadays. Go azarenka!
So beautiful and sexy and best tennis player in world
Simona Halep

Honestly, she's kind of adorable. Strangely cute in a slim, athletic way. Nice person too.
Incredibly beautiful women and a fantastic tennis player with class and dignity.
PSearch List