Hottest Guys In Bands
The Top Ten
1
Brendon Urie - Panic! At the Disco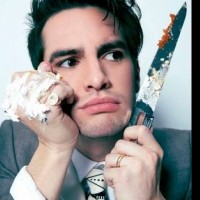 Brendon Boyd Urie, more commonly known as Brendon Urie, was born April 12, 1987, in St. George, Utah. He is an American singer, songwriter, musician and multi-instrumentalist. He is best own as the lead singer of the American pop-rock band Panic! At The Disco. He is the only original remaining member. ...read more.
How can you not love Brendon? He's cute and playful, but also really sexy. He doesn't realize how sexy he is. He doesn't have to try.
I absolutely LOVE Brendon! He's so hot and so talented it's not fair. So many qualities in one perfect person.
Even if he is the only one in his band, he is the hottest. WHoa boy. He needs to stay number one.
HE IS THE MOST SEXIEST AND MOST ATTRACTIVE (sadly, he's married) BUT STILL LOOK AT THAT FACE HE IS A FLIPPING BLESSING
2
Kellin Quinn - Sleeping With Sirens

Kellin Quinn is an American singer who is known as the lead singer of the band "sleeping with sirens".
Kellin is the hottest guy ever and he is amazing! His eyes are big and beautiful and he sings in a smooth alto voice. His songs are so romantic and that compliments his sexy face and body! I LOVE YOU KELLIN!
Number 1 I'm my book and he is no nice in person!
3
Gerard Way - My Chemical Romance

Gerard Arthur Way is an American singer, songwriter, musician, and comic book writer who was the lead vocalist and co-founder of the American alternative rock band My Chemical Romance from its formation in September 2001 until its split in March 2013. His debut solo album Hesitant Alien was released ...read more.
How is he not any higher? He needs to be #1!
This guy is perfect
Literally hasnt ages a day and is too sexy for me to comprehend, not to mention he is adorable and it a prettier girl than I could ever be❤❤😍
The world's most beautiful jacket slut! (Only My Chemical Romance fans know what I'm talking about)
4
Andy Sixx - Black Veil Brides
In the words of Onison 'even if everyone you've ever met has described you as a 10, stand next to Andy Beirsack and you'll look like a 2.'
Fun fact, I'm best friends with his cousin. Haven't met him yet though.
Oh geez... Him. He is the meaning of perfection. I would do him any day
The blue eyes/black hair combination is one like no other
5
Billie Joe Armstrong - Green Day

Billie Joe Armstrong is an American musician, singer, songwriter and actor who is best known as the lead vocalist, primary songwriter, and guitarist of the punk rock band Green Day, which he co-founded with Mike Dirnt.
He might be getting old but he will always be sexy in my eyes.
I bet he would be 200 and look 102 how can he do this good for 44
He's so hot for his age I just think he would live to 200
He still looks damn fine for over 40
6
Josh Dun - Twenty One Pilots

Joshua William "Josh" Dun is an American musician. He is currently the drummer for the band Twenty One Pilots.
I can't help it when he's such an adorable puppy... I love him and Ty!
HOW IS JOSH NOT IN TOP 5!?! HELLO TAJE A LOOK AT THIS GORGEOUS MAN! and can we talk about that v-line!
JOSH DUN IS THE MOST GORGEROUS HUMAN BEING ON THIS ENTIRE PLANET. HE IS ADORABLE AND HOT AND SEXY AND AMAZING!
JOSH DUN IS ADORABLE AND HOT AND PERFECT AND GORGEOUS AND JUST AMAZING ALL AROUND JUST LOOK AT THAT FACE!
7
Frank Iero - My Chemical Romance

Frank Anthony Iero, Jr. is a musician who was the rhythm guitarist and backup vocalist of the alternative rock band My Chemical Romance as well as the vocalist of the post-hardcore band Leathermouth and electronic-hardcore act Death Spells.
I love Frank Iero! He's so cute and funny, and the fact that he's short makes him that much sexier! He's the cutest guy ever!
I actually think Frank should be above Gerard in this chart. He's so adorable and his smile... Oh his smile
Frankie is so hot! I've always thought he was just the most adorable, sexiest guy ever!
Little Frankie is so cute! I love it when he pranks Mikey! It's funny!
8
Ryan Ross - Panic! At the Disco

Ryan Ross used to be the guitarist, backup vocalist, and main songwriter for the band Panic! at the Disco. ...read more.
He is the sexiest person ever, but that's not the only reason to love him. He doesn't have muscles or abs, but he doesn't need all that. He has a gift. He is an artist, especially in his lyrics. He is so inspirational and amazing and I love him. Lastly... I LOVE HIS FACE SOMUCH!
Ryan Ross is the hottest person in the entire universe, let alone this list! I love him so much! He was in the best band in the world and when he writes a song, it's magical! I also love it when he sings... It's amazing!
I don't like him that much to be honest
He's just beautiful
9
Matt Shadows - Avenged Sevenfold

Matthew Charles Sanders, better known by his stage name M. Shadows, is an American musician, best known as the lead vocalist, songwriter and founding member of the American metalcore/alternative metal band Avenged Sevenfold.
Should be at number 1,no doubt
Hottest man ever...
10
Kurt Cobain - Nirvana

Kurt Cobain was born February 20, 1967, in Aberdeen, Washington. In 1987, he started the grunge band Nirvana, which became one of the most successful bands ever. He was a talented yet troubled grunge performer. Kurt Cobain became a rock legend in the 1990s with his band. He committed suicide at his ...read more.
He is the got of rock
The Contenders
11
Luke Hemmings - 5 Seconds of Summer

Luke Hemmings (born July 16, 1996) is an Australian singer and guitarist. He is the lead vocalist for boy band 5 Seconds of Summer.
12
Oli Sykes - Bring Me the Horizon

Oliver Scott "Oli" Sykes is a British musician, best known as the lead vocalist of the band Bring Me the Horizon. He also founded the apparel company Drop Dead Clothing.
Love their music!
His eyes are gorgeous, his hair is amazing, he has tons of tattoos and a British accent... WHAT MORE COULD YOU POSSIBLY WANT GODDAMMIT?!?
13
Gabe Saporta - Cobra Starship
He shouldn't be number 5...
14
Pete Wentz - Fall Out Boy

Peter Lewis Kingston Wentz III (born June 5, 1979)is an American musician. He is best known for being the bassist, lyricist, and backing vocalist for the American rock band Fall Out Boy. Before Fall Out Boy's inception in 2001, Wentz was a fixture of the Chicago hardcore scene and was notably the lead ...read more.
Should be No1! I can't think of a sexier rockstar!
SEXIEST GUY IN THE WHOLE UNIVERSE! He is the meaning of perfection. He has the best band ever and is a SEXY PIECE OF EYE CANDY! HIS ABS MAKE ME CRY because I CAN'T JUST TOUCH HIM! He is also short and short guys are SEXY GUYS! I LOVE PETE WENTZ!
15
Jared Leto - 30 Seconds to Mars

Jared Joseph Leto is an American actor, singer-songwriter, and director. He is well known for being the lead singer of Thirty Seconds to Mars.
He has perfect eyes!
Oh, those eyes...
16
Ashton Irwin - 5 Seconds of Summer

17
Patrick Stump - Fall Out Boy

Patrick Martin Stumph, known professionally as Patrick Vaughn Stump, is an American singer, songwriter, musician, record producer, actor and music critic, best known as the lead vocalist, guitarist, pianist and composer of Fall Out Boy, an American rock band from Wilmette, Illinois.
It was so hard to choose which guy to vote for, ohmygod. I chose Patrick because his singing talent (and hotness) is so underrated. Love Pete, Brendon, Gerard, Mikey, Ryan and Jared as well though!
I have to ryan ross and my chemical romance now
MY SMOL LITTLE BEAN AHHH HE IS SO CUTE I'm!
18 Ben Bruce - Asking Alexandria
19
Martin Johnson - Boys Like Girls
Oh my GOD! Martin Johnson is gorgeous! How could anyone possibly disagree? And the fact he's in such an awesome band makes him even more appealing! I love him and I love the others too! But Martin is hot, not questions,
He's the first reason why I turned to listening to rock bands way back 2008. All love for you Martin!
20
Alex Turner - Arctic Monkeys

Alexander David "Alex" Turner is an English musician. He is the lead vocalist, guitarist, and principal songwriter of the English rock band Arctic Monkeys.
I love the way he has this sexy element to him. I don't know what it is, but he's just naturally sexy. His lyrics are the same way, and those are what made me drawn to the band. And their unique, captivating sound.
How is Alex Turner number 29? He's so hot and just emits this sexiness. I can't really explain it. He just has a sexy vibe I guess.
Wow is all I can say when I see his sexy face.
He is perfect
21 Nate Novarro - Cobra Starship
22
Vic Fuentes - Pierce the Veil

Victor Vincent "Vic" Fuentes is the lead singer and rhythm guitarist of the rock band Pierce the Veil.
How could you guys forget such a hottie!?!? 😍❤
23
Jimmy Page - Led Zeppelin

James Patrick Page is an English musician, songwriter, and record producer who achieved international success as the guitarist and founder of the rock band Led Zeppelin.
24
Michael Clifford - 5 Seconds of Summer

He can be cute, hot, and sexy even with a resting face
25
Ricky Horror - Motionless In White
Just found out he can sing, he needs to be higher
Hottest man alive
PSearch List