Top 10 Hottest Guys From the CW
The Top Ten
Misha Collins - Supernatural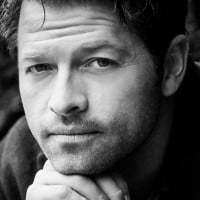 Dmitri "Misha" Collins is an American actor, best known for his role as the angel Castiel on the CW television series Supernatural.
Misha is absolutely one of the hottest men on any network. His gorgeous blue eyes, beautiful smile, and sexy dark hair would set him apart no matter what. But it is his heart, his generosity, his wonderful personality and humor, and his kindness that really set him apart and make him truly a man to be admired in every capacity. His work with his charity, Random Acts (making the world better one random act of kindness at a time), is inspirational. His kindness and love for his fans is heart-warming. He inspires me to be a better person and to be my own person.
#DeathToNormalcy
Not only is Misha unbelievably attractive (those bright blue eyes and head of thick dark hair, anyone? I mean come on), but he's funny, thoughtful, witty, kind, generous, charming, intelligent, lively, and so many other terms that can't even begin to properly describe this man. He cares more about living his life than by what people think of him. He'd rather be himself than fit into some box of expectations and social norms, and that seems incredibly freeing. He's an inspiration to so many, including myself, and if he can't get a smile out of you then you're lying.

Being attractive, and in this case, hot, isn't entirely about physical appearance (though Misha is definitely not lacking in the physical category. Just go look at the man, seriously). It's a culmination of many things, including personality and charm. And Misha's overflowing with both. If this man can't charm your pants off or bring a smile to your face, then I wholeheartedly don't believe you.

Misha Collins ...more
Misha is the sexiest man in the world. He's so beautiful it hurts. That isn't even the best part. He's a wonderful person and a real role model. He's someone I'm proud to look up to and I hope one day I can find a guy that's nearly as amazing as he is. He's kind, hilarious, generous and just all around wonderful. He inspires me to be a better person and I am so happy that there are people like him in this world. He's also an incredible actor, a dedicated family man and really cares about giving back to the world. He's his own person and he's real which is so refreshing. I'm so glad he joined Supernatural and became my favorite character. I hope the show never ends so I wont ever have to stop seeing him.
Misha Collins is possibly the best role model anyone could ask for. Not only is he ridiculously attractive, he's just a GOOD person. He strives to make himself a better person and to make sure that whoever is looking up to him, let it be his own children or his fans, he makes sure that he's being a good example. He is just simply the most beautiful person I have ever seen. His kindness and generosity makes me try to be a better person just like him. Every day I try to be a little bit more like Misha. His humor, his kindness, is intelligence his eyes, smile, and of course his sex God-like hair. He is definitely one in a million.
Jensen Ackles - Supernatural

Jensen Ross Ackles is an American actor and director. He is mostly known for his role as Dean Winchester on the CW fantasy series Supernatural. He is also known for his roles in television as Eric Brady in Days of Our Lives, which earned him several Daytime Emmy Award nominations, as well as Alec/X5-494 ...read more.
Jensen might be the closest thing to perfect actually the closest thing to perfect. He is so nice and funny not to mention beautiful. his bond with Padalecki its like they are actually brothers. His sparkiling green eyes only make him even hotter. Not only is he a good sweet person he is an AMAZING actor he plays dean winchester so well I'm am so glad that he is on the list and that he is on supernatural he will forever be my favorite actor in the world and one of my favorite people in the world. Always remeber to Always Keep Fighting because You Are Not Alone Family Always Has Your Back also Family doesn't end with blood nor does it start with it. Love Jensen with all my heart
Jensen Ackles will forever be the hottest man on the planet, not just the CW, to me. He has a quiet confidence and an ability to encourage others to help raise/elevate their game-no matter what role they play or have, that is tremendous; and that is so refreshing in the world of Hollywood that seems to revolve around the more egocentric. Jensen inspires everyone, not just with his smoking hot looks, but with what he brings out in others-their very best. Love this guy. So much.
He's extremely hot, yes, but he's such a sweetheart as well. He's generous, loving, a GREAT actor, funny, and so many other things that I can't even begin to list them all. So yes he has a gorgeous face and gorgeous everything (I mean his eyes are fanfiction green for the love of all that's good in the world), but he's one of the best people ever to walk this earth even without all those physical attributes.
Jensen is the incarnation of perfect... His green eyes, his smile, his cutesy bowlegs, how tall he is! And he's so funny, which makes him even sexier, and he's really shy and that is so cute. And his voice makes my body shiver and his acting just makes me cry, laugh... Feel so much. It's like he touches my inner being with his expressions and "one manly tear". Just - AH
Jared Padalecki - Supernatural

Jared Tristan Padalecki is an American actor. He is best known for playing Sam Winchester is the CW series Supernatural. He grew up in Texas and rose to fame in the early 2000s after appearing on the television series Gilmore Girls as well as such films as New York Minute and House of Wax.
This man is literally the embodiment of happiness and sunshine! He's has beautiful children and the most amazing wife and his personality is spot on. I'm seriously convinced this man is the sun. It's really amazing how he looks so terrifying but he's really the gentlest soul you could ever meet. If his flawless hair, gorgeous eyes and stunning dimples hadn't already made you fall in love with him then his personality would have just guaranteed it!
Have you seen that hair? Those gorgeous eyes? The man is a moose and he is hopefully proud of it. He reminds some of a cool autumn day, where the leaves and hot chocolate make everyone smiles and everyone continues to smile because they see Jared Padalecki walking down the street giving hope to the people who need some hope and adorable hotness in their lives.
Let's be fair- Jared is the most adorable moose T.V. has ever seen. He needs to be up there in the top three with the underwear model and mentally challenged angel. Also, that's about the order I'd put them in, physically. Personality-wise, the three of them are so amazing with their fans and do what they can to give back to the community and the world in general.
Jared just has this incredible aura around him and I don't mean his luscious hair. Just look at any picture of him standing with someone else. They're guaranteed to be smiling or laughing, unless it's in a T.V. show, and even then they have to take god knows how many shots before the actors can focus on their part and not the weird faces Jared is making. So adding together his personality and his looks, you can definitely feel the sexual frustration in a room full of girls, or gay guys of course. He's just completely irresistible and no one is immune to his charm.
Ian Somerhalder - The Vampire Diaries

Ian Joseph Somerhalder is an American actor, model and director. He is known for playing Boone Carlyle in the TV drama Lost and Damon Salvatore in The CW's supernatural drama The Vampire Diaries.
Man Ian is really hot I mean have you not seen his abs? And his eyes are so gorgeous and he's so charismatic and ugh I swear Ian is so sexy with his smirk and his tousled hair and he has a gorgeous body and he's so friendly and cares about his fans. He also looks so cuddly :3
The emotion he throws into his scenes are intense and sometimes makes me forget that this isn't reality. He constantly dazzles the majority of the audience. You never go wrong with Ian S.
His physique, looks, eyes and that mysterious smile are just fabulous.. Plus he is a great actor and a very good person.. He is hot sexy.. I just love his hair.. He is the hottest guy from CW..
The face structure, the eyes, the hair, the expressions, the sexiness just oozes out of him. Can't imagine anyone better to play Damon Salvatore EVER! He's perfect in every sense.
Joseph Morgan - The Vampire Diaries

Joseph Morgan is an English actor and director. He is best known for his role as Klaus Mikaelson in The CW show The Vampire Diaries and its spin-off The Originals.
As if his acting wasn't phenomenal, those high cheekbones and dimples are just to die for!
Love him really, he is so cute and back to business, he is such a talented actor
His physique, looks, eyes and that mysterious smile are just fabulous..
These are literally a few of the hottest men on this planet.
James Lafferty - One Tree Hill
James lafferty is the hottest man alive. Although he is a little broad but that makes him a man and cute green eyes and his perfect smile a body to die for.
James was super sexy on One Tree Hill and his character Nathan made him even hotter.
He is a hot guy but his abs is way more important
Chace Crawford - Gossip Girl
Another guy who beats Misha & Jensen at the top. And one of the boys on my top 10 hottest CW guys. Chace is beautiful, I mean come on, the smile, the eyes?
He is so hot he should be number one not jensen ackles. Jensen Ackles is even not 1/4 as hot as chace crawford.
Chace Crawford is beyond gorgeous.
Nate Archibald needs to be on the TOP!
He's sexy and cute
Paul Wesley - The Vampire Diaries

I mean, come on, who doesn't like him? He is my absolute favorite!
There are not enough words to describe how hot he is!
Such a gentleman, and pretty hot
Cute!
Friend That is There for me
Tom Welling - Smallville
He is DROP DEAD GORGEOUS! He has the most beautiful eyes any man can have! He's got the whole package, the looks, the charm, the talent, and the muscle. He deserves to be number 1 of the top hottest guys in any list. Thank you very much Tom for being the best looking'!
Tom Welling is a good actor and beautiful man. Tom up is 6"3 and has a manly beauty with two fantastic eyes!
I think tom welling is the most handsome guy with the sexiest body... not like the rest skinny men then
Tom welling is a fantastic and great actor! I love TOM...
Chad Michael Murray - One Tree Hill
#7 does not do justice to this beautiful human being. Just google him if you haven't seen him (although I'm sure everyone knows him because of a cinderella story) and trust me, you just have to fall in love with that dimpled smile and blonde-boy blue eyes *sigh*
I'm pretty sure everyone to some degree thought Chad was cute, like when he was in Gilmore Girls and in seasons 1a & 4a of OTH.
My all time favourite besides his smile and his blue eyes.. his personality and love for payton is amazing I ADORE HIM
His gorgeous brown eyes make him a stunning male figure
The Contenders
Penn Badgley - Gossip Girl

Penn Dayton Badgley is an American actor and musician. He is best known for his role as Dan Humphrey on The CW's series Gossip Girl and has also starred in a number of films, including John Tucker Must Die, The Stepfather, Easy A, Margin Call, and Greetings from Tim Buckley.
Ed Westwick - Gossip Girl
He plays Chuck Bass how's lame butt Dan in front of him!
He's chuck bass guys. He should at least be at the top 4
He is so Chuck Bass, is our price; he is the gentelman of today
He wasn't in the Pilot, lol.
Justin Hartley - Smallville
Hot! For some reason blonde guys aren't really my type, but since his face came into view, it sure is now..
Stephen Amell - Arrow

Stephen Adam Amell is a Canadian actor. He is best known for portraying Oliver Queen / Green Arrow in the Arrowverse television franchise and Casey Jones in Teenage Mutant Ninja Turtles: Out of the Shadows.
He is good looking and has a perfect physique and above all his acting is good tooo. If in the future the dc universe tries to get green arrow into the movies then he should enact the role...it would be wonderful to see him at the big screen
Stephen Amell is unbelievably good looking and a seemingly nice man with a good sense of humor... absolutely love him as Oliver Queen on Arrow and hope he has a long, successful career.
Why in the world is Stephen Amell all the way down here...homie beats Penn Badgley and Ed Westwick and then some.
Every time I see him working out on Arrow, I nosebleed.
Nathaniel Buzolic - The Vampire Diaries
Kol is my favorite character on the entire show
Damn Nathaniel
Wilson Bethel - Hart of Dixie
Wilson Bethel, don't even get me started...His golden body and hair and that gorgeous smirk UGH Not to mention that sexy accent and his body, oh lord his body. Just put me out of my misery, I cannot handle him. Now excuse me while I go watch Hart of Dixie for the thousandth time!
I've never watched heart of dixie but fell in love with him in daredevil -those abs though
Drew Fuller - Charmed
The hottest guy EVER and he should be at the top of the list! Those eyes, that voice... That STUBBLE... Oh my god he's so hot... That hair, those LIPS... I need to kiss this guy... (drool)
Colton Haynes - Arrow

Colton Lee Haynes is an American actor, model and singer. He is best known for his role as Jackson Whittemore in MTV's supernatural drama series Teen Wolf and as Roy Harper/Arsenal in the superhero television series Arrow. He is openly gay and is married to Jeff Leatham.
Another guy who beats Misha and Jensen. I guess its those Supernatural fangirls voting cause I mean, really?
He deserves a better rating..
His Jaw bone though
Agree
Mark Sheppard - Supernatural
Brian Krause - Charmed
He's so sweet, and I always loved him on Charmed.
"Ever done it on a cloud? "
- Leo on Charmed
He is so amazing
Sebastian Roché - Supernatural
Grant Gustin - The Flash
His smile, his geeky and fun-loving personality and the way he smiles... The way he smiles
He has given the arrow show a funny and emotional touch
He just has the most adorable smile
Grant is really awesome
Michael Rosenbaum - Smallville

Michael Owen Rosenbaum is an American actor, producer, and comedian. He is known for his performance in Sorority Boys and for portraying Lex Luthor on the Superman television series Smallville, a role that TV Guide included in their 2013 list of The 60 Nastiest Villains of All Time.
Personally I don't go for bald guys but his acting is what truly makes him sexy. Even his long coat he wears I find hot because he works it with his BA character!
He is the hottest guy alive!
Michael Trevino - The Vampire Diaries
Michael Trebino isn't that hot...
Taylor Kinney - The Vampire Diaries
Come on everyone envies lady gaga
Lover
Boyfriend
Hot!
PSearch List