Hottest Male Soccer Players
The game is not the only reason we watch soccer matches...soccer players are so hot!
The Top Ten
Cristiano Ronaldo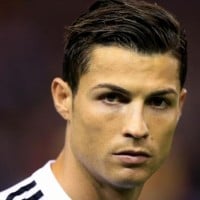 Cristiano Ronaldo dos Santos Aveiro is a Portuguese professional footballer who plays as a forward for Italian club Juventus and the Portugal national team.
This is probably the hottest man that's ever lived! Great face, great body! On a scale of 1-10 he's a 9,378,566,425,318,660! I think I'm in love!
He is a finest piece of man out there every girl would like a slice of that ass
The guy is so hot I wish he was all mine. His body is so hot just like him. Love him

Cristiano Ronaldo is the sexiest guy in the entire world no one is sexier then him and he's all mine he's my husband! His body is amazing and his skill are even better if yoo know what I mean! Damn it
Fernando Torres

Fernando José Torres Sanz is a Spanish professional footballer who plays as a striker for La Liga club Atlético Madrid, on loan from Serie A club Milan.
Fernando Torres is the sexiest football player in the whole planet hands down
FERNANDO TORRES is the cutest, sexiest, hottest and the most beautiful footballer alive. I love his eyes(*DROOL*), lips, hair and of course, he is a great footballer. Torres forever
Why is this even a question? This is pathetic. Fernando Torres is the Hottest man I have ever seen in my entire life. He is also a very good footballer and has a great personality- not up himself at all and really really shy. Enough said. And he isn't greasy or as used up like the dude up there&
Ya Fernando should be the number 1... He's far sexier and hotter and better than Cristiano... He's really awesome and damn hot...
David Beckham

David Robert Joseph Beckham is an English retired professional footballer. He played for Manchester United, Preston North End, Real Madrid, Milan, LA Galaxy, Paris Saint-Germain and the England national team, for which he held the appearance record for an outfield player until 2016.
he is very very hot okay?
and he's married with posh! that makes him a lot hotter
He is the father of hotness... He's the guy who set it up for upcoming players..
David Beckham is the NUMBER ONE hottest by farr!
He deserves to be number 1!
Kaka

Ricardo Izecson dos Santos Leite, commonly known as Kaká or Ricardo Kaká, is a Brazilian professional footballer who plays as an attacking midfielder for Orlando City SC in Major League Soccer and the Brazil national team.
He is out of d world... his innocent face and sharp feature makes him too hot to be hold! He is a REAL MADRID!
HOW IS HE NOT #1 ON THIS LIST?! Maka maka maka maka maka... kaka kaka kaka kaka... his face... his face is perfection... then David Beckham? No! He's just old and has too many tattoos.. decent when he was younger, but only when he was photo shopped... his rep. is just to big... kaka will rise. And then Ronaldo- nah just nah- then Fernando Torres- what? Why is he so up on the list? He's just an average bloke, not ugly, but not Kaka and his hair is just no. Kaka all the way!
Have you not seen him?
He's got that perfect boy face, not to mention mad soccer skills. He's not an innocent face by the way, which means he's in it for the game not the money.
Every time you watch him you know that to him it's not about winning but playing good.
Plus he's a cutie
His the most hottest person on earth he should I first position
His blessed from god and we thank him for his talent
Olivier Giroud
This man is simply STUNNING.
Nope he is cute right now
Overwhelmingly sexy
Not stunning really cool he has a big fat ass and a huge dick.
Iker Casillas

Iker Casillas Fernández is a Spanish professional footballer who plays for Portuguese club Porto and the Spain national team as a goalkeeper.
I love everything about him. The way he plays, walks, smiles, cries, wins. He's so intelligent and just look at him. He's the hottest!

BTW Maybe you know what messi do on this list?
Iker is absolutely gorgeous! Tall dark and handsome! His accent is so lovely, too
Iker Casillas is gorgeous. That facial hair. That cute smile. That sculpted face. Definitely should be in the top 3.
Iker is the best! So hot and sexy! Can't get my eyes of him.
Lionel Messi

Lionel Andrés "Leo" Messi is an Argentine professional footballer who plays as a forward for Spanish club Barcelona. He is also known as one of the greatest football players of all time. He was born in Rosario, Argentina on June 24th, 1987.
He is the best... His dimples are so damn cute... He is irresistible! Love him like anything! The best player alive on his planet is lionel messi and number 1 else! He is better than any player! He is the god of football

Messi is the best and most handsome player in world. He is so CUTE! C. Ronaldo is much uglier than Messi. MESSI, KEEP ON ROCKING THE WORLD!
He is so cute and gracious! And has got a thousand watt smile! :) And I can't even begin to explain how good a player he is!
Amazing looks and an awesome example and role model for anyone looking for inspiration.
Mats Hummels

Mats Julian Hummels is a German professional footballer who plays as a central defender for FC Bayern Munich and the German national team.
He looks like a Greek sculpture. Perfection
So good looking! His face and body are just so good. Go Germany
He is so unbelievably hot. He has to be number 1.
Roberto Baggio

Roberto Baggio (Italian pronunciation: roˈbɛrto ˈbaddʒo), born 18 Feb 1967, is an Italian former professional footballer who mainly played as a second striker, or as an attacking midfielder. In 1993, he was named FIFA World Player of the Year and won the Ballon d'Or. He is the former President of ...read more.
Cesc Fabregas
Cesc should be the number 1 hottest male football player! You know why?! Because he really sexy with his tattoo and his amazing hair! I love it! His got perfect face from God! And his sexy smile, make girls can't stop lovin' him!
His face is so cute. It's like perfect features. I love his hair. He really needs to be a the top of the list.
Cesc is beautiful but Fernando is number 1 (think it's the Spanish thing)
love him, his also really hot
The Contenders
Mauro Rosales
He is so ugly
Xabi Alonso

Xabier "Xabi" Alonso Olano is a Spanish footballer who plays for German club Bayern Munich as a central midfielder.
Why is he 28. My man should always be number one. He has the sexiest accent. His kind eyes and many manly features such as his beard makes him look so seductive. Ah. I wish man... When he gives me that look that's when the panties come off.
Paolo Maldini

Paolo Cesare Maldini is a former Italian professional footballer who played as a left back and central defender. Maldini captained Italy for 8 years and AC Milan for 12, and was renowned for his leadership skills, earning him the nickname "Il Capitano", or 'The Captain'.
This man is truly beautiful.
He deserves #1.
Aaron Ramsey

Aaron James Ramsey is a Welsh professional footballer who plays as a midfielder for Premier League club Arsenal and the Wales national team.
Love everything about him!
Juan Mata

Juan Manuel Mata García is a Spanish professional footballer who plays as a midfielder for Premier League club Manchester United and the Spain national team.
Edinson Cavani

Edinson Roberto Cavani Gómez is a Uruguayan professional footballer who plays as a striker for Ligue 1 club Paris Saint-Germain and the Uruguay national team.
H touched a person s sexy ass what means butt
David Villa

David Villa Sánchez is a Spanish professional footballer who plays as a striker and also serves as captain for New York City FC in Major League Soccer.
Fell in love with him during wc 2010 when I was nine. He's still handsome
David Villa. There is absolutely nothing about this man that isn't gorgeous. Whether it's because of his stellar looks, or his splendid football talent, Villa most certainly deserves a higher place on this list. Massive respect for this guy after seeing him on the field... And massive crush on him as well. #1 for me.
The hottest Spaniard. aww yeah! El guaje. He is not only good looking, he can play football really well too. damn!
He's very handsome and he plays very well too! I am a big fan of his, and I love him so much that I watch fc Barcelona matches sometimes just to see him!
Michael Ballack

he is soo frekin hot!!!!!
He's the most sexiest. I'm drooling
Super handsome <3
he should be number 1, seriously.
but we all have different opinions.
so for now he'll remain number 7
Fabio Cannavaro
He is life. How he is #7 sure beats me. But this man can get it!
He's just so hottt
Neymar

Neymar da Silva Santos Júnior, commonly known as Neymar or Neymar Jr., is a Brazilian professional footballer who plays for Spanish club FC Barcelona and the Brazil national team as a forward or winger, and is also the captain of the national team. ...read more.
Neymar is the hottest, sexiest and sweetest footballer in the world he is my favorite I like his hairstyle body smile and face and everything he has he should stand at 1 or 2. Love you Neymar...
Neymar is so sexy! God I just want to go to Brazil and meet him. To me Neymar should be number 1 on this list. He is such an amazing soccer player.
Neymar should be there!
Neymar is so hot! How did Messi get 29! Neymar is the cutest soccer player ever!
Vítor Baía
Francesco Totti

Francesco Totti is an Italian professional footballer who plays for, and captains, Serie A club Roma.
Yass he is an Italian work of art
GO TOTTI! VIVA ITALIA FOREVER. YOU can't MAKE A LIST OF HOTTEST THE CALCIO PLAYERS WITHOUT AN Italian ON IT. SRRY ITS THE TRUE. SO SCREW ALL you HATERS
Fredrik Ljungberg
I guess girls don't know what a good looking man really looks like any more.
. He is swedish, duh? Do I even have to say anything more?
Andrea Orlandi
David Luiz
I don't know what you think about this, but I have to say that David Luiz is the best looking football player in the world! I am not saying that he is hot! He is so cute and FUNNY! And that makes him attractive! You guys should check out david luiz videos on youtube! He is hilarious!
He is gorgeous, cute and very funny too
58? R you guys series, he should be in the top ten!
What... D baby should be Numero uno.. you dumb MFckers
PSearch List