Hottest Tekken Girls
The Top Ten
Nina Williams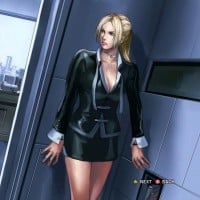 Nina Williams is a fictional character from Namco's Tekken fighting game series. A cold-blooded Irish professional assassin, Nina made her first appearance in Tekken, the original game in the series She is one of four playable characters to appear in all main installments in the series and the only ...read more.
She is a proficient killer, ruthless. She masters firearms, bladed weapons and can even eliminate her target hand to hand thanks to her Aikido/Koppo skills. She uses to wear high-heels waders and leather skin-tight outfit to remain stealth. Athletic, sculptural, blond haired, blue eyed, her form-fitting catsuit emphasises the luscious curves of her flawless hourglass body.
I Wonder If I Can Get This Girl. SHE IS VERY HOT!
Christie Monteiro

She's my favourite character from Tekken 4,5 and 6! Because she's too sexy with these sexy clothes and fighting style same as Nina Williams and Julia Chang!
She Is The Hottest Girl On The Tekken Video.You Will See Her Boobs Very Hot.
Anna Williams

She's so very hot. She rocks everything, from her heels to her dress to her hair. Her boobs, butt and legs are flawless, and I love a girl who's a tease!
This Girl Is Hot And Sexy. WHO WANT THIS GIRL?
She is mine,
Lili de Rochefort

Emilie De Rochefort, better known under her nickname, Lili, was introduced in Tekken 5 : Dark Resurrection and has returned for all subsequent titles. When she debuted, Lili was described as a rich shallow girl from Monaco, who uses her skills in dance to fight in her own street fighting style. Lili ...read more.
Lili Is From The Rich Family And From The Hot Family...Maybe
Is really really beautiful
Yas
Zafina
Zafina Is Still Hot However From Unknown Places
Scary but sexy
Asuka Kazama

Asuka Kazama is a video game character from the Tekken series by Namco Bandai Games, introduced in Tekken 5.
A typical japanese beauty. If she lived, I would make a date with her.
She is the hottest girl in tekken by far
This Girl Look Hot Maybe...I'll Give Her 43%
Julia Chang

I love her, and her mini skirt because her legs are sexy. I also love her panties.
This Girl Is An Explorer Of The Flora And Fauna.SHE IS HOT!
Jun Kazama

Jun Kazama is a fictional character from the Tekken fighting game series, who made her debut in Tekken 2, her first and only canonical appearance to date.
Woaawh! This Girl Look Very Pretty Hot And Sexy.
Alisa Bosconovitch

Alisa Bosconovitch is a video game character from the Tekken series developed by Namco Bandai Games, first appearing in Tekken 6: Bloodline Rebellion.
Lars Alexandersson Is A Lucky Boy Because Can Get This Hot And Sexy Girl.
Katarina Alves

The Contenders
Michelle Chang

Michelle Chang is a fictional character in the Tekken series of fighting games by Namco, where she was introduced in the original Tekken in 1994. A young woman of Chinese and Native American descents, Michelle possesses a mysterious pendant allegedly capable of controlling evil and powerful spirits.
Ling Xiaoyu

Ling Xiaoyu is a character from the Tekken video game series by Bandai Namco Entertainment, who debuted in Tekken 3.
Ling Hot Girl From China With Sexy Shirts
Miharu Hirano

Lucky Chloe

Josie Rizal

She's probably the hottest body of all Tekken 7 characters but because this is her first Tekken she doesn't get that attention
BAdd New Item