Hottest Video Game Female Blondes
The Top Ten
Nina Williams - Tekken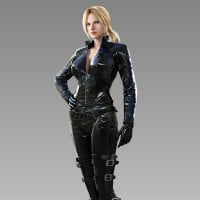 Nina Williams is a fictional character from Namco's Tekken fighting game series. A cold-blooded Irish professional assassin, Nina made her first appearance in Tekken, the original game in the series She is one of four playable characters to appear in all main installments in the series and the only ...read more.
Samus Aran - Metroid

Samus Aran is the protagonist of the Metroid science fiction action-adventure game series by Nintendo.
Tina Armstrong - Dead or Alive

Tina Armstrong is a player character in the Dead or Alive fighting game franchise by Team Ninja and Tecmo Koei.
Rachel - Ninja Gaiden
Juliet Starling - Lollipop Chainsaw

Juliet Starling is the main protagonist of Lollipop Chainsaw an 18 year old high school senior who is also a zombie hunter along with the rest of her family her main weapon is her trusty chainsaw.
Cammy White - Street Fighter

Cammy White, also known as Cammy and the codename Killer Bee in Street Fighter Alpha 3, is a video game character in the Street Fighter fighting game series and the second female fighter to appear in the series, after Chun-Li.
Sonya Blade - Mortal Kombat

Sonya Blade is a video game character from the Mortal Kombat series. Debuting in the original Mortal Kombat game from 1992, she was a late addition to the game as developers decided deep into the development cycle that the game needed a female character.
Sophitia Alexandra - Soul Calibur
Catherine - Catherine
Princess Daphne - Dragons Liar
The Contenders
Princess Peach - Mario Bros.

Princess Peach is a major character in the Mario Bros. Franchise. She is the lead female of the The Mario franchise. She is usually the character who needs saved in most Mario Games, but also has appeared as a playable character in the Main-Series Mario Games, including Super Mario 3D World, Super Mario ...read more.
Jessica - Final Fight
Emilie De Rochefort - Tekken

Emilie de Rochefort ( Japanese : エミリ・ド・ロシュフォール Hepburn : Emiri do Roshufōru), known simply as Lili ( リリ Riri), is a fictional character from the Tekken fighting game franchise by Bandai Namco Entertainment. She was introduced in the 2005 arcade game Tekken 5: Dark Resurrection (an upgrade of Tekken 5) as an affluent teenager whose role in the series involves clashing with her businessman father over her participation in the series' King of Iron Fist fighting tournaments, and his later dealings with Jin Kazama's devious Mishima Zaibatsu corporation. Lili has been used to promote the Tekken games, is featured on official series merchandise, and has made crossover game appearances outside of the Tekken franchise. She has received mostly positive critical reception for her gameplay and character design.
Ayla - Chrono Trigger
BAdd New Item