Jessica Jung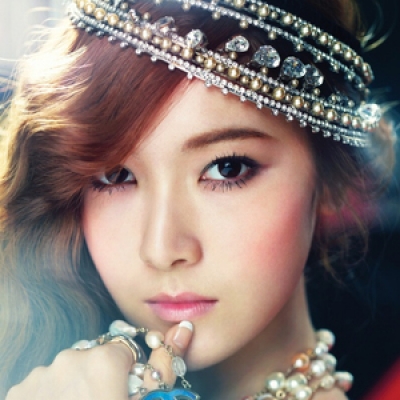 Uploaded by yaygiants16
Info
Jessica Sooyoun Jung was born on April 18, 1989. Known professionally as Jessica, she is an American singer, actress, and businesswoman currently based in South Korea. She is a former member of South Korean girl group Girls' Generation. In 2014, she established her apparel fashion brand, Blanc & Eclare. ...
read more
.
Comments
Top
Popular
Newest
Definitely she's hot and cute at the same time... And always so effortlessly gorgeous!
Her aura is different with other artist. She can be cool, cute, dork at the same time. At korea her fans (SONE) call her ICE PRINCESS. But she's really caring to her fans. Her S-line and ABS is no joke. I really Love her, she's unique.
Jessica Jung is beautiful both inside and out. She gets featured on magazines plenty of times just this year alone. She was a little too thin but now that she has gain back some weight, I think she looks incredibly hot. Jessica might seem a little cold to people who doesn't know her at first, but that's just her character. She does not go around trying to be nice to everyone because that's too fake. But she's actually really kind and nice once you get to know her. She's also a caring and lovable sister to her one and only baby sister Krystal Jung. Her voice is really cute and her singing melts my heart.
Jessica Jung... I never really liked her at first, but as I got to know her group more and more she grew on me. She may not be the most athletic idol out there by far, but she's beautiful and talented and a role model for many. And let's be honest. Look at that body! I'm a girl and I can't get how over how beautiful and sexy she is. Seriously.
She is an angel from heaven, the most beautiful female no matter where she is.. When she sings, my heart is complete.. She will always shine and be the best, no matter compare to who... Everything about her make me fall in love with her, I will be the luckiest guy in the whole universe if I marry her.. She is definitely the most beautiful female..
Jessica Jung is very beautiful inside and out. Her cold exterior can be deceiving but the truth is, she has a warm heart. Like they say, don't judge the book by its cover. She is a very lovable person. In the Kpop industry, you can see that she's one of the few people who have a passion towards what she's doing. Moreover, she got an awesome fashion sense. I love Jessica! She's gorgeous!
I really love her. She's really really pretty. Her fashion senses can easily be copied by her fans which makes her more lovable. She's not only pretty, she also has an amazing singing talent. She's also a good fashion model which makes her wanted by most magazines in Korea.
Jessica Jung is one of an extremely beautiful lady out there.. Her singing, acting, modelling style are really nice too.. One of the amazing lady from KPOP group Girls' Generation.
Gorjezz Princess for life -- Jessica Jung. "Melts in your mouth, Not in your hand! " Like M&M. Ice Princess? Not anymore! She WARMER that what we SONES can imagine of. Hwaiting Sica!
She's awesome in terms of her fashion and singing ability. She has a unique personality known as the Ice Queen but appears to be very caring to people around her even though she is a celebrity.
There is no word to describe her. Flawless will be one of it but it will be an understatement. An ice princess who deserve the fame. GorjessSpazzer, fighting!
In Run Devil Run's Music Video, the very first person who attracted me was Jessica Jung, her blonde hair and her appearance, are just so amazing! I just love how she is today.
She is just so extraordinary. She's quite... Addicting and I can't even explain.
Everything about her is beautiful. Her hair, her face, her eyes, her smile, her personality. Gosh we all love her so much. Yes, she's definitely addictive.
She's very gorgeous and even have a good personality she should win this title and she's very down to earth she's not afraid to show what she really is!
She's simply amazing! She's hot even for not trying so hard. She looks good in everything and will always be down to earth.
She has a character of Ice Princess. She has beautiful face, S-Line and very beautiful voice. She is cute and a bit dorky when she is around her members.
She is so cool, have a unique face like doll. She has a good personality, She is so lovely and have a warmth heart <3 jung jessica I love you
She's very amazing and the way she sings is very cute. But when her Ice Princess aura takes over, she becomes this hot and fierce goddess.
She is super amazing, her singing, dancing, voice, looks, personality and character is amazing to the max!
Don't let her cold exterior scare you. She is actually warm and kind. Her beauty shines and she glows in her group, girls generation.
A Beautiful Person Inside and Out...
One of The 9 Angels You'll Love...
She's got people turning their heads towards her direction...
She has the Beauty of a goddess, A Very talented Artist(she has the voice of an angel that soothes and lull you to a peaceful sleep or the voice that is so powerful and energy boosting, she can dance that makes you want to groove with her she can Act have you guys seen their MV's or Wild romance? Well if not go watch them and you'll be wanting more MV and T. V drama for her), But what makes us SONE love her more is her warm and loving personality.. You'll See and Feel it when you take a time watch their videos (T. V shows, MV's, fancams...
her eyes makes you feel different emotions...
i have more to say but it would take too long so to sum it up...
She has the True Beauty, Knowledge, Skills & the Right Attitude!
She is undoubtedly one of the sexiest idols in Korea, and of course because of their continues promotion abroad their is no doubt that people around the world have recognized such a fine beauty.

Even though she is labeled as the "Ice Princess" of Girl's Generation, when you see her struck her stuff, the ice melts away and all you see is just pure "HOTNESS". She may have a small body, but her total appearance will make any man turn their heads towards Jessica Jung (thumbs up)
I always ask my self... Who is beautiful girl in the world? And my self.. In my heart always said It's only, forever JESSICA JUNG (SNSD)! Why? I don't know why.. But Jessica Jung SooYeon is REAL BEAUTIFUL! PLEASE BELIEVE ME! JESSICA IS AMAZING GIRL! DON'T FORGET IT & and you SONE.. Please vote for our ICE PRINCESS JESSICA JUNG
Even if she has the title of "Ice Princess", that ferocity is what makes her shine. Her beauty, even with the deadliest glare can melt someone to the core. Also, her confidence and talent are always top notch especially when performing on the stage. She's definitely just AMAZING.