Top 10 Best Houston Texans Players Going Into the 2018 Season
They tried valiantly to get to the end, but to no avail. Houston wounds were way to hard to overcome even for Bill O' Brien. Yet with everybody healthy Texans are a certainly different squad to go against the likes of Watson, Watt, Mercilus etc.This team has a chance to really make the AFC South a very interesting race this year against the likes of Titans, and Jagaurs.
The Top Ten
J.J. Watt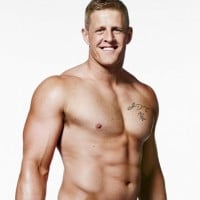 Justin James "J. J." Watt is an American football defensive end for the Houston Texans of the National Football League. He was drafted by the Texans with the 11th pick in the first round of the 2011 NFL Draft, and played college football at Wisconsin. ...read more.
Granted his starting to get banged over the recent few years, but when he is on the field he will be a one man army crew waiting to destroy any tackle who dares to stop his terror of mauling the quarterback with his long gorilla like arms. Watt is just a legend in the making in the city of Houston a great player, and a hero of the home crowd. - htoutlaws2012
Deandre Hopkins

DeAndre Rashaun Hopkins, also known as "Nuk," is an American football wide receiver for the Arizona Cardinals of the National Football League. Hopkins was drafted 27th overall to the Houston Texans in 2013.
Not many players today can do what Hopkins has done with 5 or 6 different quarterbacks over his 5 season span has become quite the ready catcher for any starter who chooses not to throw in his way not named Brock Osweiler
because that free agent deal was one of the worst in history. Brian Hoyer no problem, Fitzpatrick sure, Savage somewhat, Yates alright, point is he has a special playing ability where he'll still get the ball with an effort even if he has a for the most part a below average to somewhat decent quarterbacks in his (going to be) fives years as a pro. - htoutlaws2012
Deshaun Watson

Ladies and gentleman the Texans offense is close to getting exciting again, Watson showed his playing ability that he can get better as the weeks goon, and to the point he has a superstar Wide Receiver on his team is even more fitting for Watson to not run all over the place. - htoutlaws2012
Whitney Mercilus

Whitney Mercilus is an American football outside linebacker for the Houston Texans of the National Football League. He played college football for the University of Illinois and was recognized as a unanimous All-American.
He along with Watt were the two most notable players that hurt the defense from doing much from what they normally would do. He is a key player that can pursuit pressure on any offense trying to make quick jumps on the sides. - htoutlaws2012
Tyrann Mathieu

Tyrann Devine Mathieu is an American football safety for the Kansas City Chiefs of the National Football League.
How the heck did Arizona just let Honey Badger walk away to the Texans how? Now Texans secondary just got a huge massive upgrade in the safety position both because they managed to get one Arizona's best, and get Justin Reid who could become a quietly solid looking player in that secondary.
Jadeveon Clowney

At first Clowney was not what he was made out to be in his 2 year stint, but after finally getting the chance to play he turned himself around better than what Johnny Manziel did who was originally gonna be a 4th overall pick potentially falling down only to realize Browns were dumb enough to take him. Meanwhile in that Span Clowney doesn't have the statistics of a #1 overall pick, but his still with his original team, and that's what matters they have faith he can contribute to this team in some shape or form. - htoutlaws2012
Shane Lechler
Probably the longest lasting Punter in the league whose still pretty prolific of his position. - htoutlaws2012
Benardrick McKinney
Houston has a very good depth at linebacker of guys that can step up when needed, in just a few season he has done in good part on that 3-4 defensive squad McKinney could transition real nicely if they team chose to trade away Mercilus at any point. - htoutlaws2012
Lamar Miller

Lamar Miller is an American football running back for the Houston Texans of the National Football League.
While his range is from good to solid tail back can he be consistent in a stretch of a 16 game season in which he falters a lot even when he was with Miami still struggling with a new team in just 2 seasons with Houston. - htoutlaws2012
Justin Reid
The brother of Eric Reid could be a very good player in the secondary that slid all the way to round 3 was very interesting to see happen probably in large part because his brother keeled if I'm Justin I'd watch myself very carefully when it comes to the anthem controversy. - htoutlaws2012
BAdd New Item