Most Influential Melodic Death Metal Bands
The Top Ten
Carcass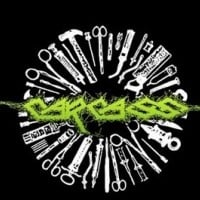 Carcass are a British extreme metal band from Liverpool, who formed in 1985 and disbanded in 1995. A reformation was enacted in 2007 without one of its original members, drummer Ken Owen, due to health reasons.
Heartwork was a legendary album with hyper melody sound that helped to defined the Melodic Death Metal. - GREYBOYY
Heartwork marked the birth of melodic death metal.
In Flames

In Flames is a Swedish melodic death metal band from Gothenburg, Sweden, formed in 1990. ...read more.
They have influenced most of the bands I listen to today including my own band
Lunar Strain, Subterranean, Jester Race, Whoracle, Colony, and Clayman. 'enough said.
At the Gates

At the Gates is a Swedish melodic death metal band from Gothenburg, and a major progenitor of the Gothenburg sound.
They should be first, since every metalcore band is basically slaughter of the soul+breakdowns+emo choruses
Dark Tranquility
Amon Amarth

Amon Amarth is a Swedish melodic death metal band from Tumba, formed in 1992. The band takes its name from the Sindarin name of Mount Doom.
Children of Bodom

Children Of Bodom was a melodic death metal band from Espoo, Finland. Formed in 1993, the final lineup consisted of Alexi Laiho, Janne Wirman, Henkka Seppälä, Jaska Raatikainen and Daniel Freyberg.
Kalmah

Kalmah is a melodic death metal band from Oulu, Finland that formed in 1998. In less than a year after its formation, Kalmah was signed by Spinefarm Records.
Insomonium
Just one of the best band ever existed. Their fusion of acoustics in the songs are just beautiful. Lyrically they are the best I've seen and heard. Melodies are deep and atmospheric. m/Insomniumm
/
Norther
Wintersun

Wintersun is a metal band from Helsinki, Finland and was originally created by guitarist, keyboardist, bassist, songwriter and vocalist Jari Mäenpää as a side project to folk metal band Ensiferum for whom he was lead singer and guitarist.
The Contenders
Dethklok

Dethklok is both a virtual band featured in the Adult Swim animated program Metalocalypse and a real band created to perform the band's melodic death metal music in live shows. Both bands were created by Brendon Small and Tommy Blacha. ...read more.
Paul Wardingham
Hypocrisy

Hypocrisy is a death metal band from Sweden. It was formed in 1990 in Ludvika, Sweden by Peter Tägtgren.
Disarmonia Mundi

Cold Inferno is beautiful and Mind Tricks was just a hell of an album.
The Black Dahlia Murder

The Black Dahlia Murder is an American melodic death metal band from Waterford, Michigan, formed in 2001. Their name is derived from the 1947 unsolved murder of Elizabeth Short, often referred to as Black Dahlia.
Arghoslent

Arghoslent is an American death metal band formed in the summer of 1990. The band's lyrics have been the source of much controversy for advocating racism, particularly promoting white supremacist views of the Trans-Atlantic slave trade and The Holocaust.
Opeth

Opeth is a Swedish progressive death metal band from Stockholm, formed in 1990 by David Isberg, who invited Mikael Akerfeldt into the band as a bassist. Isberg ended up leaving the band, which lead to Mikael becoming the band's vocalist, guitarist, principal songwriter, and driving force. Along with ...read more.
Illdisposed

Illdisposed is a melodic death/groove metal band from Aarhus, Denmark that was formed in 1991 by vocalist Bo Summer. As of 2013, the band consists of vocalist Bo Summer, guitarist Jakob "Batten" Hansen, guitarist Ken Holst and bassist "Kussen".
A Canorous Quintet

Amorphis

Amorphis is a Finnish metal band formed in 1990. Initially, the band was a death metal act, but on later albums they have evolved into playing other genres, such as folk metal and progressive metal.
Edge of Sanity

Edge of Sanity was a Swedish progressive death metal band that, alongside Opeth, is commonly regarded as being the first to fuse extreme metal styles like death and black metal with progressive rock. Their sound is often described as "Progressive Melodic Death Metal".
Insomnium

Insomnium is a Finnish melodic death metal band from Joensuu, Finland. The sound and lyrical themes of their music portray darkness, sorrow, loss, pain, and nature.
BAdd New Item