Top 10 James Bond Henchmen
Every James Bond villain has a prominent henchman (or henchwoman). But whom were exactly the most memorable and most dangerous henchmen, appearing in the Bond franchise? That's what we're going to find out. Vote for your favorite hench(wo)man on this list!
The Top Ten
1
Jaws - The Spy Who Loved Me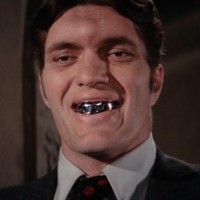 Pop culture winner
2
Oddjob - Goldfinger

Oddjob is a henchman to the villain Auric Goldfinger in the James Bond film and novel, Goldfinger. In the film he was played by the Japanese American actor Harold Sakata.
3
Dario - Licence to Kill

Bennicio del Toro did it awesome! - JazzPunk
Puerto Rico BABY
4
Red Grant - From Russia With Love

Red Grant, real name Donald Grant, is a fictional SPECTRE assassin who appeared in the 1963 James Bond film From Russia with Love, portrayed by actor Robert Shaw.
5
Tee-Hee Johnson - Live and Let Die

6
Dr. Kaufman - Tomorrow Never Dies

7
Xenia Onatopp - GoldenEye

Xenia Zirgavna Onatopp is a former Soviet fighter-pilot and the top assassin working for the Janus Crime Syndicate. She appears as the secondary antagonist in GoldenEye, and is played by Dutch actress Famke Janssen.
Loved Xenia definitely my favorite, she was sexy and funny at the same time - Szonana
Really sexy
8
Baron Samedi - Live and Let Die

Baron Samedi is a fictional character from the James Bond novel and film, Live and Let Die. In the novel, Baron Samedi is a voodoo figure with whom Mr. Big has chosen to identify himself with to inspire fear among his followers. In the film, he was a separate character and henchman to Mr. Big. In the ...read more.
9
Irma Bunt - On Her Majesty's Secret Service

10
Necros - The Living Daylights

The Contenders
11
Gobinda - Octopussy

Gobinda is Kamal Khan's primary and most loyal henchman and the secondary villain of the 1983 film Octopussy. He was played by Kabir Bedi.
12 Mr. Bullion - The World is Not Enough
13
Rosa Klebb - From Russia With Love

Colonel Rosa Klebb (Роза Клебб) is a fictional character and the main antagonist from the James Bond film From Russia with Love. She was played by Lotte Lenya in the film version. She is also a playable character in the 2010 video game GoldenEye 007 and in the 2012 video game 007 Legends.
14
Mr. Stamper - Tomorrow Never Dies

15
Mr. Wint and Mr. Kidd - Diamonds Are Forever

16
May Day - A View To A Kill

May Day is a fictional bodyguard and enforcer employed by Max Zorin and acts as the secondary antagonist of the 1985 James Bond film A View to a Kill. An original character, created specifically for the film, she was portrayed by actress Grace Jones.
This chick is ugly but have an amazing ass
17
Boris Grishenko - Goldeneye

18
Fiona Volpe - Thunderball

Fiona Volpe is a SPECTRE operative and the secondary antagonist from the 1965 James Bond film Thunderball. She was played by Italian actress Luciana Paluzzi.
19
Miranda Frost - Die Another Day

Miranda Frost is a fictional character in the James Bond film Die Another Day. Frost is a double agent working for MI6; however, her true allegiance lies with Gustav Graves, the main villain of the film. She is played by Rosamund Pike.
20
Kronsteen - From Russia With Love

21
Osato - You Only Live Twice

22
Helga Brandt - You Only Live Twice

23
Ourumov - GoldenEye

24
Angelo Palazzi - Thunderball

25
Mr. Hinx - Spectre

PSearch List