Gackt Camui - Malice Mizer and solo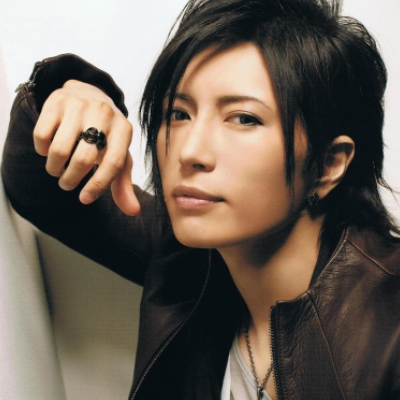 Found on lyricsmode.com
Comments
Top
Popular
Newest
Gackt's voice is just so smooth and perfect. He hits both the super high and super low notes so beautifully. His music is touching and sweet. Besides that, he's gorgeous and funny!
Excellent vocalist, excellent musician, he wrote awesome songs and his shows are grandiloquent and unique. Is there anything else to add there?
Just amazing, I first heard his voice in Redemption, and the depth and sound of it made my heart ache... I just fell in love with it.
What A Great Role Model To Everyone. Loving, Caring, And All Aroung Just Talented. So Vote Everyone For This Man To Be The Best.
Gack voice is so deep, it touch my heart.. So powerful and emotional... Just hearing flower makes me cry :'( beautiful...
He has an amazing voice and breath-taking charisma! you can't help but to pay attention and listen to him!
Listen to his album for FFVII Dirge of Cerberus got me into Japanese music in the first place. His music and the way he performs is extremely admirable. His voice is great, deep, sexy... I guess you can say he's my idol. He's an actor too, which is great! Just listen Vanilla, Mizerable, Storm, Luna, Redemption, Episode.0, Ever, and maybe even Dears, I'll definitely keep up with being a fan of his!
His voice simply takes your soul to another real with its power and emotion.
Love like live listen learn sing dance Japan
Probably one of the best voices in the world.
I love Gackt. His voice is hypnotizing, and makes me wish I had his voice. I loved Vanilla and Mizerable, he's my favorite artist out of my whole J-rock collection.
I believe in Gackt.
He's my got.
Why do I believe in Got?
Gackt's voice, Gackt's sex-appeal, Gackt's dance, Gackt's magnum.
Gackt's voice is amazing.
His voice is stunning..
Wonderful..
I love Gackt!
He is amazing, handsome, beautiful..
Great voice in both Malice mizer and a solo artist.
Listen to Bel Air, Au Revoir or Mizerable. - TD17
He give the voice to "Ma cherie" " Bel air", "Mizerable"... "Maria" and too many beautifull songs, he is great and have great voice
His voice is one of a kind ^^ and he always comes up with something new. He's a true artist
I love his voice! It's amazing! I love him in Malice Mizer and solo! He was also great in SKIN! Listen to anything of him, and you will be mindblown! I promise you that! ^_^
Related Lists

Most Annoying Solo Artists or Groups

Top Ten Greatest British Solo Artists
Best Gackt Songs

Best Male Solo Artists