Top Ten Junior Version Spin Offs of TV Shows
The Top Ten
Muppet Babies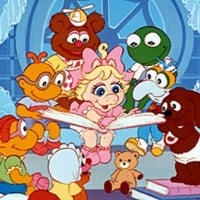 Jim Henson's Muppet Babies, commonly known by the shortened title Muppet Babies, is an American animated television series that aired from September 15, 1984 to November 2, 1991 on CBS.
Jim Henson's version of Rugrats!
The Flintstone Kids
I like more the original, but hey is not bad
A Pup Named Scooby-Doo
This is my favorite
Iron Man: Armored Adventures
But they have Tony Stark as a teenager
Some other characters are kids
This is not so Junior
Baby Felix
Baby Looney Tunes

Baby Looney Tunes is an American animated television series taking place in an alternate universe depicting the Looney Tunes characters as toddler and preschool versions of themselves. It was produced by Warner Bros. Animation.
What 6 this should be on the bottom
They cry every second
I know it isn't true but really I hate it it's too educational and they learn stupid morals
Tiny Toon Adventures

Tiny Toon Adventures is an American animated comedy television series that was broadcast from September 14, 1990 through May 28, 1995 as the first collaborative effort of Warner Bros.
Attack On Titan: Junior High

That anime sucks!
I lovebit! So hilarious!
Tom & Jerry Kids
Young Hercules
The Contenders
Wonder Showzen
Wonder Showzen Babies
What? - RalphBob
Amazing World Of Gumball
The pilot version
Clifford's Puppy Days

Clifford's Puppy Days is an American animated children's television series that originally aired on both PBS and PBS Kids from September 15, 2003 to February 23, 2006. A prequel to the original Clifford the Big Red Dog, it features the adventures of Clifford during his puppy days before he became a ...read more.
PBS Kids' version of Rugrats
DC Super Hero Girls

James Bond Jr.
Young Justice

Young Justice is an American animated television series developed by Brandon Vietti and Greg Weisman for Cartoon Network.
Yo Yogi!
Taz-Mania

Taz-Mania is an American cartoon sitcom produced by Warner Bros. Animation from 1991 to 1995, broadcast in the United States on Fox.
Taz Babies
Taz-Babies
Drawn Together

Drawn Together is an American adult animated sitcom which ran on Comedy Central from October 27, 2004 to November 14, 2007. The series was created by Dave Jeser and Matt Silverstein, and uses a sitcom format with a TV reality show setting.
What I mean Drawn together babies a parody of muppet babies
Drawn Together Babies
What? - RalphBob
Pink Panther And Sons
Popeye And Son

Popeye the Sailor is a fictional American cartoon character created by Elzie Crisler Segar. The character first appeared in the daily King Features comic strip Thimble Theatre on January 17, 1929, and Popeye became the strip's title in later years.
Pink Panther And Pals
Sesame Street: Beginning Together
Dragon Ball

Dragon Ball is a Japanese anime television series produced by Toei Animation. It made anime popular in America and is based on the manga of the same name by Akira Toriyama. It was dubbed in English on Cartoon Networks Toonami block and still has many fans today.
Mighty Morphin' Alien Rangers
Power rangers reverted into kids
PSearch List