Top Ten Best Kickers Going Into the 2020 NFL Season
The Top Ten
Justin Tucker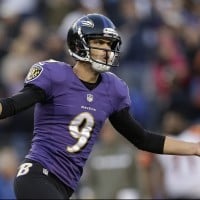 Justin Paul Tucker is an American football placekicker for the Baltimore Ravens of the National Football League.
Tucker is definitely the best kicker in the NFL. He could very well be one of the best kickers of all time. He is on a Hall of Fame track, and he continued that journey last season with yet another stellar one.
Josh Lambo

On a team that lacks a lot of talent, Lambo has been a saving grace. The Jaguars have one of the best kickers in the NFL, and he was a second team all-pro in 2019.
Harrison Butker

Butker played a key role to a Super Bowl winning Chiefs team. Every elite team needs a great kicker, and that's what the Chiefs have in the butt kicker.
Wil Lutz

Lutz came to the Saints from the Ravens kicking system a few seasons ago, and the former Justin Tucker apprentice has been making a name for himself kicking in high pressure situations with the Saints. He has done a great job so far.
Matt Prater

Like the Jaguars, the Lions don't have a lot of bright spots, but Prater is definitely one of them. The holder of the longest field goal in NFL history continues to produce for the Lions.
Chris Boswell

Boswell has struggled in the past, but it looks like he has finally found his good stride with the Steelers. The young kicker has a lot of time left to kick for the Steelers.
Too bad he's one of the main reasons we didn't make the playoffs in 2018.
Jason Sanders

Sanders was a bright spot for the Dolphins last season, most notably catching a touchdown in one of the best trick plays I have ever seen. In terms of kicking, Sanders continues to get better.
Mason Crosby

After a down season in 2018, Crosby bounced back with one of the best seasons of his career in 2019, and kicked two game winning field goals last season.
Robbie Gould

When not injured last season, Gould served the NFC Champion 49ers well, and the veteran kicker continues to be consistently great.
Jake Elliott

Elliot has been nothing short of spectacular since joining the Eagles in 2017. It's no wonder they trust him as their kicker of the future.
The Contenders
Joey Slye

Nick Folk

Nicholas Alexander "Nick" Folk is an American football placekicker for the New York Jets of the National Football League.
Dan Bailey

BAdd New Item