Kids Shows That Actually Teach Kids Things
The Top Ten
1
Sesame Street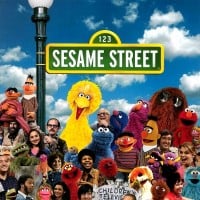 Sesame Street is a long-running American children's television series, produced by Sesame Workshop and created by Joan Ganz Cooney and Lloyd Morrisett.
This was hard, but I vote for Sesame Street because it is the first and the best of them all!
This show teaches you how to count and the alphabet.
My childhood memories.
2
Baby Looney Tunes

Baby Looney Tunes is an American animated television series taking place in an alternate universe depicting the Looney Tunes characters as toddler and preschool versions of themselves. It was produced by Warner Bros. Animation.
This show teaches kids not to swear, always play fair and always get along. - EpicJake
I agree epicjake you are pretty nice. Well only one episode contained swearing
3
Thomas & Friends

Thomas & Friends is a British children's television series. In the United Kingdom, it had its first broadcast on the ITV network in Great Britain in 1984.
Teaches kids about railway operations and steam locomotive components - UnderratedEpisodeAdvocate
The show on now on Nick Jr. - ethan2226
It's not so much a counting show as it is a show about trying hard and working hard. - JayJayPlane
Actually, it doesn't teach kids to count, but man, it sure is good. - JayJayPlane
4
The Backyardigans

The Backyardigans is a Canadian–American CGI-animated musical TV series created by Janice Burgess, It is a co-production of animation studio Nelvana and Nickelodeon Animation Studios.
This show is awesome. They should put it back on T.V. because they replaced it with a crappy show. There should be a channel with all the shows we miss. It teaches kids to use their imaginations. They recreate different stories and myths. It also teaches you how to say hello in different languages. If you have any toddlers or little kids, I would highly recommend watching this show. I watched it since I was 1 years old and I still enjoy it now. Those were good memories, when I was 1 and half, my parents would watch the news on T.V. and then I was so excited and I wanted to watch T.V. as well. So then they put it on a kid friendly channel, and it always ended up that the Backyardigans were on. And I watched the Backyardigans, I got so excited and loved it. That same thing would happen every day after daycare. I still love watching it now.
I may hate this show, but it teaches kids on how to use their imagination.
5
Wild Kratts

Wild Kratts is an American-Canadian educational children's animated series created by Chris and Martin Kratt.
Teach you about animals. cool!
Chris and Martin teach you about all kinds of animals and their species. - EpicJake
Yes! I've learnt so much about animals from watching this show! - Wolftail
Yep it teaches you about animals
6
Blue's Clues

Blue's Clues is an American children's television series that premiered on Nickelodeon in 1996. Producers Angela Santomero, Todd Kessler, and Traci Paige Johnson combined concepts from child development and early-childhood education with innovative animation and production techniques that helped their ...read more.
The show teaches kids how to solve problems and developed problem solving.
7
Sid the Science Kid

Sid the Science Kid is an American half-hour CGI animated series that aired on PBS Kids from September 1, 2008 to March 25, 2013, with a total of 68 half-hour episodes produced over two seasons. The computer generated show is produced by The Jim Henson Company and then-PBS member KCET in Los Angeles, ...read more.
I watched this a lot in 2nd grade. Sid teaches you science. - EpicJake
8
Oswald
Teaches kids to always look both ways before crossing the street - EpicJake
9
Jack's Big Music Show
Teaches kids how to sing to music. - EpicJake
10
Boohbah

Boohbah is a British children's television programme created by Anne Wood. It premiered on 14 April 2003 on ITV in the United Kingdom, followed by its Nick Jr.
It teaches you how to have nightmares...
No this is just creepy satanic blobs farting and doing illuminati satanic rituals - Lunala
I am the same person who added the last Boohbah post. It teaches you to fart, squeak, and act idiotic
What have I just seen
The Contenders
11
Teletubbies

Teletubbies is a British pre-school children's television series created by Ragdoll Productions' Anne Wood CBE and Andrew Davenport, who wrote each of the show's 365 episodes. It is owned by Canadian Studio WildBrain, which is the largest independent Children's and Adolescent's Film Studio
Oh you are right. This show teaches kids. It teaches them to be complete idiots.
It teaches about things around the globe
Love, friendship, kindness.
12
PAW Patrol

PAW Patrol is an Canadian animated television series created by Keith Chapman. It is produced by Spin Master Entertainment with animation provided by Guru Studio. In Canada, the series is primarily broadcast on TVOKids, which first ran previews of the show in August 2013. The series first aired on Nickelodeon ...read more.
Teaches kids to always help people - EpicJake
When my cousin came up he made me watch this. It's not the most educational, and was pretty bland and predictable, but still tolerable. - Lunala
13
My Little Pony
This show teaches kids to be mean to others
Sorry to tell you but this show teaches kids to become brats. Kids can learn friendship on their own.
What?!?! Whoever added this show to the list needs to go to jail!
It teaches you about friendship and gives you life lessons.
14
Dora the Explorer

Dora the Explorer (2000 - 2019) is an American preschool educational animated TV series created by Chris Gifford, Valerie Walsh, and Eric Weiner in which Dora goes on adventures with her friend, a monkey named Boots.
Stupid people who make me in jail.STUPID RETARDS you should watch Kootie Pie and that stupid explorer
It teaches you everything even Spanish
I added dora boohbah oso
yet I have the dumbness of dora
just kidding
but really it's a mistake
This show tries to teach kids spansish but it mostly fails no offense. P.s. Whoever added boohbah to the list has an I.Q. of zero.
15
Fetch! with Ruff Ruffman

Fetch! with Ruff Ruffman, sometimes shortened as Fetch!, is an American animated television series that was on PBS Kids.
16
Arthur

Arthur is a Canadian/American animated educational television series for children, created by Cookie Jar Group and WGBH for PBS.
I remember watching the episode where they teach kids about autism when I was little.
Why isn't this 1? it teaches kids important issues like cancer and 9/11!
It teaches kids to use swear words
17
Special Agent Oso

Special Agent Oso is an interactive American CGI-animated series for pre-school audiences series created by Ford Riley.
It teaches you to be safe or something like oso teached a kid to bake a cake or some food
It teaches you to do different things
Learn how to do things Sorry
18
Lazytown

LazyTown is an English-language Icelandic children's educational musical action comedy program made by an international crew and performed by a cast from Iceland, the United States and the United Kingdom.
Teaches children to stay active and eat healthily. Also touches on subjects related to friendship and even theft at one point
Teaches kids about exercise
No, don't touch that!
19
Veggietales

VeggieTales is an American series of direct-to-video children's computer animated films created by Phil Vischer and Mike Nawrocki featuring antropomorphic fruits and vegetables in stories conveying moral themes based on Christianity
Teaches kids to eat their veggies - mcdonalds_sucks
Teaches about the bible - Lunala
20
Every Witch Way

Every Witch Way is an American telenovela-formatted teen sitcom that originally aired on Nickelodeon from January 1, 2014, to July 30, 2015. It is the American version of the Nickelodeon Latin American show Grachi.
Every Witch Way teaches you that being who you are matters more than your looks.
21
Dragon Tales

Dragon Tales is a Canadian-American animated pre-school fantasy adventure children's television series created by Jim Coane and Ron Rodecker and developed by Coane, Wesley Eure, Jeffrey Scott, Cliff Ruby and Elana Lesser.
This show is educational it has respect knowledge and fun and great adventures vote this instead of it a big big world because it a big big world sucks
This show teaches kids to be stupid idiots. Ord eats so much and that's why he is fat, Zak and Wheezie always argue over the smallest things. And Emmy and Max are impatient crybabies. Never let your kids watch this show. It should be banned on YouTube and be cancelled forever.
22
Go, Diego, Go!

Go, Diego, Go! is an American animated educational interactive children's television program that originally aired on the Nickelodeon children's cable network in the United States and produced by Nickelodeon Animation Studio .
It teaches the same as wild kratts
23
Bill Nye The Science Guy
The title says it all, it teaches us about science.
24 Postcards From Buster
25 Play With Me Sesame
PSearch List