Top 10 Las Vegas Raiders Players Going Into the 2020 Season
The Raiders will move to Vegas in 2020 as weird as "Las Vegas Raiders" sounds they're a dark horse candidate. The Team has some weapons and there's no excuses not to make the playoffs. The Raiders have been irrelevant since 2002 and are looking to change that. I think it's possible but we'll see.
The Top Ten
Josh Jacobs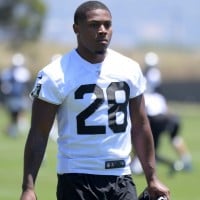 To me their best is Josh Jacobs a guy who put the league on notice last year with 1,150 yards and 7 touchdowns A dangerous weapon who has plenty of upside. Mike Mayock will have some fun with him I can tell.
Nick Kwiatkoski
Last year he had a solid year and was one of the best on Da Bears Defense. Chicago you might've made a mistake letting him go. He'll add to a defense that looks sneaky good.
Nelson Agholor

Nelson Agholor is an American football wide receiver for the Las Vegas Raiders of the National Football League.
I like this fit. He's a veteran receiver and he'll help fill the Amari Cooper void. Sure last season his numbers dipped but he didn't play in as many games and literally the entire team was banged up. Still a solid weapon for Derek Carr to utilize
Tyrell Williams

He actually had a productive season last year with 651 yards and 6 touchdowns. He's a decent target but nothing I'd consider elite. Rather he's a serviceable option
Hunter Renfrow
Here's a weapon that flies under the radar and nobody really talks about Hunter Renfrow had a solid enough rookie season with 605 yards and 4 touchdowns. Not too bad at all and he has the potential to grow even more
Henry Ruggs III

This is their top draft selection who's been hailed as a potential game changer. The fastest guy in the draft and now he's their Amari Cooper replacement. No need to remind y'all about that AB experiment right? I'm sure Mike Mayock will have some fun with this guy
Cory Littleton
He was a solid player in LA last year yet the Rams let him go for some reason. He'll fit in nicely here. 135 tackles 3.5 sacks and 2 interceptions not too shabby numbers why exactly did the Rams let him go again?
Rodney Hudson
He's been one of the best centers for the Raiders and has earned a few pro bowl bids these past few years and he'll be 31 so he still has some potential left.
Richie Incognito

Richard Dominick "Richie" Incognito Jr. is an American football guard for the Las Vegas Raiders of the National Football League.
He pulled a bit of a surprise and joined the Raiders a few seasons ago after many thought he was done but he's still doing well. He's a good lineman who's a veteran and his presence could help the others around him develop although he doesn't have the best personality but the Raiders have never cared for personality
Derek Carr

Derek Dallas Carr is an American football quarterback for the Las Vegas Raiders of the National Football League.
Derek Carr to me is no different than Alex Smith. He's a serviceable veteran but nothing beyond that. He had a decent 2016 season but then got injured. Since then he hasn't been the same player. He's regressed and while he has the skills we need to see more. There's no reason he can't take this team to the playoffs
BAdd New Item