Top Ten Laziest Dog Breeds
The Top Ten
Newfoundland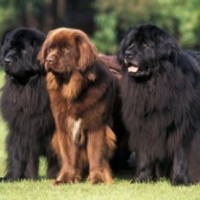 What? They are worker dogs
Dogue de Bordeaux
English Bulldog

But fat and cute
Basset Hound

The Basset Hound is a short-legged breed of dog of the hound family, as well as one of six recognized Basset breeds in France.
The particles of his body that do slow things
Bichon Frise

A Bichon Frise is a small, hypoallergenic breed of dog of the Bichon type, and is a member of the Toy Group in the UK.
Bullmastiff

The Bullmastiff is a large-size breed of domestic dog, with a solid build and a short muzzle. The Bullmastiff shares the characteristics of molosser dogs, and was originally developed by 19th-century gamekeepers to guard estates.
Bloodhound

The bloodhound is a large scent hound, originally bred for hunting deer, wild boar, and since the Middle Ages for tracking people.
Neapolitan Mastiff

The Neapolitan Mastiff or Mastino is a large, ancient dog breed. This massive breed is often used as a guard and defender of family and property due to their protective instincts and their fearsome appearance.
Scottish Deerhound

Pug

The Pug is a breed of dog with a wrinkly, short-muzzled face and curled tail. The breed has a fine, glossy coat that comes in a variety of colours, most often fawn or black, and a compact square body with well-developed muscles. However, Pugs have difficulty breathing, due to their extreme head shape. ...read more.
The Contenders
Saint Bernard

The St. Bernard or St Bernard is a breed of very large working dog from Swiss Alps and north Italy and Switzerland, originally bred for rescue.
Russian Black Terrier

I love my Russian Black with all my heart, but she's pretty hard to get moving sometimes. - PositronWildhawk
BAdd New Item