Top Ten Least Funny Shows From Nick, Cartoon Network, and Disney Channel
The Top Ten
Sanjay and Craig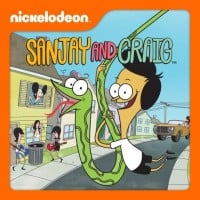 Sanjay and Craig is an American animated comedy television series that aired on Nickelodeon from May 25, 2013, to July 29, 2016, for three seasons and 60 episodes. The series is about a 12-year-old boy named Sanjay Patel who owns a talking pet snake named Craig.
I really hate this stupid, ugly, annoying, immature, disgusting, offensive, weird, crappy, low- budget, freaky, creepy, crazy, downright awful excuse for a cartoon! I AM MAD! WHAT IS WRONG WITH Nickelodeon!? They're shoving this potty- humor crap down children's throats making it look ok! IT ISN'T OK! What is the world coming to!? I can now see where children get their immature humor about butts, farts, and other stuff like that from! I SWEAR I WANT TO BLOW UP Nickelodeon STUDIOS RIGHT NOW! - docreywashere
I agree in my school everyone is obsessed with butt and fart and potty jokes all because of shows like this!
Worst show ever it really has no purpose and is stupid
This is so deserving. Like the directors just went like "Hmm how can we make kids dumb? " and then said "OOH I know make the characters pee themselves! " I swear they just did drugs then made the show. I remember watching the promo and it looked good and safe. They had a real snake and it was kinda cool. Then I watch it and there's puke, pee, and just disgust. WHO MADE THIS? I feel like they tried to make us lose brain cells. Nickelodeon, go home, you're drunk.
This show is DISGUSTING! It really has no point, and doesn't make sense. Seriously nick, this a waste of good money that you're putting into garbage, what happened to I Carly, zoey 101, etc all of the shows worth watching - a nick and Disney Channel fan.
Teen Titans Go!

'Teen Titans Go!' is an American animated television series produced by Cartoon Network. The show follows a superhero group called the Teen Titans, and shows what happens when they go home and have silly adventures. This show is Cartoon Network's revival of the popular 2003-2006 American animated television ...read more.
No character from Teen Titans is safe on this show. Now most of the characters are idiots. Raven used to be awesome and dark but now she's all happy and likes ponies. I WILL FORCE Cartoon Network TO DELETE "YOUR NEW FAVORITE SHOW" AND BRING BACK THE ORIGINAL, EPIC TEEN TITANS.
This racist sexist violent inappropriate excuse for a cartoon has to be cancelled.
The original Teen Titans knew what it was doing. It knew when to be serious and when to be funny, and that was good.
UNTIL THE FIRE NATION ATTACKED.
First comes the constant fart-and-butt jokes. We get it. You have the sense of humor of a seven-year-old. Please stop. It's getting old.
Next comes the endings. Several times, Jump City is destroyed by monsters while the main characters we're supposed to like giggle at farts and unfunny jokes. Why haven't the citizens (if there are any still ALIVE) sued them yet?
What is it with them and the waffles?
This show is sexist and disgusting it has bad jokes and terrible episode excuses. The characters are all idiotic and clumsy, the only mature one is Raven. It's just an offense to the fans of the original teen titans - SheepBuggy
Breadwinners

Breadwinners is a 2014 animated comedy television series produced by Nickelodeon. It is about the adventures of SwaySway and Buhdeuce, two ducks who drive in a rocket van delivering bread to their customers.
In my opinion, the whole concept of the show is just dumb. I mean, who delivers bread anyway Can't people get off their lazy butts and go buy bread THEMSELVES these days?! And the characters, oh my god... I don't care about butts or toilets or whatever. And it's not my "New favorite show! " It's my least favorite. - TheAlbinoWolf
This show is so overrated because It sucks the only duck that I want to punch is the tall guy why he is so annoying
These are examples of why Nicklodeon is high. I meant seriously? Two ducks who are bread sellers and can't drive that good? Even the antagonist of the shows are even horrible than those ducks. 0/10 for stupid show, stupid puns.
Like the majority of poster's on this list, this pile of dogs pooh, just managed to beat out Sanjay & Craig + uncle grandpa to be my choice for this list... bizarre beyond belief, extremely poor animation...are they don't look like any ducks I have seen before & confusing storylines...constant farting and butt jokes become really boring after a couple of minutes, is this really the sort of thing to be entertaining kids?
Fanboy and Chum Chum

Fanboy & Chum Chum is an American 3D CGI animated television series created by Eric Robles for Nickelodeon. It is based on Fanboy, an animated short created by Robles for Nicktoons and Frederator Studios, which was broadcast August 14, 2009 to July 12, 2014 on Random! Cartoons. The series was first ...read more.
Here is a quote from the song, " So scream at the top of your lungs, you'll probably have some fun! " Kill me now.
Who ever thinks this show is funny is in some kind of coma. I've never watched this show but it's ended up on a lot of worst lists so it MUST be at least as unfunny as uncle grandpa.
The animation is just, gross.
This is the worst show to hit the air. CGI was terrible, voices give you migraines and there is no plot.
Dora the Explorer

Dora the Explorer (2000 - 2019) is an American preschool educational animated TV series created by Chris Gifford, Valerie Walsh, and Eric Weiner in which Dora goes on adventures with her friend, a monkey named Boots.
DORA IS STUPID. Plus she's only like six. When there is something is right in front if her I joke and say she needs glasses!
Dora is lame. I need funny shows, not a show about a little girl and monkey
Dora is fat, ugly, immature, can't sing, has creepy animal friends, and has no sense of direction: she asks where a rock is when it's two feet away from her. This show should be banned from nick.
By far one of the worst
Uncle Grandpa

Uncle Grandpa is an American animated television series created by Peter Browngardt for Cartoon Network that premiered on the network on September 2, 2013. The series is based on Browngardt's animated short of the same name from The Cartoonstitute.
Pedophilic and twisted. I hate this show and it makes me sad that people think this type of bs is okay. We as a society are doomed. - raycrute
Gosh. Where do I even begin!? Uncle Grandpa is literally the worst thing in existence. Space Emperor seems to be the Bane of all the Episodes (In my Opinion), where he turns a bratty kid into that Purple Creature from Secret Mountain Fort Awesome (Do I even have to mention how Atrocious that show also is!? ). This made me fear Transformations as a Kid, and although I can deal with it now, it makes me sick on how stereotypical it is. You got the Stereotypical Selfie Girl, Acne Guy, The Bratty Kid, and even the Offensive 16-Year Old Elmo thing. I'm going to turn 16 soon and that Offends me on a level where I can't stand it! Besides all the Episodes where Uncle Grandpa sees a bunch of Kids, The ones with his friends are still pretty Horrible. They get into Dumb Situations in which they could solve easily, but they do it the dumb way just to stretch time. Giant Realistic Flying Tiger's design is lazy, Pizza Steve is cute but Annoying, Belly Bag is horrid sounding, and Mr. Gus is the only ...more
This is the worst show ever. I mean the main character is a downright pedophile who constantly says "good morning" in a very annoying voice. This show also has some terrible plots and a cast of the worst designed characters ever to be seen on television.
Uncle Grandpa? Stupidest name ever award. Talking pizza with sunglasses? Stupidest character award. Good morning (insert everything here)? Stupidest repetitive quote. Ugly hippie van? Stupidest car award. The plot? Stupidest plot award. This show won 5 bad awards in my opinion. And I've only seen 3 episodes so there's probably a lot more.
Adventure Time

Adventure Time is an American animated television series created by Pendleton Ward for Cartoon Network. The series follows the adventures of a boy named Finn (voiced by Jeremy Shada) and his best friend and adoptive brother Jake (voiced by John DiMaggio)—a dog with the magical power to change shape ...read more.
No it is not. Adventure Time Rocks. Remove it from the list.
Yas! I seriously don't get why people hate Adventure Time so much. :3 - TheAlbinoWolf
How come Adventure Time be on this list? Adventure Time is the most popular show on Cartoon Network, along with Regular Show and The Amazing World Of Gumball.
Adventure time is more about action than humor and some of the jokes are pretty formulaic. I like the idea of them inserting an undergoing plot, but they did it too late and are making it up on the spot, so the show is all over the place.

Also, popular doesn't mean good. I want this show to choose if it wants to be mainly drama or mainly comedy and stick to one instead of awkwardly undulating between both.
I used to like this show because it had a lot of secrets and it was really funny now I hate everything about worst episode was chips and ice cream like seriously what
Fred: The Show

Fred: The Show is an American television series, created by Lucas Cruikshank that originally aired on Nickelodeon, in the United States from January 16 to August 3, 2012. It was cancelled after the first season due to low scores.
The movie was better than the show the movie is still not good let me shove my foot in your mouth Fred
They bombed annoying orange, now they kill Fred for me. Cartoon Network is quite good at ruining YouTube sensations! - Rydershady2001
This show is brainless, annoying, and is missing the only thing that made the movie slightly less terrible. And that is John Cena! All of the jokes fall flat and the only time it IS funny is when Fred is getting hurt somehow.
It's so dumb I can't believe anyone finds it funny
Marvin Marvin

Marvin Marvin is an American science fiction slapstick comedy television series that aired from November 24, 2012 to April 27, 2013. The series stars Lucas Cruikshank as the title character Marvin Marvin, an alien teenage boy adjusting to human life.
Good Concept on paper, but Horrible when you have Fred be the Alien and the Alien doesn't even get out of the Disguise, ever. And the fact that you had to make it a Boring Sitcom where Fred says Butt Jokes and those DANG LAUGH TRACKS! You could play a Soda Drinking Game for every time they use a Laugh Track. This show was a Fail from the start, and I'm glad it's Canceled!
This should be #1 this is the worst show ever this is even worse than Sanjay and Craig!

1
'my ear is on the butt' when I just heard that I knew the show was wasted as hell
This show is an EPIC fail! No wonder it only made it to one season. Nick is falling apart.
Secret Mountain Fort Awesome

Secret Mountain Fort Awesome is an American animated television series created by Peter Browngardt that debuted in 2011 on Cartoon Network. The show revolves around a fraternity of five monsters who unleash wild stunts upon the public from their eponymous mountain fort. The show is loosely based on ...read more.
Saw a simple episode of this and never again, are some of the creators of crap like this on drugs?...how stuff like this utter garbage, breadwinners, uncle grandpa, etc are passed off as kids shows is beyond me! Perhaps if law suits were taken out against some of these people, then perhaps it would be a kick start to producing better animations.
Terrible animation, and NO EFFORT put into it, this show, makes Sanjay and Craig look like gravity falls, and gravity falls is the BEST SHOW EVER
Worst show ever. I want to throw up every time I see this it is so gross. I am 10 and this show gave me nightmares when I was a little kid.
Dude this show seriously scared me when I was a kid my cousin started to cry when he saw the purple guy
The Contenders
AwesomenessTV

AwesomenessTV is an American sketch-comedy reality series based on the YouTube channel of the same name and is created by Brian Robbins. Both seasons contain 20 episodes.
I don't even know where to start here. AwesomenessTV was better on the internet.
This show is boring when it was coming out when I was 7 the commercials made it look so cool and it didn't even know what it was
If they only put Smosh...
I DON'T EVEN REMEMBER THIS SHOW. WHEN DID IT AIR?!?!?!
Henry Danger

Henry Danger is an American superhero sitcom television series airing on Nickelodeon. The series was created by Dan Schneider and Dana Olsen. The series revolves around a 13-year-old boy who becomes the sidekick of a local superhero. On March 2, 2017, Nickelodeon announced that a new animated series, ...read more.
Don't listen to them haters who hate Henry Danger my brother likes Henry Danger
Eh Henry Danger is a guilty pleasure of mine, I only watched it because of Jace Norman. - Katildalover93
All the crossovers except Knight and Danger are bad. I am not hating. People who like Game Shakers and Thundermans have bad taste in T.V..
This show is piece of crap. Why?

The Characters:
Captain Man (even the name is stupid): A superhero who only cares about himself.
Henry: A kid who is so mean to his sister.
Piper: A whiny brat who makes me wanna kneel her in the crotch
Charlotte: A girl who is so non helpful.
Parents: Even the parents! They make fun of Piper's cooking and so rude.
Jasper: Is the only character who isn't bad.

Only Plus: The tolerable crossover with the Thundermans and I sort of like that show.

Other reasons why the show sucks: Bad Messages, Minor Uses Of Toilet Jokes, and Random Humor (for example, in an episode, Henry and Ray want to get pizza so they to send Charlotte up "the tube" to get it but it's supposed to be how to test the tube for something which fails).

See? Whoever actually likes this show is a person who doesn't understand what bad television is.
The Amazing World of Gumball

The Amazing World of Gumball is a British-Australian-German-American-Irish children's animated television series created by Ben Bocquelet for Cartoon Network.
I'm offended. The first season of Gumball was a little flat but the rest of it has some spectacular writing and humor and breaks the fourth wall in the perfect way. I love this show. Visually and writing-wise. GET IT OFF THIS LIST
So true. There are lots of shows behind this show that deserve to be higher.
Who the hell put this on here?!
Why is this here!.this is just as awesome as regular show! It's uncle grandpa that rip offs this show
Should not even be on the list because this show is spectacular
Bella and the Bulldogs

Bella and the Bulldogs is an American teen sitcom created by Jonathan Butler and Gabriel Garza that premiered on Nickelodeon on January 17, 2015, and ended on June 25, 2016. The series stars Brec Bassinger as Bella Dawson, a Middle School cheerleader who becomes quarterback for her football team. The ...read more.
I do not like this show.
I like this
More like Bratta and the Bullcrap Dogs! - Katildalover93
This show needs to die
Shake It Up

Shake It Up (sometimes stylized as Shake It Up!) is an American sitcom that originally aired on Disney Channel in the United States from November 7, 2010 to November 10, 2013. Created by Chris Thompson and starring Bella Thorne and Zendaya, the show follows the adventures of CeCe Jones (Bella Thorne) ...read more.
This show got cancelled I think but I could be wrong or they just do reruns now.
I know what to call it! Crap.
Believe me I try not to hate, but well we're not Mary Sues so those of you who are saying this to haters think about this comment too. You are kind of expecting us to be Mary Sues, well we're not we're human, so please I'm taking it as constructive critisicm so maybe you should too.
It's a great show but would of been better if they fired Bella Thorne, Zendaya is the only good dancer, and you clearly tell that Bella is being auto tuned, Bella also uses her " dyslexia " as an excuse, it isn't like an disease or something like that, Bella Thorne you are so annoying, your stupid song "call it whatever "is so stupid. Just go away.
Winx Club

Winx Club is an Italian animated television series directed, created and produced by Iginio Straffi and his company Rainbow S.r.l.
A group of anime wannabes who are fairies dress in skimpy outfits and fight bad guys using crap powers (how does music take down supernatural bad guys? ) In one episode they had to go to a snowy area and in order to not freeze to death they wore strapless bras and mini skirts. what?
So a teenage girl named "willow "or something, suddenly finds out she's a fairy, so she goes to a special school in magical world and go's on adventures in Super innapropriate tops an super short, short, skirts. So unbelievable. Please remove this show.
This show basically shames bodies and makes little girls or boys feel as if they have to be perfect. It's also a rip off of an anime and shows no character development.
This show is such a rip-off of Arc Fairies or really any anime! It is inappropriate, stereotypical and offensive to overweight people! It should be cancelled! It's basically a mouthful of crap for 5 year olds! - SheepBuggy
6Teen

6teen is a Canadian animated sitcom originally produced by Nelvana, with the final season produced by Fresh TV. It premiered on November 7, 2004 on Teletoon.
The Loud House

The Loud House is an American animated television series created by Chris Savino for Nickelodeon. The series revolves around the chaotic suburban everyday life of a boy named Lincoln Loud and his ten sisters, to which he survives as the middle child and only son in a large family of eleven children. ...read more.
How is Gravity Falls higher than this atrocity!?
This show is awesome
Incredible Crew

Incredible Crew is an American sketch comedy television series, created by Nick Cannon for Cartoon Network.
I actually liked that show...
Horrible just a bunch of random crap I absolutely hate this show, I was actually embarrassed when it came on my T.V. how bad does a show have to be for you to be EMBARSEED
More Like Incredible CRAP.
I am so glad they cancelled it! It had bad acting, and that's mostly reason why!
The Haunted Hathaways

The Haunted Hathaways is a Nickelodeon sitcom television series that began airing on July 13, 2013 and ended on March 5, 2015. It tells the story of a single mother and her two daughters who move into a home occupied by three ghosts, a single father and his two sons.
One of the worst Nick shows ever!
This used to be my favorite T.V. show. But back in like 2013-2014./
IT IS NOT THAT BAD
Nicki Minaj wrote that comment. It's one of the best shows ever. I Was so proud of this list until you Nostalgiatards ruined it by adding The Haunted Hathaways, iCarly, The Legend of Korra, etc.
Gravity Falls

Gravity Falls is an American animated television series produced by Disney Television Animation that first aired on Disney Channel, and then on Disney XD from June 15, 2012 to February 15, 2016. The series follows the adventures of Dipper Pines and his twin sister Mabel in the fictional town of Gravity ...read more.
This show is the best thing that happened to Disney Channel! I bet the person who said it was lame is a fan of Sanjay and Craig!

Moral: No taste.
Actually it was me who said it was lame, on one of the other comments. And that was before I became an official user. - Disney1994
You are so ungrateful this show rocks
People can't understand shows with an actual story GO GRAVITY FALLS! - TheAlbinoWolf
You're kidding, right? Basically every episode of his show has a witty joke that made me laugh out loud. Seriously, get a sense of humor, pal.
Johnny Test

Johnny Test is an American-Canadian animated television series produced by Warner Bros. Animation, for the first season, and Cookie Jar, for the remainder of the series.
This show was okay when it first came out but then it went to full on garbage
Most of my friends hate this show. Johnny is a unfunny, unloved, careless, annoying, retarded, unforgiving, useless, creepy, immature, lazy, and crappy loser who is really unfunny. Plus, he hardly has any friends. Johnny is really not that funny. By the way, His father should stop feeding his excuse for a family meatloaf because he only cares about meatloaf. If you love it so much, why don't you just marry the meatloaf and have children with it. Screw this show!
This show actually started out pretty decent, and it at least tried with its comedy. after season 1 though it just sucked
It was okay at first but now it's crap. - kawaiitohru
Butt-Ugly Martians

Butt-Ugly Martians is a computer-animated television series produced by the British media group Just Entertainment in association with Mike Young Productions and DCDC Limited.
I don't even remember even seeing this show, and apparently it was supposed to be on Nickelodeon. I'm glad I never saw this because just judging by the picture above it looks awful.
"Let's get ugly! "

Yeah, you all are ugly already, martians. - Katildalover93
Does this exist?
WE ARE THE MARTIANS THE BUTT-UGLY MARTIANS. WE ARE THE MARTIANS THE BUTT-UGLY MARTIANS. WE ARE THE MARTIANS THE BUTT-UGLY MARTIANS. WE ARE THE MARTIANS THE BUTT-UGLY MARTIANS.

I hope you love that quote cause you're gonna hear it 5 million times in the intro/ - UnlawfulMatron
Almost Naked Animals

Almost Naked Animals is a Canadian animated television series that is produced for YTV. The series premiered on January 7, 2011 on YTV.
What the bloody heck? Why is this show on here? I used to watch it. But it's gone. - Yoshiarta123456789
Nina Needs to Go!

Nina Needs to Go! is a Disney Junior animated series that takes the titular 4-year-old Nina to a variety of settings like the zoo and the beach. In each location, Nina finds she "needs to go" to the bathroom after becoming too engrossed in play, and the mission is to get her there before it is too late. ...read more.
I hope this show gets cancelled today and never be revived. I hate Nina she's annoying girl who always needs to pee. If I ever see her in real life I would scare her until she cries and I would slap and punch in the face! Cancel this piece of garbage now! 0 star rating!
Why in the world would this mind-sickening show be on Disney Junior? Are its workers trying to make its target audience laugh with toilet humor? If so, that's just sad.
Why not pee your pants? - TimmyTurner
The animation style is kinda cute and the characters aren't too annoying and it could teach kids, but they should teach kids various things, not just using the toilet. not the best or worst - Lunala
PSearch List