Top 10 Most Legendary Football (Soccer) Players
The Top Ten
1
Diego Maradona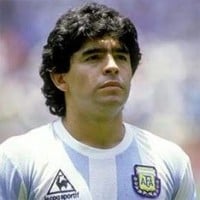 Diego Armando Maradona (October 30, 1960 - November 25, 2020) was an Argentine professional footballer. He was known for "The Goal of the Century" and the "Hand of God" goal. He died of cardiac arrest on November 25, 2020 at the age of 60.
The American newspaper The Houston Chronicle wrote about Maradona:
To understand the gargantuan shadow Maradona casts over his football-mad homeland, one has to conjure up the athleticism of Michael Jordan, the power of Babe Ruth-and the human fallibility of Mike Tyson. Lump them together in a single barrel-chested man with shaggy black hair and you have El Diego, idol to the millions who call him D10S, a mashup of his playing number and the Spanish word for God.
In Argentina, he is considered a sports hero. On the idolatry that exists in Argentina, former teammate Jorge Valdano said, "At the time that Maradona retired from active football, left traumatized Argentina. Maradona was more than just a great footballer. It was a special compensation factor for a country that in a few years lived several military dictatorships and social frustrations of all kinds".
2
Pele

Edson Arantes do Nascimento, known as "Pelé", is a retired Brazilian professional footballer who played as a forward. He is one of the best players in football, hence why he's nicknamed the "king of football".
He scored 1,284 goals like what the legitimate heck.
Much better than maradona
He is the best
3
Lionel Messi

Lionel Andrés "Leo" Messi is an Argentine professional footballer who plays as a forward for Spanish club Barcelona. He is also known as one of the greatest football players of all time. He was born in Rosario, Argentina on June 24th, 1987.
Amazing technical abilities but not a leader. That's why Argentina lost two Copa America finals and one World Cup final. Maradona is still the God of football for the Argentinians.
Messi the best stupid Ronaldo
He is the best player ever...
4
Johan Cruyff

Hendrik Johannes Cruijff (1947-2016) was a Dutch professional football player and coach. As a player, he won the Ballon d'Or three times, in 1971, 1973, and 1974.
"He was certainly the best footballer Europe has produced." The words of German great Franz Beckenbauer (2016) serve as a fitting tribute to the influence and impact of Johan Cruyff.
The attacking midfielder/forward enjoyed his biggest successes at club level with Ajax, the club where he made his first-team debut at the tender age of 17. He
would go on to lead Ajax to six Eredivisie titles in the 1960s and early 1970s, while also winning four KNVB Bekers during his first spell with the Amsterdam giants, scoring an amazing 247 goals in 318 appearances.
It was then at the 1974 World Cup that Cruyff confirmed his status as one of the best players the game had ever seen.The Dutch had not appeared at a World Cup since 1938 and had failed to make much of an impact in the years preceding the tournament in West Germany, but Cruyff took his team by the hand till the final.
Underrated in this list, he's still the best European football player ever.
the lil genius RIP
5
Alfredo Di Stefano
The greatest football player till Pele appeared.
Alfredo Di Stéfano was the inspirational leader of the Real Madrid team of the 1950s, one of the best and most successful, club sides of all time.
He was a centre-forward of versatility and authority: his greatness lay not only in his prolific goalscoring, but in his ability to influence play in all areas of the pitch in an era when players stuck to their positions and were relatively static. His stamina was legendary and even in his veteran years he could bring off a sliding tackle in his own penalty area, then in the next minute pop up at the other end for a shot at goal. This individual brilliance, combined with an imperious air, enabled him to orchestrate a team to play to his command.
Di Stéfano was not as naturally gifted as Pelé or Maradona, but many great players of his generation and manager regarded him as the best footballer in the history of the game.
6
Ferenc Puskas

Ferenc Puskás was a Hungarian footballer and manager, widely regarded as one of the greatest players of all time.
The football climate of the immediate post-Second World War period can be epitomised by one particular European player.

In 1945 Ferenc Puskás made his debut for the Hungarian national side, a team that across the next decade would eventually be known as the 'Aranycsapat'; the 'Golden Team', a pride of a nation that would ultimately be destroyed by politics, events from which the sport in Hungary has never recovered.

Puskás only played officially for two clubs, Honved and Real Madrid and won all kind of trophies except a World Cup, like his partnership Alfredo di Stéfano.

Although not so known, he's one of the very close club of the "one thousand goalscorers" (in my opinion six members): at least 1,159 goals in his career seem to be verified with a goal to game rate of 1.09, quite better than Pelé. His name indoctrinated in the annual award for 'the most beautiful' goal of the year.
7
Cristiano Ronaldo

Cristiano Ronaldo dos Santos Aveiro is a Portuguese professional footballer who plays as a forward for Italian club Juventus and the Portugal national team.
Second best European football player ever.
This guy should be second under pele because pele is like the best ever
anyway messi is a guy who shoots while ronaldo is a team player you don't see him shoot from half field just for cheers
WTFF IS Christiano Ronaldo 12TH PLACE HE 100 % SHOULD BE 1ST
8
Ronaldo

Ronaldo Luís Nazário de Lima, commonly known as Ronaldo, is a Brazilian retired professional footballer who played as a striker. Popularly dubbed O Fenômeno, he is widely considered to be one of the greatest football players of all time.
"Ronaldo could start from the halfway line and the whole stadium would ignite. He was the fastest thing I've ever seen running with the ball. Had he managed to stay free of injury, he had every chance of becoming the best footballer ever." - Sir
Bobby Robson.
Ronaldo's consistency and prolific goal-output was a remarkable hallmark of his game. He scored 62 goals in 98 appearances for his country and churned out amazing numbers for all of the clubs that he represented, in total 364 goals in 529 official games (senior career).
He had it all. Pace, power, skill and clinical finishing ability which all combined to make a lethal cocktail and he often made even the most accomplished defenders look like fools.
the true phenomeno
9
Zinedine Zidane

Zinedine Yazid Zidane, nicknamed "Zizou", is a retired French footballer and current manager of Real Madrid.
At the 1998 World Cup, Italian manager Cesare Maldini said, "I would give up five players to have Zidane in my squad."
Labelled a "flawed genius" by ESPN, Zidane possessed an exceptional first touch, and was also known for his dribbling skills, elegance on the ball, and creativity. He was capable of using either foot, despite being naturally right-footed. His technique and co-ordination enabled him to execute with extreme power and precision, in particular from outside the penalty area; he was also a free kick and penalty kick specialist. He was capable of both creating and scoring goals, despite being neither the most prolific goalscorer nor the most productive creator throughout his career.
In a 2002 FIFA poll, Zidane was selected in the FIFA World Cup Dream Team. In 2004, he was voted UEFA Best European Player of the Past 50 Years. In a 2004 poll conducted by French newspaper Journal du Dimanche, Zidane was voted as "the most popular Frenchman of all time".
10
Michel Platini

Michel François Platini is a football administrator, who served as the president of the Union of European Football Associations from 2007 until 2015, after which he was banned for 8 years following an ethics investigation by the FIFA Ethics Committee on 21 December 2015, and formerly a French football ...read more.
Michael François Platini is a former French football player.
Regarded as one of the greatest footballers of all time, Platini won the Ballon d'Or three times, in 1983, 1984 and 1985, and came 6th in the FIFA Player of the Century vote.
He holds the record for most goals (9) scored in the European Championship despite only appearing in the victorious 1984 edition
The Contenders
11
Franz Beckenbauer

Franz Anton Beckenbauer is a German former professional footballer and manager. Early in his playing career he was nicknamed Der Kaiser because of his elegant style, dominance and leadership on the field, and also as his first name "Franz" is reminiscent of the Austrian emperors.
12
Garrincha

Manuel Francisco dos Santos, known by the nickname Garrincha, was a Brazilian footballer who played right winger and forward.
13
José Manuel Moreno
'El Charro' was the first Argentinian legend. He played in 5 differend countries winning 12 top league championships.
He was elected by IFFHS as the 5th South American football player of the 20th century (after Pele, Maradona, Di Stefano and Garrincha).
14
Giuseppe Meazza
Best Italian football player ever, with two World Cups (1934,1938).
15
Gerd Müller

The "Bomber der Nation" is one of the most decorated players in football history and ranked 13th in the IFFHS 20th century elections.
16
Eusebio

Eusébio da Silva Ferreira was a Portuguese footballer who played as a striker. Eusébio is considered by many as one of the greatest footballers of all time. During his professional career, he scored 733 goals in 745 matches.
One of the greatest football legends, elected 9th best player of the 20th century in the IFFHS century elections.
17
Juan Alberto Schiaffino
Greatest Uruguayan player ever.
18 Zico
19
Bobby Charlton

Sir Robert "Bobby" Charlton is an English former football player, regarded as one of the greatest midfielders of all time, and an essential member of the England team who won the World Cup in 1966, the year he also won the Ballon d'Or.
20
Marco van Basten

Marcel "Marco" van Basten is a Dutch football manager and former football player, who played for Ajax and Milan, as well as the Netherlands national team, in the 1980s and early '90s as a forward.
A f... a... who should register votes deleted 2 votes of mine some hours ago making another non voting list.
21
Sir Stanley Matthews
Greatest English football player ever (that's why he's a Sir-the first one).
22
Bobby Moore

Robert Frederick Chelsea "Bobby" Moore was an English professional footballer. He captained West Ham United for more than ten years and was captain of the England team that won the 1966 World Cup.
23
Paolo Maldini

Paolo Cesare Maldini is a former Italian professional footballer who played as a left back and central defender. Maldini captained Italy for 8 years and AC Milan for 12, and was renowned for his leadership skills, earning him the nickname "Il Capitano", or 'The Captain'.
I think the best defender after Beckenbauer.
24
Lothar Matthaus

One of the greatest midfielders ever, with exceptional attacking and difensive abilities.
25
Gianni Rivera
For those who disagree with the comment about Meazza, there's only one other choice:Gianni Rivera.
He was voted 19th player of 20th century in the elections of IFFHS whereas Meazza 21st.
PSearch List