Top 10 Losers of the 2019 NFL Free Agency
I know free agency is still going at this moment, but many of the big names switch for new teams, and other teams well... let's dive into what happened exactly? I know making splashes does not always make teams win the Super Bowl, but there's still the draft to come so these teams could know what their needs are by default of the casualties received.
The Top Ten
1
Miami Dolphins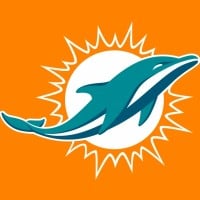 The Miami Dolphins are a professional American football franchise located in the Miami metropolitan area.
Oh surprised not to see the G-man #1 well get ready for this Miami did humbly nothing for me. You signed two tight ends gee sound like my team five years ago, and second you lost the sweepstakes in getting Tyrod Taylor as your backup quarterback or even replace Ryan Tannehill. I know there trying hard to get Teddy, but I don't see it happening since he wants to backup Drew Brees. You lost many players that went to different teams, and worse of all retained Devante Parker who should of been released right now! Oh my god this team is so unbearable its contagiously disgusting. I can already tell this is gonna be one of the five worst teams, and while I was wrong in saying they would be a 3 win team Brian Flores is not gonna win immediately as I can tell, but for the love of god get a replacement for Ryan Tannehill.
What is the logic in getting discount Connor McGregor over Taylor. Taylor is younger, faster sure he's not known to be a deep thrower but still at least try not to start the season by tanking
Yeah I didn't like what they did at all. They aren't heading in a good direction
Simply said, they didn't make a splash because they want to tank for Tua in 2020.
2
New York Giants

The New York Giants are a professional American football team located in the New York metropolitan area.
Oh dear god the dumpster fire is real in New York land folks my god the G-Man were fleeced way too much, and what they lost if you really think about the Giants may have more draft picks, but this not a good looking if they don't replace Eli Manning I think Dave Gettleman is incredibly delusional. Browns look like a playoff team, you let go Landon Collins he gets the richest deal for a safety in the secondary. I like the idea of building in the trenches, but clearly something feels very very wrong with the Giants and frankly I would not be stunned if they passed on a rookie Quarterback just based off these moves alone.
I thought the Giants would be back in contention in 2019. But after all that has happened as of now, I was definitely wrong.
Well I think getting rid of a cancer named Odell is a good thing and I do think manning still has a little left The tank as long as the giants o line can give Eli more then 3 seconds
Lost Landon Collins, Odell Beckham Jr., and Olivier Vernon.
3
Cincinnati Bengals

The Cincinnati Bengals are a professional American football franchise based in Cincinnati, Ohio. The Bengals currently compete in the National Football League as a member club of the league's American Football Conference North division.
Cincinnati did absolutely nothing in terms of improving on any position in fact the dumbest thing they could of done is re-sign a right tackle who was negatively receipted in his time with the Giants gets a 3 year deal oh boy is Zac Taylor just a yes man doomed from the start?
It appears that they are content with doing nothing and being in the basement
No one wants to come here anyway. Cincy is a barren wasteland to most players anyway.
4
Denver Broncos

The Denver Broncos are an American football team based in Denver, Colorado. The Broncos compete in the National Football League as a member club of the league's American Football Conference West division.
I think giving John Elway another chance was a big mistake based on what's gonna happen in 2019. Joe Flacco is your starting quarterback not to say that's a bold move going to make a change, but Joe Flacco is no Peyton Manning John. Ja'Wuan James signing does help seeing his started every game in his time with the Dolphins whether his good or not remains to be seen. Signing an aging corner is never a good thing usually and in this case Denver is one of two teams to have done this. Also signing Don Barclay is a terrible decision why? His rarely even started for any team, and when he does his on the injury report so there's not much to like here from the Broncos if you ask me.
Bryce Callahan is probably a fairly good sign otherwise I don't like most of these moves Elway has done.
Yeah I don't like what they did. I don't think Flacco is the piece that will solve the puzzle
I read on NFL.com in an article that said that some desperate franchise would overpay Ju'Waun James in free agency. Well, it looks like we've found that franchise. Although I do like the Bryce Callahan signing, reuniting him with Vic Fangio.
I honestly want to see the 2012-2013 Flacco again but every season he gets worse and worse I think you should of stuck with the Vikings Christmas present
5
Indianapolis Colts

The Indianapolis Colts are an American football team based in Indianapolis, Indiana. The Colts compete in the National Football League as a member club of the American Football Conference South division.
Let's see... You lost a chance to get Ingram, or Bell. You lost the trade war to Jon Gruden as they got AB. You sign Devin Funchess who was mostly terrible in Carolina. While they didn't lose many player significantly they had chances at significant improvements well there's always the draft now.
Why do you spend nothing while leading the NFL in cap space? The only notable signing was Devin Funchess, and he's a general WR3 at best. Mistakes were made.
Not terrible but not great either
6
Tampa Bay Buccaneers

The Tampa Bay Buccaneers are a professional American football franchise based in Tampa, Florida. The Buccaneers currently compete in the National Football League as a member team of the National Football Conference South division.
You lose two big weapons at Wide Receiver DeSean Jackson was expected to exit, but than you lose Adam Humphries a guy who was Jameis Winston's favorite towards the end of the season goes to another tam while in return you sign former Ravens bust Breshad Perriman who yes was better in Cleveland but he wasn't the long term answer. So with Jameis Winston somehow hanging in there so far this is gonna be his pointless last stand with Bruce Arians as Head Coach. Then they sign Andre Ellington who was doing nothing the last two seasons behind David Johnson with the Cardinals. Yet the connection is there though.
Lost Kwon Alexander and respond by signing nearly no one.
7
Arizona Cardinals

The Arizona Cardinals are a professional American football franchise based in the Phoenix metropolitan area.
They did some things correctly, and other things not so much so as signing aging veterans such as Terrell Suggs who basically done and should go into the hall of fame, as well as Robert Alford whose okay at best cornerback in case they may trade Patrick Peterson either before or during the draft is what I'm thinking knowing his not liking what the team is doing. The positives was getting veterans Jordan Hicks, & Brooks Reed. The others are very risky Marcus Gilbert was an injured plagued nightmare for Pittsburgh, Charles Clay same deal in Buffalo. Just there's not much to like with a Cardinals team that's rebirthed into the Phoenix Cardinals at this point.
Terrell Suggs as a Cardinal is going to be really weird, perhaps even weirder than Emmitt Smith as a Cardinal. Terrell Suggs appears to still have a bit left in the tank, but he should have retired as a Raven. No one looks back at Emmitt Smith's Arizona Cardinals seasons with nostalgia, and the same will be true for Terrell Suggs,
I actually think they did pretty well overall.
Yeah sorry but you're still gonna be in the basement
8
Washington Redskins

The Washington NFL team are a professional American football team based in the Washington, D.C. metropolitan area. In 2020, Washington after 87 years got rid of the Redskins trademark due do to it being labeled racist to native culture. It is unknown what name they will be given at this time.
There's two things the Redskins addressed the disaster that was getting rid of the best tandem safety in football, and instead had to overpay for a box safety who just had a terrible year with a Giants team who did even worse than them at this very rate. You lose two good linebackers next to Ryan Kerrigan yikes, and Case Keenum is now your temporary starter for what looks like what you'll need not too bad, but not getting weapons in the free agency something unusual here with Dan Snyder?
Yeah, they overpaid for Landon Collins, and because of all the money put into him, they could sign almost nobody else.
9
Minnesota Vikings

The Minnesota Vikings are an American football team based in Minneapolis, Minnesota. The Vikings joined the National Football League as an expansion team in 1960, and first took the field for the 1961 season.
At least they retained Anthony Barr that's there only saving grace otherwise look at what they ended up losing Sheldon Richardson, Mike Remmers, Andrew Sendejo, & Latavius Murray. That might not be a lot to worry about, but hey slowly but surely the Vikings's defense maybe slipping in the wrong direction if there not too careful. They didn't add anybody really. While that's not a major concern for the team since they have good talent overall, it's a warning sign if all fails again.
They're in a pretty bad place, cap space wise. I see even more regression for them in 2019.
What did we do you may ask well we just turned into the packers when it comes to free agency I know we have low cap space but come on did we have to get rid of Marcus sherels and we resigned dan Bailey I guy who makes you bite your nails if he is kicking over 30 yards
10
New York Jets

The New York Jets are a professional American football team located in the New York metropolitan area.
They did some good things right to replace, but they also took some high risk as well. Yet for Sam Darnold you gave him Jamison Crowder, and Le'Veon Bell (who gained about 35-40 pounds last season). I get the idea for it, but way risky pickups if you ask me.
I don't mind the signing of Le'Veon Bell. Gives Darnold a running back to go to so he doesn't have to throw 50 times a game.
The Contenders
11
Pittsburgh Steelers

The Pittsburgh Steelers are a professional American football team based in Pittsburgh, Pennsylvania, that competes in the National Football League. Pittsburgh Steelers have won the most Super Bowls with 6 which currently stands today.
Lost Brown and Bell, two huge stars of their team
They had to cut ties with them obviously for their behavior was a problem for the entire team to function. Plus it looks like James Connor, and Juju are fitting the roles very well so not that big of a loss seeing this would happen. Thus why they were not in my ten I just felt those were expected casualties that doesn't hurt them that much.
BAdd New Item