Top 10 Athletes Who Won Titles with Multiple Teams
The Top Ten
LeBron James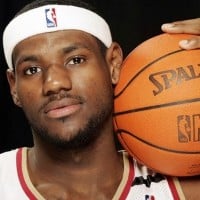 LeBron Raymone James is an American professional basketball player for the Los Angeles Lakers of the National Basketball Association. LeBron has played for the Cleveland Cavaliers, Miami Heat, and the Lakers.
Won with the Miami Heat & Cleveland Cavaliers - BUETBU91
Jumping around the league forming Super teams works wonders. - RobertWisdom
Now that he's in LA can he win with a third team? - Randomator
That will be an interesting to see if he does. Would take the level of athlete on multiple teams to win titles to a whole new level. - BUETBU91
Peyton Manning

Peyton Williams Manning is a former American football quarterback who played 18 seasons in the National Football League for the Indianapolis Colts and Denver Broncos.
Won with the Indianapolis Colts & Denver Broncos - BUETBU91
Kareem Abdul-Jabbar

Kareem Abdul-Jabbar is an American retired professional basketball player who played 20 seasons in the National Basketball Association for the Milwaukee Bucks and Los Angeles Lakers.
Milwaukee Bucks
Los Angeles Lakers - BUETBU91
Mark Messier
Edmonton Oilers
New York Rangers - BUETBU91
Shaquille O'Neal

Shaquille Rashaun O'Neal, nicknamed Shaq, is a retired American professional basketball player who is currently an analyst on the television program Inside the NBA. He is known for his fun, friendly personality, and is one of the most beloved athletes of all time.
Los Angeles Lakers & Miami Heat - BUETBU91
Reggie Jackson

Reginald Martinez Jackson is an American former professional baseball right fielder who played 21 seasons for the Kansas City / Oakland Athletics, Baltimore Orioles, New York Yankees, and California Angels of Major League Baseball.
Oakland A's & New York Yankees - BUETBU91
Patrick Roy

Patrick Jacques Roy is a Canadian former professional ice hockey goaltender and the former head coach and vice-president of hockey operations for the Colorado Avalanche of the National Hockey League.
Montreal Canadiens & Colorado Avalanche - BUETBU91
Curt Schilling

Arizona Diamondbacks & Boston Red Sox - BUETBU91
Dennis Johnson
Seattle SuperSonics & Boston Celtics - BUETBU91
One of the most forgotten players of all-time. - 2storm
Brett Hull
Dallas Stars & Detroit Red Wings - BUETBU91