Beautiful Female Warrior Cat Names
The Top Ten
Brightheart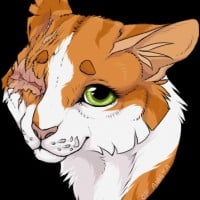 This name tells a lot about the character's personality - Marella
Briarlight

SpottedLeaf

Spottedleaf is a tortoiseshell she-cat in the series "Warrior Cats" by Erin Hunter. She first appears in book 1, and dies the same book.
Ferncloud
Leafpool

Leafpool is a character in the Warrior Cats series. She's the daughter of Firestar and Sandstorm, sister of Squirrelflight, mate of Crowfeather, and mother of Jayfeather, Lionblaze, and Hollyleaf
Silverstream

SIlverstream is a character created by Erin Hunter to the book series named Warrior Cats. she is a sleek, silver tabby she-cat with delicate silver markings and bright blue eyes. She's the daughter of Crookedstar and Willowbreeze, former mate of Graystripe and mother of Feathertail and Stormfur. She ...read more.
Love her.
Echosong
Hollyleaf

Hollyleaf was one of the rare, strictly loyal cats of ThunderClan. She cherished the warrior code as a kit and came back to her clan in a time of need to fight-- even though she was cast out for killing Ashfur.
Dovewing

Dovewing is a character in the Warriors series by Erin Hunter. She has light grey fur with Amber, green, or blue eyes. Her first appearance is in the fourth arc, know as Omen of the Stars, in the book The Fourth Apprentice. She was part of the Power of Three, and her power was to hear and see things ...read more.
Ivypool