Cubsfan16's Quarterback Rankings 2021 (40-31)
The Top Ten
1
Andy Dalton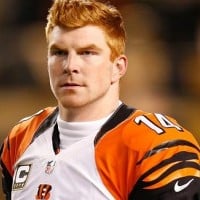 Andrew Gregory Dalton is an American football quarterback for the Dallas Cowboys of the National Football League.
Okay I get it laugh at us for taking Andy Dalton. He's not the sexiest name on the market but I think we were so fed up with Trubisky that we wanted someone who's a safe player. I just don't know how much he's going to start or how much Justin Field will start. Could we have done better yes but I'll take a veteran who is serviceable at least over another year of Trubisky
2
Drew Lock

I can't tell what Denver's opinion is on Drew Lock I'm assuming they're mixed but I could be wrong. The fact of the matter is he has had time and just hasn't produced like what they were hoping. I think obviously the organization wants more that's why they brought in Teddy Bridgewater and there's a reason why the Broncos have been linked to Aaron Rodgers in recent weeks. Drew Lock the time is ticking
3
Trey Lance
Trey Lance is a boom or bust prospect. San Francisco obviously saw something in him they like. I'm sure Kyle Shanahan will develop him to being a masterful elite quarterback. But how much playing time will he actually get this year? That's the main question and that's why he's rated the lowest of the rookie quarterbacks for me
4
Tyrod Taylor

Tyrod Taylor has to be the assumed starter for Houston right? I mean unless Deshaun Watson just somehow comes back because nobody wants him now. Tyrod Taylor we haven't seen in quite some time because he got buried by Justin Herbert playing so well. There was also some Medical malpractice going on. He's a serviceable starter at best but throughout his career he hasn't been a long term player always being a stepping stone
5
Taylor Heinicke
Now listen I like Taylor Heinicke as much as the next guy. He actually did decent in the few games he played. So before you guys come at me for putting him so low let me just say that he's played very little games. There's not much to go off of. I think he could be alright but I think they will play Ryan Fitzpatrick over him. I just can't rank him higher without more snaps to analyze at this point
I'm excited to see what Heini can do
6
Jameis Winston

Jameis L. Winston is an American football quarterback for the New Orleans Saints of the National Football League.
The Saints have a interesting situation at quarterback. They could go with Taysom Hill or Jameis Winston. Of the two at least Jameis Winston has some more experience but do we remember the last time he was a starter he threw 30 touchdowns and 30 interceptions. He's such a double edge sword how can you trust him? Maybe sitting behind Drew Brees and Sean Payton will help but time will tell if I'm a Saints fan I wouldn't trust him
I would probably put him higher If Winston fixed his horrible decision making he could be a huge threat to the NFC
7
Cam Newton

Cameron Jerrell Newton is an American football quarterback for the New England Patriots of the National Football League. He had previously played with the Carolina Panthers from 2011 to 2019.
I am surprised that the Patriots resigned him. Last year he declined to the point where he looked nothing like he did in 2015. I think his shoulder really did him in and I really don't expect him to play very much. To be fair they didn't have hardly any offense but he also didn't play very well considering his offense situation. I have a feeling he will be the mentor to Mac Jones maybe play a game or two and nothing more. It's sad to see a veteran MVP talent decline like this
8
Jordan Love
Has Jordan Love actually done anything yet? To my understanding he did literally nothing last year or at the very least did very few snaps. Reports say he has a long way to go in his development. Just the words you want to hear when your Hall of Fame MVP Quarterback wants nothing to do with your organization at the moment. Definitely worth the first rounder right? If all else fails and Aaron Rodgers leaves the Packers I would be very scared if I'm a Packers fan. That's like handing the keys of your Tesla or Porsche to a 16 year old kid who has never driven before in his life
9
Taysom Hill

Honestly Taysom Hill I do not trust. I mean he's not even an actual Quarterback just like an experiment. He is a Jack of all trades and master of none. He can be good in certain situations but when you are halfway relying on him as your franchise Quarterback then you have problems. I am not confident that he can have long term success as Saints quarterback especially following up Drew Brees
10
Deshaun Watson

At #40 Deshaun Watson now look I don't think anyone is questioning his talent at all. In fact his talent is arguably top 5 in the entire NFL. His talent is not the reason why he's so low. In January he said he wanted out of Houston and then some allegations came out saying he was accused of sexual assault. Turns out those allegations actually have some legitimacy to them. It's still too early to tell how this will unfold but as of now forget the original situation of wanting out of Houston Deshaun Watson might not play a down in the NFL period. Only time will tell his fate