Cubsfan16's Quarterback Rankings 2021 (30-21)
The Top Ten
1
Derek Carr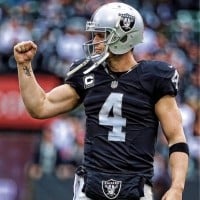 Derek Dallas Carr is an American football quarterback for the Las Vegas Raiders of the National Football League.
Derek Carr has been the epitome of mediocrity his entire career. He lacks any edge that would make him a threat. And to be honest I really don't see him being any better his O line is way worse now and he's been regressing for a few years now. He doesn't have any intimidation factor honestly he's pretty forgettable like what did he do last year beat the Chiefs one time and that's about it. You're in a division with Patrick Mahomes and Justin Herbert you need to have a quarterback who can contend on their level and Derek Carr isn't that
2
Ben Roethlisberger

Benjamin Todd Roethlisberger, Sr., nicknamed Big Ben, is an American football quarterback for the Pittsburgh Steelers of the National Football League.
Big Ben is back for another year but here's the problem is he's like 38 years old and the AFC is a competitive conference with Josh Allen Pat Mahomes and Lamar Jackson this is the era where the pocket passers are dying out. Ben can only take the Steelers so far and the O line isn't the greatest either. And I don't think he's going to retire until his arm falls off. Ben is not getting any younger so he's only going to regress further
3
Ryan Fitzpatrick

Ryan Joseph Fitzpatrick, is an American football quarterback for the Miami Dolphins of the National Football League. He has played for 8 different teams throughout his career.
Ryan Fitzpatrick is back again this time in Washington. There's really two ways this could go either he plays well or he doesn't and there's really no in between. All of his stats are dependent on that offense which leaves a lot to be desired that offense is very mediocre but if it makes you feel better Washington Fitzpatrick sometimes gets more out of his weapons than you'd expect
I wish the Chargers didn't hurt him. That man can hold a bunch of secrets in that beard of his
4
Jimmy Garoppolo

Jimmy Garoppolo has been rumored to be traded a lot this off-season and now they might finally have his replacement he's serviceable but he leaves some to be desired. He's not bad just mediocre and San Francisco has seen enough
5
Zach Wilson
The Jets decided to do a smart thing and fire Adam Gase they have shed most ties from the previous regime Zach Wilson gives the Jets a sign of hope. I'll use the words from UrinatingTree's draft reaction video: "If the Jets want to shed their label as a meme organization Wilson will be developed properly" I honestly predict a rough rookie season for him just because the Jets are far behind the other 3 teams in the division but it all depends how well they develop him
6
Jalen Hurts

I think Jalen Hurts has talent but honestly he's bound to struggle he had a successful college career but now he's going to have to fight to carry this team on his back because on paper this looks like a bottom 3 team. Jalen Hurts looked more comfortable last year than Wentz but now they have a new coach who I have little faith in
7
Mac Jones
Now I know some of you think he's too high but I'll explain my reasoning. His style fits exactly what the Patriots are looking for and he has veteran receivers around him. The Patriots might be getting Julio Jones on top of that. Plus Mac Jones played for Nick Saben at Alabama who is similar to Belichick. He couldn't have got a better landing spot now will he perform that is another question entirely
8
Sam Darnold

I don't know what Carolina saw in Sam Darnold to warrant bringing him into the organization over Teddy Bridgewater but this has to be his last chance. Some may say that he got an unfair situation in New York with Adam Gase but this is a clean slate with a more competent coaching staff if he can't play better there's no chance left. Don't blow this opportunity Sam.
9
Justin Fields
Drafting Justin Fields is basically the organization giving one last chance to Matt Nagy. Fields is essentially the anti-Trubisky. I expect him to play at some point this season but his development is going to be critical. I believe he has the talent but how will he perform That's the biggest question and the answer could either lead to people being fired or keeping their jobs. No pressure at all
10
Teddy Bridgewater

Theodore Edmond "Teddy" Bridgewater II is an American football quarterback for the Carolina Panthers of the National Football League. He had previously played for the Minnesota Vikings from 2014 to 2017, and for the New Orleans Saints from 2018 to 2019.
At #30 Teddy Bridgewater was kinda disappointing last year. He's a relatively conservative quarterback meaning he won't put up sexy numbers week in and week out but he won't embarrass himself either. I think Carolina was expecting a little bit more from him and now I really don't have a lot of confidence he'll be better in Denver. He'll have to beat out Drew Lock and that's assuming Aaron Rodgers doesn't come in to town