You Tubers Who Should Have Been in YouTube Rewind 2018
wow im late but I had no other ideas on what lists to make.
The Top Ten
PewDiePie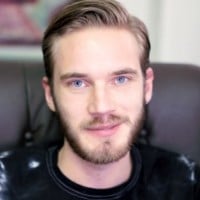 Felix Arvid Ulf Kjellberg (born October 24, 1989), better known by his online alias PewDiePie, is a Swedish web-based comedian video producer, and commentary channel. He is best known for his Let's Play commentaries and Vlogs on YouTube. He is known for being the most subscribed-to YouTuber on the website, ...read more.
Es I know he had his controversies but he is the biggest YouTube on YouTube he is the mascot he is the most recognisable face on the YouTube platform. - MRRANDOM
Well he does deserve it but why though? He was already in rewind 2014 and I think a youtuber should only be in one rewind, because there's a lot of yters to put in rewind.
Manly just really good
MrBeast

OK so in 2018 he turned from an extremely funny YouTuber what kids do stupid stuff with just under a million subs to YouTuber doing crazy challenges with money with 10 million subs - MRRANDOM
I hart meesta beest he da best
Dude Perfect

Dude Perfect is an American sports entertainment group from Frisco, Texas which routinely uploads videos to YouTube.
Did really well that year and are really great in general - MRRANDOM
Dantdm

To be fair he did have his reasons but even in spite of that 2018 was one of his most prolific years to DATE. - MRRANDOM
Why not? we need gaming up in here and here's a popular one.
JackSepticeye

Seán William McLoughlin, born February 7, 1990, better known by his online pseudonym Jacksepticeye, is an Irish YouTube personality, known primarily for his comedic Let's Play series and vlogs. His most popular series include Happy Wheels, Five Nights at Freddy''s and Fortnite.
Done amazing since htting it big - MRRANDOM
VanossGaming
Just why not? - MRRANDOM
Ryan ToysReview
2018 WAS RYANS YEAR WHY WAS HE NOT THERE. - MRRANDOM
Angry Video Game Nerd

James Duncan Rolfe is an American actor, comedian, filmmaker, film and video game critic, and internet personality, best known for starring in the web television series The Angry Video Game Nerd, a joint production of Rolfe's Cinemassacre Productions, GameTrailers, and ScrewAttack.
I mean why not a veteran of youtube deserves a veteran place in YouTube rewind right? - MRRANDOM
Joe Weller
The whole boxing thing was a big success - MRRANDOM
KSI
The boxing thing was big success - MRRANDOM