Top Ten Aquatic Fictional Creatures
The Top Ten
1
Kraken (Scandinavian Mythology)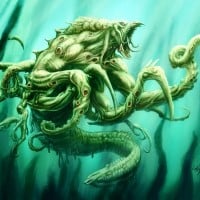 The Kraken is a legendary sea monster of giant size that is said to dwell off the coasts of Norway and Greenland.
2
Loch Ness Monster (Scottish Folklore)

The Loch Ness Monster (also known as Nessie) is an aquatic creature which reputedly inhabits Loch Ness (a lake in Scotland). Nessie is one of the most famous cryptids in history. The earliest report of the monster was in A.D. 565 where Irish monk Saint Columbia was the first person to record having ...read more.
3
Scylla (Greek Mythology)

Thought people forgot Scylla...:( - Ananya
4
Megalodon (The Meg)

The megalodon is an extinct species of shark which was about 59 feet (18 meters) long and hunted in the seas until about 1.5 million years ago. It was similar to today's great white shark-but three times longer and 20 times heavier. ...read more.
5
Cthulhu (The Call of Cthulhu)

Cthulhu is a fictional cosmic entity created by writer H. P. Lovecraft and first introduced in the short story "The Call of Cthulhu", published in the American pulp magazine Weird Tales in 1928. Considered a Great Old One within the pantheon of Lovecraftian cosmic entities, the creature has since been ...read more.
I just think da pics cool u gys
6
Gyarados (Pokemon)

Gyarados is a Pokémon species in Nintendo and Game Freak's Pokémon franchise. It evolves from one of the weakest Pokemon, Magikarp. But Gyarados has a high attack power (as of gen VII, mega Gyarados is ranking #19 for highest attack stat & would rank #10 if legendary Pokemon aren't included), and ...read more.
7
Ursula (The Little Mermaid)

Ursula is a fictional character who appears in Walt Disney Pictures' 28th animated feature film The Little Mermaid.
8 Swamp Thing (Swamp Thing)
9
Gill-man (The Creature from the Black Lagoon)

10
Bruce/Shark (Jaws)