Top 10 Yates Family Moments from The Loud House
For this next list we'll be focusing on the top moments from The Yates family who for the most part were featured in one episode that being "Future Tense" with only Jancey and Beatrix having a small cameo in later episodes.

The Top Ten

1 The Yates Family Rescue an Endangered Turtle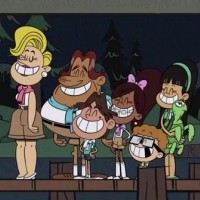 While Lynn Sr. and Rita watch a movie its gets interrupts by a special report as Kathrine Mulligan interviews the Yates family who've just saved an endangered turtle
2
The Yates Kids Open Their Eyes

Taking advice from the Louds to let their kids have a little fun to take a break from all the studying and extra activities they allow their kids to play with the Loud kids as the Beatrix, Bumper Jr., Belle and Beau who've had their eyes closed for most of the episode are finally opened as they join in playing with the Loud kids.
3
Beatrix Introduces Herself

As Jancey and Bumper invite Lynn Sr. and Rita into their home who are amazed by how quickly they unpacked as they get introduced to each of the Yates siblings starting with Beatrix the oldest as she asks her parents if she can borrow the car to go to practice and her computer coding class.
4
The Yates Family Move In
At the start of the episode the kids are in the front yard playing while Lynn Sr, and Rita are gardening when they see a new family the Yates move in as they all shown with perfect smiles like the Osmond family.
5
Bumper Jr. Introduces Himself

After Beatrix introduces herself her brother Bumper Jr. makes his introduction while showing off his new trophy as he tells his parents he got first place in the state math bowl.
6
Belle Introduces Herself

After Bumper Jr. appears Belle the third Yates kid introduces herself as she tells her parents she got the internship at the UN.
7
Belle Plays Her Fidel
After her introduction Belle informs her parents that she nailed the tricky passage of Bach's Partita in D minor which shocks the Louds as her parents clap.
8
Beau Introduces Himself
The last Yates sibling to introduce themselves is the youngest Beau who asks his parents if they can take him to his gallery opening tonight after which Jancey replies of course as she says thanks a lot in Korean.
9
Bumper and Jancey Yates introduce Themselves to Lynn Sr. and Rita
Lynn Sr. and Rita go over to welcome the Yates family to he neighborhood as Bumper and Jancey introduce themselves.
10
The Yates Prepare to Plant Trees
While Lynn Sr. and Rita allow the kids to take a break from all the activities they placed on them and while their playing outside Lynn Sr. and Rita see the Yates family who are preparing to plant trees as part of their volunteering in order to turn downtime into well rounded time.