Educational Kids Shows
Here are my educational shows
The Top Ten
Super Why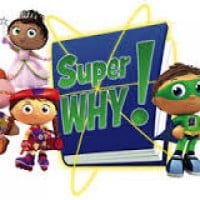 Super Why! or The Reading Adventures of Super Why! is an American-Canadian children's CGI animated show developed by Angela Santomero and Samantha Freeman Alpert. The series is produced by New York City-based Out of the Blue Enterprises and Toronto-based DHX Media through its Decode Entertainment division. ...read more.
I watched this show as a kid, and yes, this is educational. This little kid show teaches a lot, like telling stories, letters, letter sounds, handwriting, rhyming, sounding out words, spelling, opposites, vocabulary, reading, book elements, sequencing, and, of course, problem solving. The problems are simple, but remember that this is for kids ages 3 to 6, not tweens. There's a racially diverse cast, too. There's three boys and two girls. A lot of people thinks Red Riding Hood lives with her grandmother in the show, but she clearly doesn't. She lives in a separate house from her. We don't know for sure who Red lives with, but considering Princess Pea, who's also an only child, has two parents and Littlest Pig has a single father, and we see no other adult relatives of hers besides her grandma in the show as well as the original Red Riding Hood tale, I think Red only lives with her mom. Her mom works all the time, probably from about 7 am to 7 pm or something, so she's never seen or ...more
Sesame Street

Sesame Street is a long-running American children's television series, produced by Sesame Workshop and created by Joan Ganz Cooney and Lloyd Morrisett.
I'm 12 years old and I only watch this for entertainment. But I end up learning a few stuff.
Come on, fans, give it some love, this show started from 1994, it is the only PBS show that aired on Cartoon Network.
Yeah the best educational kids show ever! - andrewteel
Yo Gabba Gabba

Yo Gabba Gabba! is an American live action/puppet children's television show starring five costumed toys-come-to-life and their friend DJ Lance Rock.
Daniel Tiger's Neighborhood

They took a classic and made it boring - iluvmaddie
I was way too old when this show came out, but I still support it. It has songs to help preschoolers with issues such as potty training and separation anxiety, which is awesome. I wouldn't say it's boring because it really has helped a lot of toddlers and preschoolers with their problems.
Mister Rogers' Neighborhood

Mister Rogers' Neighborhood is an American half-hour children's television series that was created and hosted by namesake Fred Rogers.
CLASSIC! - iluvmaddie
Little Einsteins

Little Einsteins is an American animated children's television series on Playhouse Disney. The educational preschool series was developed for television by Douglas Wood who created the concept and characters, and a subsequent team headed by Emmy Award-winning director Aidan Abril and JoJo's Circus co-creator ...read more.
Dinosaur Train

Dinosaur Train is an American/Canadian/Singaporean children's animated series created by Craig Bartlett, who also created Hey Arnold!. The series features a curious young Tyrannosaurus rex named Buddy who, together with his adopted Pteranodon family, takes the Dinosaur Train to explore his time period, ...read more.
Cool show! - iluvmaddie
Baby Einstein
I LOVE IT! - iluvmaddie
Zoom (1999)
Cool show - iluvmaddie
Peppa Pig

Peppa Pig is a British preschool animated television series directed and produced by Astley Baker Davies in association with Entertainment One, which originally aired on 31 May 2004. It went on a hiatus for just over two years before re-premiering on 14 February 2015.