Top 10 IT Consulting Companies
Owing to all these benefits of a consultant, the need of outsourcing software development is increasing among ISVs, small businesses and enterprises alike. Therefore, in this blog I have shortlisted some of the best IT outsourcing companies in India as well as abroad. My process of shortlisting these IT outsourcing services companies includes following prior check-ups:

Readout Glassdoor, Clutch & Goodfirms reviews to check company's credibility
Use keyword analysis tools to check the top Google keywords of companies
Do contact with the company's clients to check customer satisfaction
Read customer reviews about companies on different platforms
Check out the portfolios and past work history

Here is the list of the companies:
The Top Ten
PixelCrayons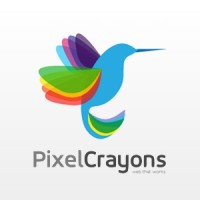 PixelCrayons is a web, software, and mobile application development company. With over 15+ years of experience in all types of IT services already under its belt, android app development services are one of its key USPs today. The Android development team at PixelCrayons holds an average experience ...read more.
PixelCrayons was founded in 2004. It has over 245+ digital agency partners in more than 30+ countries. Moreover, they have experienced Web development team that understands the demands of their clients and comes out with the right solutions according to their needs.
In addition, they serve many small businesses and startups. They also provide 100% money back guarantee if the client is not satisfied. They have 4800+ happy customers and 11500+ projects successfully done till now with 450+ full-time employees.
Ezeonsoft is top 3 android company in Lucknow.you can also say that this is only android company in Lucknow. EZEONSOFT Technologies is a major name in IT sector offering a range of services aimed at helping customers re-engineer and re-invent their businesses to compete successfully in an ever-changing market. Team EZEONSOFT comprise of experienced, skillful, and creative members who specialize in the following domains. 1) android app Development 2.)iPhone app. development 3.)phone gape technology 4.)web development (Adobe Flash Action... (App provider in Lucknow)
Valuecoders

They're an Indian software development company focused on just one thing - offshore software development services. 14+ years in business & 450+ developers strong, they have worked with startups, software product development companies, digital agencies and enterprises to help simplify their IT outsourcing ...read more.
Since its introduction in 2004, ValueCoders has been providing various services of IT globally. ValueCoders are having over 1600 satisfied customers with the percentage of 96% for customer satisfaction ratings. Moreover, ValueCoders is a CMMI Level 3 and ISO certified company. ValueCoders are in this technology business for about 13 years - techtalks
Sunflower Lab
Sunflower Lab is an intersection of business, technology, and innovation. They are a family of software engineers, known for their creativity and enthusiasts of all the latest technologies. They offer customized software development for a variety of vertical and commercial domains. Its objective is to deliver high-quality products, with a service of the highest quality, to our customers.
In addition to providing custom software development, they offer Cloud system integration, web and mobile application development and administration services. They are experts in the use of proven technologies in the cloud and we offer the best practices for our work. With 40+ team members their goal is to always provide an exceptional level of service, and they aim for lasting partnerships with our clients and to have fun while doing all this. - techtalks
Sunflower Lab is an intersection of business, technology, and innovation. They are a family of software engineers, known for their creativity and enthusiasts of all the latest technologies. They offer customized software development for a variety of vertical and commercial domains. Its objective is to deliver high-quality products, with a service of the highest quality, to our customers. - techtalks
Talentica Software
Although relatively new to the industry, do not count-out Talentica Software. Established in 2003 by two former students of IIT-Bombay, this company is now headquartered in Pune, with a commercial headquarters in California, United States. The company is now listed in the 50 best software companies to work for in India. Moreover, it was awarded Great Place to Work in the year 2010, and 2012. - techtalks
Although relatively new to the industry, do not count-out Talentica Software. Established in 2003 by two former students of IIT-Bombay, this company is now headquartered in Pune, with a commercial headquarters in California, United States. The company is now listed in the 50 best software companies to work for in India. Moreover, it was awarded Great Place to Work in the year 2010, and 2012. - techtalks
AccelTree Software
AccelTree Software is headquartered in Pune, India and they are specialized in web development and mobile app development. With only a small number of employees, only 60, AccelTree Software has been rewarded and recognized throughout the years. - techtalks
AccelTree Software is headquartered in Pune, India and they are specialized in web development and mobile app development. With only a small number of employees, only 60, AccelTree Software has been rewarded and recognized throughout the years. - techtalks
Diceus
Diceus is one of the leading software development companies in Ukraine by Clutch. They build a feature-rich software for external organizations or individuals in horizontal or vertical markets. The programs they develop have precisely defined interfaces, run efficiently and pass an exhausting series of tests in all the expected combinations.
This software product development company stands out from the crowd by not only promising customers unique benefits but also by keeping the words and delivering on those promises. They are specialized in the design of best practices for EAM, CRM, SCM, ERM and other management systems. - techtalks
Diceus is one of the leading software development companies in Ukraine by Clutch. They build a feature-rich software for external organizations or individuals in horizontal or vertical markets. The programs they develop have precisely defined interfaces, run efficiently and pass an exhausting series of tests in all the expected combinations.

This software product development company stands out from the crowd by not only promising customers unique benefits but also by keeping the words and delivering on those promises. They are specialized in the design of best practices for EAM, CRM, SCM, ERM and other management systems. - techtalks
Persistent Systems
Established in 1990, Persistent Systems has become one of the best software companies in India and many other countries. You can find its offices in other countries like Japan, the United Kingdom, Japan, and France. - techtalks
Established in 1990, Persistent Systems has become one of the best software companies in India and many other countries. You can find its offices in other countries like Japan, the United Kingdom, Japan, and France. - techtalks
Mphasis
The company was established 16 years ago and provides services such as app development as well as maintenance and app support services as well. Today, Mphasis is having more than 30 offices in 19 countries globally and is headquartered in Bangalore, India. Some of the known clients of Mphasis are Citibank, Ubisoft, Adidas, and EY.
Some of the famous partners of Persistent Systems include IBM, Microsoft, Appian, and Salesforce. AccelTree Software's famous clients are State Bank of India, HDFC Bank, KPMG, and Honda. - techtalks
The company was established 16 years ago and provides services such as app development as well as maintenance and app support services as well. Today, Mphasis is having more than 30 offices in 19 countries globally and is headquartered in Bangalore, India. Some of the known clients of Mphasis are Citibank, Ubisoft, Adidas, and EY.

Some of the famous partners of Persistent Systems include IBM, Microsoft, Appian, and Salesforce. AccelTree Software's famous clients are State Bank of India, HDFC Bank, KPMG, and Honda. - techtalks
3i Infotech Ltd
Started in 1993, 3i Infotech provides software products, app development and maintenance, and outsourcing IT. Serving customers globally, 3i Infotech is worthy of the list of the top 10 software companies in India. 3i Infotech's known clients are Symantec, Dell, Hitachi, and Redhat. - techtalks
Started in 1993, 3i Infotech provides software products, app development and maintenance, and outsourcing IT. Serving customers globally, 3i Infotech is worthy of the list of the top 10 software companies in India. 3i Infotech's known clients are Symantec, Dell, Hitachi, and Redhat. - techtalks
Iflexion
Iflexion is a best software development company with an experience of 17+ years in delivering cutting-edge apps to various customers and clients. They have around 400+ skilled IT professionals. Moreover, they fully understand and analyze every customer need and requirements.
Iflexion is fully dedicated to delivering best values to their clients for helping them thrive in this challenging business era. - techtalks
Iflexion is a best software development company with an experience of 17+ years in delivering cutting-edge apps to various customers and clients. They have around 400+ skilled IT professionals. Moreover, they fully understand and analyze every customer need and requirements.

Iflexion is fully dedicated to delivering best values to their clients for helping them thrive in this challenging business era. - techtalks