Best Male Arab Singers
The Top Ten
1
Amr Diab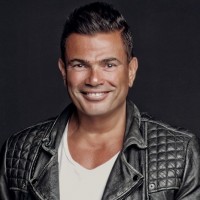 Amr Abd El-Basset Abd El-Azeez Diab is an Egyptian pop singer and songwriter. He is a multi-award-winning pop singer-songwriter, regarded as the best selling Middle Eastern artist of all time. ...read more.
All around TOP musician! Most singers have now copied his style
I love his voice and the way he sings Tamally Maak. Simply one of the best.
He is the best! Love Amr
Simply the best!
2
Abdallah Al Rowaished

3
Hussain Al Jassmi

Hussain Al Jassmi is an Arabic-language singer from United Arab Emirates. He released his first single Bawada'ak followed by Wallah Mayiswa and Bassbour Al Fourgakom.
Being from Pakistan, I don't understand Arabic, but Hussain Al Jassmi's songs always get me going. Amr Diab is also good but I feel Al Jassmi stays closer to Arab style of music while Amr experiments a lot.
Love you brother
4
Tamer Hosny

Great variety of music. Modern.
After Amr Diab, he is the man...
King of generations
5
Saad Lamjarred

Saad Lamjarred is an Arabic pop singer and actor. His father is a singer and his mother is an actress and comedian. He was born in Rabat, Morocco on 7th April, 1986. He is best known for songs such as, Salina Salina, Mal Habibi Malou, Lm3allem, Enty and Ghaltana. Lm3allem is one of the most viewed Arabic ...read more.
Young as he is, he is a man of ability.
And, stunned by its beauty!
I just love listening to his songs..
He is truly an amazing singer
He is the most beautiful singer and the post popular singer in the world
He is my favorite
6
Abdel Halim Hafez

Abdel Halim Ali Shabana, commonly known as Abdel Halim Hafez, is among the most popular Egyptian and Arab singers.
Superb singer to say the least.
He is one of the best
7
Mohamed Hamaki

Mohamed Hamaki is an Egyptian singer. In 2010, he won the award "Best Arabia Act" in the MTV Europe Music Awards and music award in 2006 for "Ahla Haga Fiki".
8
Fadl Shaker

Fadl Abdulrahman Shamandar better known as Fadl Shaker is a former prominent Lebanese singer of Lebanese and Palestinian origin> During his musical career he was signed to Al Khouyoul Records and from 2003 onwards with Rotana Records.
9
Rami Sabry

10
Kadhim Al-Sahir

Born to be a legend
The Contenders
11
Khaled Siddiq

British singer who is know for song like "Rise and Fall "and "My Love "and The Moon " YouTube channel has reached over 25 million collective views.
Love his all Islamic songs... Very too much Best Islamic singer.
Khaled Siddiq is a British Nasheed Singer from Leicester East Midlands.
Khaled Siddiq is best singer. He is a British Nasheed artist He best is Song : The Moon
12
Cheb Khaled

Great voice and good rhythm in his music.
Smile while singing
The king of ray
The king of Rai
13
Wael Kfoury

Michel Emile Kfoury, known by his stage name Wael Kfoury, is a Lebanese singer, musician, and songwriter.
You should put his name on top 1, because he did things in music field no one has ever done before! the most classic artist on earth. with all due respect to other artists but this guy is the best in arab world.
14
Nassif Zeytoun

He supposed to be in top 10.
He is very good singer.
He has beautiful voice
He must be the top ten
15
Mohammed Assaf

Lovely singer and the Pride of Palestine.
16
Maher Zain

Maher Zain is a Swedish R&B singer, songwriter and music producer of Lebanese origin. He released his debut album Thank You Allah, an internationally successful album produced by Awakening Records, in 2009.
17
Sami Yusuf

Sami Yusuf is a British singer-songwriter, composer, producer and multi-instrumentalist musician of Iranian Azerbaijani descent. In 2003 Yusuf released his first album "Al-Mu`allim" at the age of 23. He released his second album "My Ummah" in 2005.
He is a best. No top ten song list. But why?
18
Mohammed Abdu

19
Ragheb Alama

Cream of the singers
20
Mohamed Alsalim

Best best best
21
Saber Rebaï

The best arabic legend
22
Massari

23
Majid al-Muhandis

Majid Al Muhandes Al-Attabi is an Iraqi singer and composer. His success in the Arab world has earned him the titles of "the Engineer of the Arabic song", and "voice of Diamond" respectively.
24
Tamer Ashor

Tamer Ashor is an Egyptian singer and composer. From 2004 to 2011 he released more than 17 songs and 4 albums.
25
Ehab Tawfik

PSearch List