Best Male Indian Pop Singers
The Top Ten
1
Atif Aslam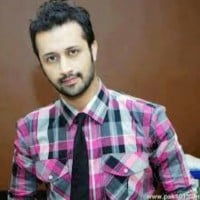 Muhammad Atif Aslam is a Pakistani singer and film actor. His movie debut was the 2011 social drama Bol.
I love him from the beginning of hear a single song in my life and I can say without any doubt he is the singer who made me listening sing and know about sing on my general life
Fantastic, who the hell is Farhan akhtar? Laugh out loud, a whole package? In what? Atif is so muh better, such a fantastic voice... He makes the hairs on your body stand up
Singing comes naturally to him. He sings with ease with complete understanding of the lyrics and music composition. I am sure he will rise to more heights.
He is from Pakistan, but He mostly sing songs in India and nonetheless he is currently the best singer in India, ahead of Arijit Singh...
2
Honey Singh

Hirdesh Singh, known by this professional name, Yo Yo Honey Singh or Honey Singh, is an Indian music producer, Indi-pop singer and film actor.
Best pop singer , Rockstar India has ever produced. In his era of 2009-2016 there was none any singer even close to him such a fan base he was having.
He had given a separate pop music to industry which is been followed by many rappers,singers such as Divine, Krishna , baadshah, emiway , Raftarr, etc.
Yo yo honey singh is king of pop because his music level so high he produce his songs and compose his song and his songs videos is international level...he is a no1 artist in Asia till 2014... Yo yo will definitely get grammy one day for his country
I think Yo Yo Honey Singh the name is enough. Yo Yo Honey Singhaaaa fadu production💥🔥 He made a music revolution in India. One of his biggest fans since childhood. His songs can never get old...never ever. He's the best. And also wanna thank him for bringing Darshan Raval in IRS. Can't thank him enough for everything he did and does❤
#yoyoarmy
Yo yo is the best... There is no party where his songs are not played... And he is the best music director
3
Hariharan

Hariharan is an Indian playback singer who has sung for Hindi, Tamil, Telugu, Kannada, Malayalam, Marathi, Bhojpuri, Punjabi, Gujarati and Rajasthani films, an established and foremost ghazal singer and composer, and one of the pioneers of Indian fusion music . In 2004, he was honoured with the Padma ...read more.
The most versatile legendary singer of this era...
He has sung many super hit pop songs...
He has won the MTV viewers choice award for the pop album *Colonial cousins*
Successful indo-pop band member... Successful pop singer in south India...
His another album "Kaash" is also super hit. He won the award as the best pop artist of the year in 2000.
4
Kishore Kumar

Kishore Kumar was an Indian film playback singer, actor, lyricist, composer, producer, director, and screenwriter. He is considered one of the most successful playback singers of the Hindi film industry.
He was the most versatile singer and with a heavenly voice. Rafi and kishore were the best ever but my personal choice out of the two has to be kishore Kumar, simply because he sang all kinds of songs and in all styles, with such a powerful voice that didn't fade till the very last song. His voice touches my heart. His songs have meaning and emotion. Kumar sanu, Shaan, Sony nigham etc are all wannabes who don't even reach the feet of kishore or rafi sahib, they're a disgrace to Indian playback singing. There was no singer like kishore and no music director like rd Burman. I don't listen to any of the crap that is released these days under the guise of Hindi music. I miss both of these legends.
No singer in this world are talented as Kishore the the genuine voice I always listen to his songs
He was best singer in world
My favorite. pop singer
5
Sonu Nigam

Sonu Nigam is an Indian playback singer, live performer, host and actor. He sings in Hindi and Kannada language films.
Stupid people, how can you rank legend like Sonu Nigam below AR Rehman. AR Rehman is a great music director, but just a good singer not great or a legend in singing. Stupid people, how can you rank legend like Sonu Nigam below AR Rehman. AR Rehman is a great music director, but just a good singer not great or a legend in singing.
Awesome singer forever in music history. He is the real icon of the youths. And the real idol of the Indian music also. Sonu is the living legend of the singing. Sonu is the best singer of the world after Michael jackson. Like him. W love you forever sonu...
I don't want anyone, I won't sonu he is my all time favorite singer. His songs are my life, sonu is my idol, his voice is like a sweet you know, he put his all thoughts, feelings, in all his songs, when I heaard his song my heart will fresh and remembers my lover, he is my life and he is my jaan, sonu is amazing, awesome, handsome singer in India, proud to be an Indian, HE SUNG TEES MAAR KHAN SONG IN 54 VOICE, WHO WILL BEAT HIM AND HIS SONGS, HE MADE A WORLD RECORD. THAT IS THE CAPACITY OF MY SONU JAAN. ALL THE BEST SONU, WE LOVE you FOREVER,
No description need to rank this person on top, his songs can easily gives idea that he is out standing himself, no comparison needed for him... That's... It...!
6
Gippy Grewal

Rupinder Singh Grewal, commonly known as Gippy Grewal, is a Punjabi actor, singer-songwriter and film director.
He is a desi rockstar in india
It's not himanchali it's Punjabi boy
7
Zubeen Garg

Zubeen Garg is an Indian singer, music director, composer, songwriter and actor. His contributions are mostly attributed in Assamese, Bengali and Bollywood. He has sung many songs in other languages including Tamil, Telugu, Kannada, Malayalam, Marathi, Odia, Bodo, Karbi, Nepali, Bishnupriya Manipuri, ...read more.
It is all about Zubeen Garg. The famous ya ali singer. Ya ali became an interntaional hit. It was rage for him. Zubeen Garg is above all. Singer music composer music director actor photoprapher choreographer perquissionist. It shows he is a complete packages. The living legend. He has sung in various languages 37 languages n 15000 songs. He is d biggest musical bolywood superstar of north east India. He deserve more n more. The ultimate musical bizare. The sensational Zubeen Garg. The king of Assam. Zubeen has created the highest era in assam n now is extending to west bengal he got iifa awards 2006 for ya ali. Rajat kamal national awards. Max stardust awards. Kalakar awards. Chitralekha awards. Best actor award n etc. Those who don't know who is Zubeen check in google or come to Assam.
Zubeen rocks n Zubeen always Zindabad. The musical god.
Zubeen is Michael Jackson of North East. He is best. He sing more than 16000 song till now.
He is the second god of music after kishore kumar I love you zubeen garg
He is the best male singer all over India.. He is best.. Zubeen garg
8
Mika Singh
Really he is the king of pop song in India. Great singer.
Baap of indian pop is Mika Singh
Your voice toches the heart
The baap of Bollywood
9
A. R. Rahman

Allah-Rakha Rahman, is an Indian composer, singer-songwriter, music producer, musician and philanthropist.
Beautiful lyrics and terrific voice! A wonderful combination! What a talent!
A.R. Rahman you are grt you are the god of singing
His songs are good
His humma song is best my favourite
10
Babbu Maan
Babbu maan legend of the world
Number one singer in punjab
He deserves 1 position
Sole of punjabi music
The Contenders
11
Mohammed Rafi

Mohammed Rafi was an Indian playback singer and one of the most popular and successful singers of the Hindi film industry. Rafi is widely considered to be one of the greatest and most influential singers of the Indian subcontinent.
Rafi - the original Hindi Pop Singer and greatest ever on earth till now. No body can match him, no body period. I just love him, his range and his divine voice and soulful rendering. Gyan Prakash Agarwal, Saudi Arabia (gp. Gyanprakash@gmail)
The Best ever in Indian art of Music. We will miss him for rest of the life. There will be no other Mohammed Rafi will born again. Thank you to the legend.
His voice so versatile. God's gift. No one has even come near to his standard. Or league. And never will.
He was the best.
He is the most accomplished and complete singer in the Indian film history.
12
Shaan

Shantanu Mukherjee, known as Shaan, is an Indian playback singer active in Hindi, Bengali, Marathi, Urdu, Telugu and Kannada films and a television host.
Shaan is a good singer. No other singer is as good as Shaan. So I request all of you to vote for my favourite singer, Shaan. Please, vote for him as more as you can.
He indeed has a soulful heart touching voice. Many of his songs have been mesmerising and tranquil.
Shaan is my favourite singer its voice is wonderful please vote him it is a exellent singer
I think shaan is the best... He shiuld be at first place not sonu nigam
13
Mohit Chauhan
Love his voice more than arijit and anyone
Worlds number 1 Singer only Mohit Chauhan
He has very great voice quality..
Unique voice
My favourite singer
14
Arijit Singh

Arijit Singh is an Indian playback singer and music programmer from West Bengal who sings Bengali and Hindi songs.
I'm from Mauritius. Always loved his voice and singing but after listening to "phir le aaya dil" at 'Pritam's iifa awards 2013'I can't listen to any other singer. He was at his best..I'm from Mauritius. Always loved his voice and singing but after listening to "phir le aaya dil" at 'Pritam's iifa awards 2013'I can't listen to any other singer. He was at his best..
No one singer right now in india listen to tum hi ho and you will agree
He is the best singer of India. No one can sing more beautiful than him
He is one of the best singers of the world...he is very down to earth...being so popular, he is very simple and never flaunts off..words are not enough to describe how good he sings...there is no one like arijit singh and there can't be even according to me...for me, he is the best and will be the best...he is a person with the most beautiful and soulful voice...please do vote for him as he deserves that...and he should definitely be in top 5...i am his great fan, infact his biggest fan...please please please vote for him...
15
Himesh Reshammiya
You are the one who makes us cry while we were in feelings
feelings means thinking about our love
I love his voice and I hear his songs while in toilet
He should be first because no one is better than him
Indian number 1 singer one & only himesh reshammiya
16
Kumar Sanu
He holds a Guinness World Record for recording 28 songs in a single day Awards
*. 2009: Padma Shri : India 's 4th highest civilian honor given by Government of India.
*. IIFA : Artist of the decade.
*. The government of Denton in America observe Kumar Sanu Day on 31 March
He won the first of his record five consecutive Filmfare awards as Best Male Playback Singer. His next Filmfare Awards came for songs in the movies Saajan (1991), Deewana (1992), Baazigar (1993), and 1942: A Love Story (1994).
Worlds number 1 Singer only Kumar sanu
He is my all time favourite
I love Kumar sanu song's
17
Rahat Fateh Ali Khan
Just listen to "Sonyine" from "will you marry me". Speaks for itself...
Best singer... Of this era
Come on he s so awesome
18
Javed Ali
'Javed Ali' is an Indian playback singer. He has been singing in Hindi movies from 2000 but shot to fame in 2007 when he sang the song Ek Din Teri Raahon Mein from the movie Naqaab and thereafter another big hit like Jashn-E-Bahaara from the movie Jodhaa Akbar(2008). He has also sang the song Guzarish for (Ghajini) and Arziyan for Delhi-6 with Kailash Kher.
The best. he has the most romantic voice now. listing to his feels like a lover singing to. he doesn't show-off his skills, just go for the best. a heart touchig singer
19
K J Yesudas
When I listen his songs I feel like I am in heaven.
He is the best singer ever...
20
Farhan Akhtar
Farhan Akhtar (Hindi:, ; born 9 January 1974) is an Indian filmmaker, script writer, actor, playback singer, lyricist, film producer, and television host.
Not only a great singer... he is also the most complete package bollywood has... he is an excellent director... a superb actor... an amazing producer... he is one of those stars bollywood has... which will go down in history...
21
Krishnakumar Kunnath
Simply the most underrated yet the best singer alive
KK is incomparable...a singer who sings with his soul rather than only voice
I think he is the best singer in the world
He should be in top 3
22
Lucky Ali
It's a different world,
His Bollywood songs are very good,
But his album songs are excellent, perfect.
The voice, the music, the lyrics its feels very good after listening
His songs, listen to his songs, I am sure you'll be in a different world.
Remember lucky Ali is not a trained singer or trained musixian, his a songs comes from the heart. Than you
It is great time for me to say somithing about great Legend of the POP singer... one thing I would like say, the song "Abhi ja Abhi ja from Film SUR, is really energetic, mind blowing, and out standing performance.
I would like to say about Lucky Ali that, his VOICE. That influence too much while enjoy his music.

Dinto
King of Pop by far.. No one comes close...
23 Babul Supriyo
24
Mukesh
I love mukesh songs
25
Moazzam Baig
Moazzam Baig (Hindi:, Born; Mirza Moazzam Baig; 15 November 1991) is a Indian pop singer. He was born in Ahmedabad - Gujarat - India.
"MASHA-ALLAH"
Moazzam with his Brothers Great Muslim Singers.
Moazzam Mirza, The King of Singer. Moazzam is a Good Singer. His voice is Romantic Voice. Moazzam's Top song on Ab Khuch Karna Parega...
Moazzam Mirza with Friends Shaikh Aftab. New Pop Album is "DOSTI" undercounstrctions. This album info is available on his Blogs.. More info. Read his Blogs.
PSearch List