Adam Lambert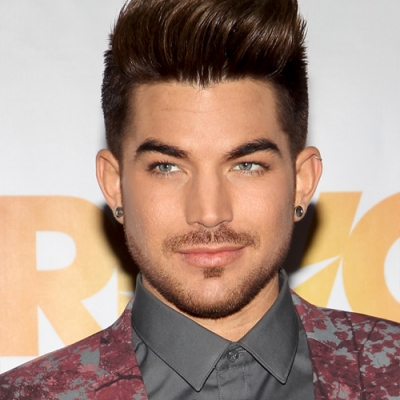 Found on thehairstyler.com
Info
Adam Mitchel Lambert is an American singer, songwriter and stage actor. Since 2009, he has sold over 2.5 million albums and 5 million singles worldwide.
Comments
Top
Popular
Newest
ADAM deserves to be #1! His personality transcends that of any other performer here & he is loved world wide by millions! His stage presence, charisma, Smile. humility & GORGEOUS-ness makes him the best with the most personality! When ADAM talks to you he makes you feel like you & he are the only two people in the room.. he looks into your eyes & doesn't look away & he is genuinely interested in what you have to say! Never fidgets or seem impatient... very caring & easy going! That's why so many fans world wide are once again clamoring for QUEEN + ADAM LAMBERT to come to their country on this 2018 tour! Venues are already being sold out & new shows are being added everywhere they are appearing! ADAM LAMBERT = MR. PERSONALITY 2018 = #1!
Because he not only has the best voice in the planet but he also is the most eloquent and intelligent and extremely funny on interviews or shows he attends. He is very easy on the eyes, too, he is very sexy for both men and women he is flirty as well. He apparently had a nice upbringing and family values and that shows on the way he is with the people he meets. love him!
ADAM is the singer with everything wrapped up in one Gorgeous Package! Best Voice.. Charisma.. Personality.. Best Dresser.. Most Humble & Most Handsome with drop-dead looks! That Smile would melt an iceberg.. it's so radiant... and there's nothing fake about him! He's as beautiful on the inside as he is on the outside & it shows! Plus he has a wonderful sense of humor! Can't help loving him!
Adam is always warm, funny, cordial, maintains eye contact with person to whom he is speaking, and is a lovable dork at times.
I would love to meet Adam. He genuinely seems like such a nice guy, not to mention he has the most amazing voice and is a great entertainer!
Adam connects to his audience in such a personal way you'd think he was talking just to you. Also, he has such a charming, nerdy stage personality. You can't help but fall in love with him!
ADAM's Smile could melt the hardest heart & his Laugh is contagious! He's not mean spirited nor rude to anyone.. always finds something to compliment you.. looks directly into your eyes when he speaks to you & has a great sense of humor! He is loved the World over in every country & they clamor for him to come to their country to perform! When he's on stage he interacts with his audience as though they were family! To know him is to LOVE... ADAM LAMBERT!
He relates to everyone in audiences. He's comical and attentive during interviews. He loves his family and friends and lets his fans know it. And, especially, he loves his fans!
Just a genuinely good human being. No matter the situation whether on stage, interviews, he captivates his audience. He's sweet and just beautiful as well!
Adam Lambert is number 1 in my book for personality, stage presence and gawd that voice no one compares in my book. By the way he not just a fantastic rock and pop singer he can sing anything just about any type of music and do it unbelievably well. I will always love him. Yes he a sweet heart as well.
Adam is kind, funny and shares posts or pics with his Glamberts almost daily. No one better in an interview. He's a super listener.
Sexy performer that could charm the pants off a nun!
He has it all, looks, personality and talent. Doesn't get any better than that.
The best stage performer I have ever seen and I've been around a few years!
Fabulous man and singer oozing personality
Incredible voice, sexy as hell and with an engaging personality.
Best live performer I've witnessed...number one for sure!
The best male pop singer of this generation
Love this great singer and performer.
ADAM is a sweetheart! When you meet him he takes your hand & looks into your eyes the whole time that he is talking to you.. not like other personalities who look around the room looking for an escape! ADAM is genuinely interested in his time with you.. no matter how brief & he honestly cares about others that don't have it as good as he does! He never returns an insult with an insult.. just smiles & ignores it! "It ain't That Deep"! >>> ADAM LAMBERT
Just thinking about everything Adam adds to my world as a huge fan - his other worldly voice and interpretation and presentation skills, his warm outspoken personality and LGBT activist work always makes my day brighter
Phenomenal singer/entertainer! He's charismatic,real,humorous,and always gives 100% to his fans! Bar none,I think he's one of the very best in his field!
A unique, fabulous, fantastic, well spoken, oppinieded, cordial, nice, funny,smart, sexy, flirty,warm...kind of guy... the king of Glamberts, who adore him exactly for those qualities and his immense talent and very unique voice
Adam Lambert is a sweet heart. He gorgeous, sweet crazy and I do mean crazy talented. Best singer and entertainer on the planet. Can't wait for his new music coming this year. The last QAL concert were off the charts. QAL what fantastic talent all the way around on that stage. He great to his fans we love him forever!
What can I say that has not been said already...with Queen he is camp and flamboyant and thrills with that voice each and every time.,.,.and pretty easy on the eyes...under rated in his home country and hoping to see that change..as he is a superstar everywhere else in the world.
Related Lists
Top 10 Best Adam Lambert Songs
Best Songs From Adam Lambert's Trespassing

Top Ten Best Adam Lambert Cover Songs
Most Underrated Adam Lambert Songs