Arnel Pineda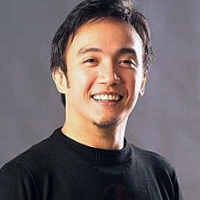 Found on kdramastars.com
Info
Arnel Campaner Pineda is a Filipino singer and songwriter. He came to prominence in the Philippines during the 1980s and internationally in 2007 as the lead singer of the American rock band Journey.
Comments
Top
Popular
Newest
Arnel can just do it all.. To step into Journey the way he did is an awesome statement to his talents.. Not only his voice but his stage presence.. And a huge credit to his deserving to be in the top!
He has a very powerful voice... He should be on the top of the list and his versatility in any other kinds of songs which proves in all his videos. Arnel vocal in unbelievable, rare talent who can sing lots of American rock star songs with the same vocal sound... No body can do that except Arnel. - lovemusicsomuch
Arnel is an amazing singer! His voice is totally complex and he can sing anything. I've watched hundreds of videos and have been to five concerts and listening to Arnel live is an experience everyone should have. Arnel never disappoints and he puts his heart and soul into every song he sings.
You're such a great singer ARNEL PINEDA... You make our country's proud... Though you're just a substitute of the original vocalist of band journey but you made people surprise of what they have expected.
Arnel Pineda is an amazing person and an awesome lead singer. Just saw Journey/Arnel in concert in New Orleans. He has a beautiful voice and should be the number one lead singer. He can sing any range of songs and is the best I have ever heard.
Arnel Pineda is the singer ever... He's a talented person and have an amazing voice... We continue supporting for you arnel no matter what.. The quality of voice is there.. Have bless and successful career for you arnel.. - Preciousdingcong
When a guitar god chooses you as lead singer out of so many thousands to keep a legendary band relevant and move forward, that can only mean one thing. Best rocking voice of the 21st century.
Great voice, can rock and croon at the same time. Journey continues to rock on!
Arnel is amazing, he got a powerful voice that people can't believe.. He can sing any song like an original and better than original... He's voice is awesome... He's a great singer ever...
arnel pineda is really a monster of all voices! everytime I listen to his own definitely awesome making his own way and better than originals!
Arnel is an amazing guy and he deserves every bit of the dream he's living! Rock on Arnel! P. S Please try not to fall off anymore stages! Keep those shoes tied! God Bless
Arnel always exceeds expectations. He has won me over. Great crowd connection, band interaction, and a great pairing with the guitar of Neal Schon.
Best singer ever. The kind of voice that gonna make you want to stop in what ever your doing... Stop to listen to his song!
I will go for you Arnel Pineda. You are versatile singer. Powerful voice. A new voice for Journey. You can sing all ballad and classic rock songs.
His voice is still quite unknown to this country after 4 years, but what a way to continue Journey's legacy... More hopefully to come n enjoy...
Arnel Pineda has just got it all: angelic voice, amazing energy, wonderful personality. Who will not love the man?
Amazing New Rock Star! Incredible voice and he can sing anything.
Arnel is very versatile, but the quality of the tone of his voice is the most beautiful and emotionally appealing voice I've ever heard. His music is inspirational in my life.
Arnel is the real deal and sings from not only his heart, but from his soul as well. A real class act.
I love listening to him when he hits the high notes.. great singer.. - amitaf
Arnel is one of a kind performer. He has a powerful voice, has a good stage presence and makes a tamed animal goes wild. More than anything else, his great personality makes him standout.
He is Awesome, Fantastic, Very Versatile. Great voice of Rock in Roll second to Steve Perry.
Journey has been dead and has come to life again!... Go Filipino Pride!... WHO!... make us proud!
He's not Steve Perry, but he does a terrific job at filling in where they (Journey) were missing someone.
Arnel has the killer voice and has awesome stage presentation... He must be on the top for this generation..
Arnel is the voice of this time... Awesome and talented! He can sing any kind of songs...