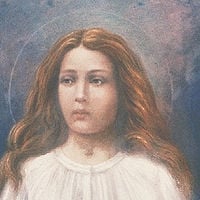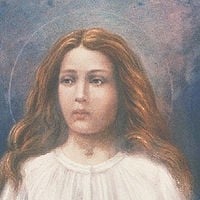 +
Maria Goretti
St. Maria Goretti is an Italian virgin-martyr of the Catholic Church, and one of the youngest canonized saints.
She lived on a farm, in Nettuno Italy, in the beginning of the 20th Century. Her father died of Malaria, so she had to help her widowed mother take care of her younger siblings, while her mother took over her father's work in the fields. The Gorettis lived with another family, the Serenellis. The father was widowed, just like Maria's mother was. He had 2 sons. The older one had committed suicide. The younger one, Alessandro, lived with him and the Gorettis on the farm. He became addicted to pornography, and wanted to act out the sexual acts which he read about with the the first girl whom had the most access to: Maria!!
But, Maria was a pious Catholic girl, and she repulsed sexual acts as a sin against God. When Alessandro made advances on her, she rejected those advances sternly. Then on July 6th 1902, while their families were working out in the fields, Alessandro came into the house and attempted to rape Maria at knife-point. Maria fought back, and Alessandro stabbed her 14 times.
When she was found bloodied, she was taken to the hospital, where she named her attacker. She suffered for days, but forgave her killer before she died.
Alessandro Serenelli was convicted of murdering her and was sentenced to life imprisonment. While in jail, he had a dream of Maria forgiving him of his crime against her, and repented of his sin. After serving more than 25 years in jail he was paroled, and the first thing he did was seek out Maria's mother and beg her forgiveness (which she gave).
He was present in 1950, when Pope Pius XII canonized Maria Goretti as a Saint.
Version History:
Lists Featuring Maria Goretti