Greatest Masked WWE Wrestlers
The Top Ten
1
Kane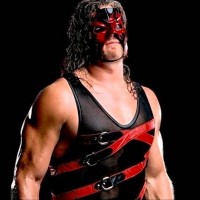 Glenn Thomas Jacobs is an American professional wrestler, insurer, and actor. He works for WWE, and is best known by his ring name Kane.
When Glenn Jacobs tore the steel door off it's hinges all the way back in 1997, the fall of that door symbolizes to me the beginning of an awesome career. Masked, unmasked, Kane is one of the all time greats of the business. The dedication by Kane cannot be denied, he has participated in the most PPVs and overall matches in history. That is a testament to Glenn's love for the WWE Universe. Even in his worst storylines, Kane gave his all and stole the show every time. Most might say the Undertaker is the best big man, but I would argue that Kane is. I can't be thankful enough for all the entertainment he created. Sadly, Glenn is 52 years old as of 2019. Even though he says he might come back after his run as mayor is over, he is getting too old. We'll always remember the hell of a ride he had and the childhoods he created. Thank you, Kane
He was an ass kicking machine... Deserved to be at 1st place... Plus he looked more scarier than The Undertaker in that mask
Fear The Big Red Machine or he will Chokeslam you to Hell! Kane is the best and the greatest wrestler of all time
Kane was unstoppable when he wear the mask in 1997 to 2003 he was one of the most hardest guy
2
Rey Mysterio

Óscar Gutiérrez, better known by the ring name Rey Mysterio, is a Mexican-American professional wrestler who currently works for Lucha Underground.
He's the most amazing wrestler. Even he don't win many match but he has got a lot of fans, he can take on any wrestler even he's only a short little gentleman, he fear nothing and never do anything that was illegal. He'll probably be the best wrestler the world ever had if he has got a body like the other champions.
I believe that Rey Mysterio is an amazing wrestle. If he don't win match also he have got many fans. Heis the highflyer. He finisher 619 is most rearly survived by anyone. HE dafeatet 29 mans to win the Royal Rumble in 2006 and goes on the win the Wrestle Mania also. He is the best short highted Wrestle that world have ever seen
He is best masked wrestler he is little less in height but he beats even kane and batista.
Best high flying and masked wrestler of all time he is one of the best wrestlers in history
3
Mankind

Mankind is the real hardcore legend. He is absolutely better than rey mysterio and even kane. He dominated the attitude era along with stone cold Steve Austin.
4
Sin Cara

Sin Cara is a professional wrestling character used by WWE, currently portrayed by Jorge Arias, also known as Hunico.
The greatest high flyer in the world
Great Tag Teams of all time
Lucha Dragons is the second best tag team (after the usos
Dude...this guy is a real life NINJA!
5
Vader

Vader Have to be 1st on this list he have proved in Japan and have all ability to be great but he lost his mask against kane which he don't want to lose but Vince McMahon opted him to to lose his mask to kane I think vader was underrated in WWE but great in Japan
6
Ultimo Dragon

Yoshihiro Asai is a Japanese professional wrestler and actor, better known as Último Dragón. In addition to having trained in Japan, Asai learned to wrestle in the lucha libre style while working in Mexico.
I loved the cruiserweights. it was funny when he slipped entering the ring in wrestlemania 20
7
The Hurricane

There's a Hurricane coming through!
8
Jushin Liger

Keiichi Yamada is a Japanese professional wrestler who primarily works for New Japan Pro Wrestling and wrestles under the name Jushin "Thunder" Liger. He has wrestled and beaten many of the top smaller wrestlers in both Japan and the United States, and is frequently cited as one of the greatest and ...read more.
How is Sin Cara higher than Jushin Thunder Liger?
9
CM Punk

Phillip Jack "Phil" Brooks, also known by the ring name CM Punk, is an American comic book writer, actor, upcoming mixed martial artist and retired professional wrestler who is signed with the Ultimate Fighting Championship. ...read more.
He is the best in the world
Best in the world
CM Punk's mas is awesome he's one is the best it's better then rey mysterio's mask, sin cara, kane and many more
The Cult of Personalitiy
10
Bray Wyatt

Windham Lawrence Rotunda is an American professional wrestler signed to WWE, where he performs under the ring name Bray Wyatt and is the leader of The Wyatt Family.
Live in Fear The fFiend
The Contenders
11
Goldust

Dustin Patrick Runnels is an American professional wrestler who is currently signed to All Elite Wrestling (AEW) under the ring name Dustin Rhodes. He previously wrestled for WWE under the ring name Goldust.
12
Andre the Giant

André René Roussimoff, known as André the Giant, was a French professional wrestler and actor. André He most famously feuded with Hulk Hogan, culminating at WrestleMania III, and his best-remembered film role was that of Fezzik, the giant in The Princess Bride. His size was a result of gigantism ...read more.
13
Repo Man

14 Tiger Mask
15
Kalisto

Emanuel Alejandro Rodriguez is a Mexican-American professional wrestler, currently signed to WWE under the ring name Kalisto.
Kalisto is an high flying superstar has awesome skills won the United States championship but the gave it to Rusev after the Battle Royal. He Lost against Rusev in the United States championship and I hope he gets it back.
LUCHA Dragons is the second best tag team (after the usos)
16
Mil Mascaras
Even Rey Mysterio would admit that he would now to this man!
17 Chainsaw Charlie
18 The Patriot
19 Psicosis
20 Doink the Clown
21 Savage
22
LA Parka

Let him go to hell lofar nae
23
Sting

Steve Borden, better known by the ring name Sting, is an American retired professional wrestler, actor, author and former bodybuilder.
He should be the no. 1 he is the ICON THE FRANCHISE
24 Kim Chee
25
Suicide
Not really a masked a costumes but he really doesn't show he faces
PSearch List