BlueFuse
About
To know more about music or just Blue Cheer please look at my YouTube channel or my TheTopTens account. It will not take so long and will be worth your time if you really look around it. https://www.youtube.com/channel/UC7gd17BuyJRJ0AVojOS69_w

I really like music. I am the biggest Blue Cheer fan. No one likes Blue Cheer more than me only as much as me. If other people can have a different favorite artist then why can't I! If we all like the same thing, how would new music be made if we all do! We would mostly play what we like the best though and they would be no new music. I listen to this artist like everyday. Blue Cheer is the best and made Hard rock. Blue Cheer have the feel like Jimi Hendrix, Cream, The Rolling Stones, and The Who. I like any Blue Cheer song better the any other song. I know they did not keep their fell from the early albums but they are that good that they can still be the best. All Blue Cheer songs are just as good as each other besides from their first 2 albums. All the songs of Blue Cheer from the first 2 albums are the best. If other fans who like their artist the best can fell this way then so can I!

All the music artists I like the best I like all their tracks more than any other track from an artist besides tracks when they started going downhill, the tracks before Bob Dylan start doing Rock music and The Beatles Christmas track (which is like the Christmas music of them as solo artists).

The Rolling Stones from albums Some Girls to Tattoo You (which have Punk rock influence), and Bob Dylan Roots rock albums that he did with The Byrds where still as great like there older music because they still have the feel as their older Rock music and still have a classic rock feel in a way like the 60s but had a different Rock sound to it too. Blue Cheer may sound different from 80s to now but still have a little bit of the classic rock sound and still have the Blue Cheer feel.
Favorites

Song
Second Time Around - Blue Cheer
Album
Vincebus Eruptum - Blue Cheer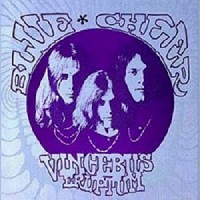 Music Artist
Blue Cheer
Recent Votes On BlueFuse's Lists
11/17
11/18
11/19
11/20
11/21
11/22
11/23