Top 10 Men's College Basketball Coaches of the 2010s
The 2010s decade saw a wide variety of success among the college basketball spectrum. Basketball is a roller coaster ride the entire season and with the madness of March anything can happen. Here's some of the best coaches of this decade.
The Top Ten
1
Jay Wright - Villanova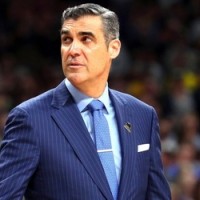 In the Modern era of college basketball no coach has arguably had a more dominant 5 year stretch. This guy took. Villanova from irrelevance to 2 National Championships in 3 years basically out of nowhere. The Wildcats were a mess yet he would lead them to 5 Big East Regular Season titles and 4 Big East Tournament Championships. Simply put he's one of the best there is now and he always gets the most out of his teams
2
Roy Williams - North Carolina

Roy Williams has been very consistent throughout the entire decade. He led the Tar Heels to two national championship games winning one and losing one at the buzzer. He has 4 elite 8 appearances and 5 ACC regular season titles. UNC has almost always been near the top with Williams at the helm
3
John Calipari- Kentucky

If you look at the first half of the decade he would be an easy #1. He had 3 final fours a National Championship and a runner up within a 5 year span. He will always be the first to capitalize on the 1 and done era but his success has declined since then but Big Blue has always remained a powerhouse and have seemingly controlled the SEC most of not the entire decade
4
Mike Krzyzewski - Duke

Coach K at number 4? While yes he has 2 National Championships and 4 Conference Championships and has never not won more than 25 games in a season this decade. Yet he has had disappointments this decade as well. The Blue Devils haven't won the ACC Regular Season title in 9 years and since 2015 the Blue Devils only have 2 Elite 8 appearances and 0 final 4 appearances. And this is with some very decent players. In the end does all the wins and stats in his favor outweigh the disappointments in March?
5
Tony Bennett - Virginia

It took him a few years to get going but now the Virginia Cavaliers are rolling. They have won 4 of the last 6 ACC regular season championships and 2 ACC tournament championships. Now yes we all know UMBC will live on in infamy for Virginia as one of the greatest upsets of all time and a big what if. Yet look what they did after that... They won the whole thing. That is no easy accomplishment. That takes talent to do yet he found a way. That alone deserves a spot on this list
6
Bill Self - Kansas

Talk about consistency Bill Self has been that. The Jayhawks have always been a top 10 team and this decade they won 9 Big 12 Regular Season Titles including 14 in a row dating back to the 2000s. He made 2 final 4 appearances and a National runner up. The Jayhawks are 1 of only 2 teams to win more than 300 games in the decade. However Kansas has had some disappointing losses in March even with talented teams
7
Tom Izzo - Michigan State

Izzo has been very consistent with MSU leading the Spartans to 3 Final 4's this decade and always have them playing at a high level and they have been a conference power for almost the entire decade. Few can say they are better than him
8
Mark Few - Gonzaga

Gonzaga has absolutely dominated the WCC under Few. 9 WCC regular season titles and 7 WCC conference championships. The highlight of the decade was a Final 4 and runner up in 2017. The Bulldogs have established themselves as a national powerhouse. They are the only other program to win over 300 games in this decade besides Kansas. However I will say this. How many are actually legit? The WCC is nowhere near a power 5 conference
9
Bob Huggins - West Virginia

Bob Huggins always has a competitive team and he always manages to get the most out of his players especially on defense. The Mountaineers made the Final 4 in 2010 and he has won 25 or more games 4 straight seasons now. They are always considered a tournament threat in March
10
Chris Beard - Texas Tech

This guy has been at Texas Tech for 2 seasons now and I was debating whether or not to put him on the list but the turnaround he has had in his short time at Texas Tech has been nothing short of incredible. He led the Red Raiders from the Big 12 Basement to 2 elite 8 appearances. A final 4 and national runner up on top of that he ended the Jayhawks 14 year reign of the Big 12. Overall a very successful tenure so far
BAdd New Item