Children Of Bodom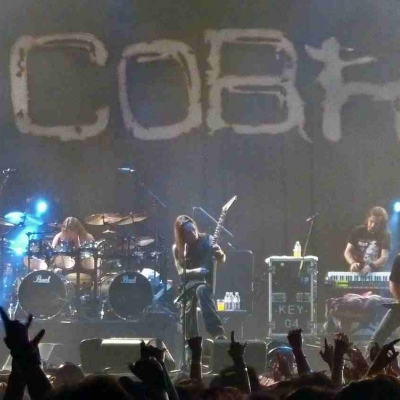 Uploaded by ryanrimmel
Info
Children Of Bodom is a melodic death metal band from Espoo, Finland. Formed in 1993, the group currently consists of Alexi Laiho, Janne Wirman, Henkka Seppälä, Jaska Raatikainen and Daniel Freyberg.
Comments
Top
Popular
Newest
Laugh out loud so many of these bands aren't even heavy metal, 3 days grace, Linkin Park, System of a Down, disturbed, AC/DC. COB's first 4 albums are amazing too, so much creativity in the songwriting and great use of the harpsichord in metal. Great guitar work, awesome distinct vocals that can only be matched by chuck schuldiner (where is death yet I haven't seen them on this list yet they should be top 10 if not top 5)
Great guitar, vocals, drums, and even piano! - josh49080
Children Of Bodom should be the first because they are the best band ever. Alexi Laiho the king of Metal makes this band so good. Listen to a few Children Of Bodom songs and you will see how great they really R. If you are a real Metal fan, vote for Children Of Bodom. With some votes we can put this awesome band on the first position. So I am calling all the Metal fans to vote with CHILDREN OF BODOM. WE CAN MAKE IT!
The People Have Spoken! Children of Bodom are not as great as some think. Welcome to Democracy! One person, one vote. Oops! I just inadvertently voted for a band I don't like. Oh, well. I'll take one for the team. They were at 18 and you were complaining? They're 93 now, and on a slippery slope my friend.
Why 32nd Is this some kind of joke! Children of bodom don't deserve to be in the top 20, they deserve to be in the top 3! People should consider looking at the advantage that this band has. They melodic, fast and skilled! Alexi and Roope have absolute technique and speed. Watch the bodom beach terrot solo lesson and see how talented Alexi is. COB IS AWESOME AND THEY SHOULD KEEP UP THE GOOD WORK! NOT MY FUNERAL IS ALSO A GOOD SONG TO
Come on people, COB are the best! With some mind blowing Riffs. And of course Alexi is the best guitarist and vocalist.
1. Angels Don't Kill
2. Punch Me I bleed
3. In Your Face
4. Every time I die
5. Are You Dead Yet
6. Needled 24/7
7. Hate Me
8. You're Better off Dead
9. Talk Dirty To Me (Cover)
10. She is Beautiful (Cover)
Awesome music combination. They do smart and fashioner perform. Me and my band (Cure Of Curse) like them so much. We got a new thought of music from them. Alexi and Janne's solo make me and our keyboardist so advanced. Many many thanks and good wishes to COB...
Cob is the best melodic death metal band and one of the best too... How can Linkin Park be higher in this list? Is this a joke? After iron maiden Metallica sabbath Judas megadeth cob deserves a place...
No matter what, COB rules! I love Metallica, iron maiden, bullet for my valentine but COB's songs are too AWESOME! Not only that covering a COB song is near impossible!
Aside from having alexi as the baddest man with a guitar, cob's songs sends chills in people's spine when they play. There is no other melodic death metal that can beat them...
First fell in love with their newer albums but after a while I have started to love their old ones even more! Amazing guitar solos, GREAT BAND
89th?! What COB is one of the best metal bands out there.
The music in downfall, towards dead end, silent night bodom night, are you dead yet, living dead beat, mask of sanity... The list goes on!
COB should at least be 9th. I agree there are better bands, but COB is way better. Alexi Laiho is one of yhe best guitarists!
Come on people vote for COB!
Alexi Laiho is the guy that the creators of Metalocalypse used as a model for "the world's most brutal guitarist". That should tell you something.
Amazingly skilled guitar playing and cool solos. Every member of this band are very talented and Laiho is my favourite metal guitarist.
They also deserve a position in the top tens!... They are simply the gurus of speed!... Keep voting guys!
Why 24? Listen to Downfall, Toward Dead End, Lake Bodom, Bodom After Midnight and Sixpounder to see where this band should really be.
They should be in the top 5. They totally deserve it. They have being artists for so long.
Not the greatest but at least top 15
o come on! children of bodom is the best! - alexi_laiho
CoB should be a little bit higher. One of my favorite band.
Children of bodom should be top 1
Really? Three days grace even more popular then Children Of Bodom? These guys are the best in Melodic dead metal 100%. And their solos. The leader of the band Alixi Laiho was one of the best guitarists in 2010! And this band is on the 92 place?!...
How in the hell did they get this low?
Are you crazy this must be in top 10
Alexi is the sickest metal guitarist of all time!