System of a Down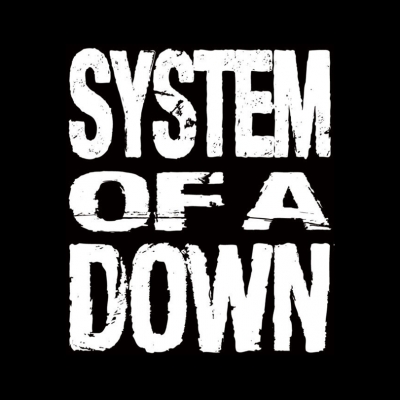 Uploaded by BKAllmighty
Info
System of a Down formed in 1994 as an Armenian-American Nu Metal group from Glendale, California . The band name is sometimes shortened to System or SOAD. ...
read more
.
Comments
Top
Popular
Newest
Greatest band ever. They have souls dedicated to music. They most likely love the world and they try as hard as possible to be true musicians. When they play live, they just put there soul into the music and make everything so like it's so great. Daron malakian doesn't shred like a psycho, but he puts his souls into them, as serj tankian sings and screams, not even caring if he misses the note, as long as he feels it, we feel it, and shavo dances so great to his music, you can tell he can live the moment, and john is great he never misses beats, and sounds PERFECT live, almost as if it's made by a computer, and his timing is perfect. They deserve to be #1 greatest metal band
This band isn't only about drugs and sex, they're about social consciousness and political understandings, they raise the fact that "Justice" should exist in this world ( the Armenian genocide is one example ). On top of all this they have their own original sound, smart lyrics, a bit of humor that a lot of bands don't have, and the way they switch tempo in one song is genius and unique. They should be number 1!
Serj Tankian is probably the best voice ever, (No offense to James Hetfield, Bruce Dickinson, Robert Plant and Axl Rose).
But, not only his voice, it's the mind. Mr. Daron Malakian
They create such a melodious horror with element of surprise in each line. The lyrics, the music.
Never to forget, Shavo. Watch 'Prison/ Toxicity' Live. One can die for this guy.
A little out of the league, maybe that's the reason they stay at No.9. For a person who encourages experimental music, these songs can pop your brains out.
Longevity, impact, and generational-spanning material is what makes the best of the best the best. That's why Metallica, Maiden, Sabbath, Slayer, Megadeth, Priest etc. Are the greatest of the greats, whilst System of a Down are not. Whatever happened to the true giants of metal is irrelevant, because they're still viable, valid, and visible to this day. You can be 10 years-of-age and think 'Death Magnetic' is the best metal album you've ever heard, but at 12 you can dig further into Metallica's back catalogue and realise that 'And Justice For All...' is the best. I'm just using Metallica as an example, but the same applies to all the greats, but not System...
System of a Down is, by far, one of the most unique bands out there. There is something in their funky, twisted, often disturbing sound that is satisfying as hell. The Armenian influence together with the spot on lyrics and Serj Tankian's HEAVENLY BLESSED vocal range makes them stand out far above many others! Not sure if they qualify under 'heavy metal' as such, but the truth is that I have seldomly found myself getting hooked on another band quite as hard as I still do with System of a Down, except for maybe Serj's solo project 'Elect the dead'. Damned System of a Down, get back together, we want more!
SYSTEM OF A DOWN! The best band ever! Nobody can match them. They have created their unique sound. They have the best lyrics ever! Chop suey is easily the best metal track ever! All hail serj, john, daron and shavo!
Hands down: They have the best lyrics ever. I love their incredible heaviness, too, which is not caused only by the brutal riffs or by the full of anger screams, but mostly by the themes they sing about: they describe the unfairness of war, the shame of modern society, the stupidity of capitalism and a lot of other terrible traits of this messed up world better than anyone else. Their songs can also be super humorous, sometimes.
There is no such thing as a bad System of a Down song. Normally every album has its smash hits and also the more dull and soulless songs, but System of A Down has managed to make every one of their songs powerful and awesome in its own way. That's why System of a Down should be at least in the top ten. Make it happen people! It's your vote!
I gave my vote to Avatar simply because they had no votes yet and I think they deserved to be somewhere on the list, but they're only my second favorite metal band at the moment. System of a Down has held the title for about 2 years for me now, ever since I first heard Chop Suey!. When I started listening to more of their music I realised that 4 of their albums should be considered to be in my top 5 albums of all time. These guys are absolutely amazing in every way.
Easily the best metal band of the modern day, and they're keeping metal alive. Serj and Daron's songwriting combined with the Wicked drum skills of John and how they go so perfectly with Shavo's rhythmic bass makes the perfect alternative metal band. I think of their songs as hurricanes, with fast, loud thunder, then it slows down to the eye of the storm before thrashing into the lightning and thunder again. - MetalPope
Metallica is probably the undisputed champion of Metal but I'm voting for System should be right there next to them. System is one of the most unique and creative band to ever touch my ears and Serj is probably one of my favorite vocalists. Every single song relentlessly grows on you and never stops getting better. Also Toxicity is one of the best albums ever made in general.
I like System of a Down, own all of their material, but consider yourselves extremely fortunate that this fad metal band are above Kreator, Exodus, Testament, Tool, Morbid Angel and countless other bands that destroy them in aggression, talent, and legacy. They've even outdone Soundgarden, whose quality metal output and vocal abilities own Serj's and Malakian's.
I think these guys brought a completely different sound to the metal scene. Strongly varied vocals, rough and fast heavy riffs, and let alone the ethnic melodies that have to do with their Armenian origins.
Besides, their lyrical themes fit so good these days I still absolutely love System of a Down!
I guess it's because Slipknot are actively releasing material and have a bigger following than System Of A Down. If you prefer one band over another then don't buy the other band's music. How else would you know System are a better than Slipknot? Unless you're one of those obscure open-minded types who can like more than one band? What an anomaly.
My favorite band, Deep lyrics, Mad riffs and in a few songs simple, but killer solos. They may not be the most dark or metal band on the list but, they had great music and I will be mad at them until I see the album that should come out soon I hope.
The only reason System of a Down isn't ranked higher is because people want to stick to a formula with their music. System doesn't follow any rules or use any formulas. They are, by far, the most original band. System of a Down should be first.
This band The Great "System of a Down" deserves to be Much higher on the list. Not because they only compose melodious musics but also for their poetic lyrics, peculiarity of their music and also for the allusions they provide involving the global political corruption as a whole.
Can't complain about Metallica Iron Maiden and Sabbath but System of a Down doesn't deserve to he below Sevenfold. They created their own unique sound and Serj and Daron can harmonize like no others.
I know I know.. There is a lot of bands that could take this spot... But the range in sergs voice is insane.. The musical talent in the band members awesome... The many different styles in there music is the reason I put them so as my number 6 spot - travislong
It is what it's called toxic and sugary and love Serj Tankian.
I only found this band who can produce real metallic sound. It must be the first one and black sabbath should 2nd as they created metal. I love all the songs of system of a down.
Metallica are my favourites, but I have already voted for them, SOAD is my second favourite, they have great songs such as, Chop suey, lost in Hollywood, science, sugar, cigaro, psyco, toxicity and many more GO SOAD! - dragon13304
If Slipknot and Disturbed can be in the top 10, why can't System of a Down be up there? I highly recommend them. They're just flat-out awesome. They've got this unique charm to their music. Once you listen, they're just irresistible.
This is my favorite band of all times. There just isn't a single song I can't listen to over and over until my ears bleed. It's amazing like no other, it has an incredible diversity from song to song, and Serj Tankian is just a sublime singer.
I love them because they know say their opinions with great songs. They should be the number one. I like very much the albums, and is very difficult decide what of these albums is the best. System of a Down RULES!
System of a Down is an awesome band. daron malakian may not be the best guitarist, but he is very unique and while combining with serj on vocals they kick a$$. definitely deserves to be higher in this list!