Top Ten Metal Musicians You Want As Police Officers
The Top Ten
1
Lars Ulrich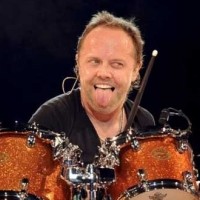 Lars Ulrich is a Danish drummer and one of the founding members of the American thrash metal band Metallica.
Lars: "Good day, sir. You rode were to fast."

Thor: "Sorry, I just rode to the lightning."

*Kirk appears out of the nowhere*

Lars:"WHAT THRASH WAS IN MY COFFEE!? "
Yep, a visitor with a great sense of humor and metal knowledge is making lots of great lists. Whoever you are - you rock, man!
He use his drum sticks as guns.
Lars Ulrich should be a cop for real life.

This authors comments are FuNnY :"D
2
Derrick Green
Derrick :"DON'T WALK IN THIS ROUTE OVER THERE! "

Some weirdo:"Why? Is it the the chaos A.D. or something worse,officer? "

Derrick:"Eeerm,noo...it's just a route.A bloody route full of rotten corrupt ducks."
3
Eddie Hermida

Hernan Hermida, also known as Eddie Hermida (born March 24, 1983 in Cabimas, Venezuela) is an American metal singer for the band Sucide Silence.
Eddie:"Do I smell Mary Jane,sir? "
Peter Parker:"No,it's ju.."

1 minute later

Peter Parker:"Have you ever thought about apples? "
Eddie:"YOLO! "
4
Mick Thompson
On A lonely street.It's night.

Teenager:"Hey, it's not Halloween. Your mask sucks! "

Mick:"Just wait & bleed."

The lights stopped shining...

*Silence*

Teenager:"AAAH cool! thanks, for driving me home! "
5
Gaahl

Kristian Eivind Espedal, better known by his stage name Gaahl, is a Norwegian vocalist and artist. He is best known as the former frontman of Norwegian black metal band Gorgoroth. He is also the founder and frontman of Trelldom and Gaahlskagg.
Somewhere in Norway.

Little girl:"Who is your favorite cop
in Police Academy? "

*1 minute and a grape juice later*

Gaahl:"Satan."
6
Johan Hegg

Johan Hegg, born in 1973 in Stockholm, Sweden, is the singer of melodic death metal band Amon Amarth. He joined the band in 1991.
Johan:"I love this days when I'm allowed to use
my asgardian axe! "

Old Lady:"But I just asked for directions."

*Johan throws his magical axe to Freya*

Johan:"Just follow this lady,mam."
7
King ov Hell
Metalfan: "So you are a cop now...WHY!?
King ov Hell:"Free donuts everyday and because
I'm the king ov...?
Metalfan 2:"Hell."
King ov Hell:"Excactly. But where did you come from? And where's the other guy"
Metalhead 3 :"Inception..."
8
Fenriz

Gylve Fenris Nagell, better known as Fenriz, is a Norwegian musician who is best known as being one half of the metal duo Darkthrone.
Fenriz:"Hi kids,now I'll show you how Black Metal
was invented."

Teacher:"Weren't you supposed to show us how
to cross a road carefully? "

Fenriz:"F**** that."

Kids:"YEEAH! "
9
Fred Durst

William Frederick "Fred" Durst is an American musician and film director. Durst is best known as the vocalist of the nu metal band Limp Bizkit, formed in 1994, with whom he has released six studio albums.
Fred: "Put your hands up! Whatcha gonna do now!? "

robber:"I've already told you 10 minutes ago I'll
give up. Just please stop rapping."
10
Jonathan Davis

Jonathan Howsmon Davis, also known as JD and JDevil, is an American musician best known as the leading vocalist and frontman of the nu metal band Korn.
10.000 Robbers are in a bank & the nearest police officer is the JONATHAN!
Every robber has a gun. Jonathan has none.

Jon.:"Bumbawegeeeoooh bumbowegea! "

All 10.000 guns got destroyed with an only
BUMBAWEGEOOOH and all robbers caught.

"Now it's time for some PopKoRn."
Great comments posted on this one! Hahaa! Jonathan to the rescue with the powers of scatting just like this: "BUMBAWEGEOOOHBUMBEMMAENAMENARINYURRITINAYRAHICARIRIYIPAORUH! "
The Contenders
11
Zakk Wylde

Zakk Wylde is an American musician, singer, songwriter, multi-instrumentalist and occasional actor who is best known as the former guitarist for Ozzy Osbourne, and founder of the heavy metal band Black Label Society.
12
James Hetfield

James Alan Hetfield was born on August 3, 1963. He is an American musician, singer and songwriter known for being the co-founder, lead vocalist, rhythm guitarist and main songwriter for the American heavy metal band Metallica.
James:"I AM THE COP! "
A woman who's name might
be Jessie but I just call
her Lulu for no specific
reason:"Ok."
BAdd New Item